Jayalalithaa: what happens if a demi-goddess falls ill?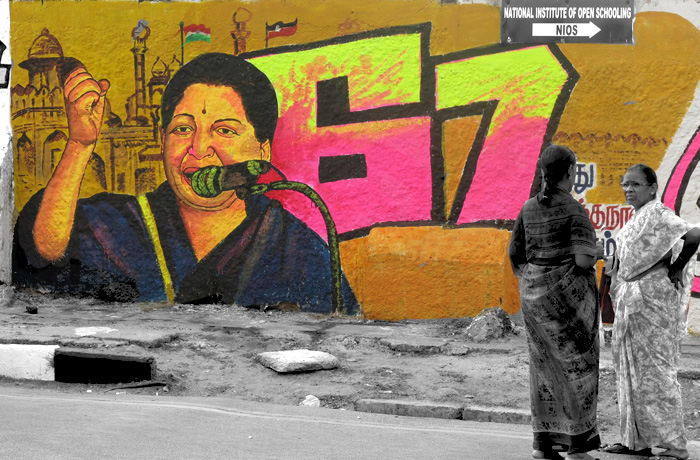 The affliction
She didn\'t appear for an iftar party she was to host on 1 July, citing \'sudden illness\'
She was last seen in public on 4 July, when she took oath as an MLA
She was to go to the Secretariat on 13 July but didn\'t leave her home in Poes Garden, Chennai
The concern
Jaya is the supreme leader of the AIADMK, and her absence is causing panic among the cadre.
Divides within the party may surface if Jaya can\'t take charge
If she can\'t campaign for the AIADMK, it may suffer losses in next year\'s TN assembly election
Rival Karunanidhi says state govt must come clean on her health, else governance is suffering
Analysts feel the stress of legal wrangles is taking its toll on her
On a sultry Monday afternoon, on 13 July, anxious cadres of the All India Anna Dravida Munnetra Kazhagam (AIADMK), the ruling party in Tamil Nadu, were gathered outside their leader, J Jayalalithaa's residence in Poes Garden, Chennai.
Jayalalithaa, better known as Amma, was to head to the Secretariat after a gap of almost 10 days - an event that was cause for a mini celebration.
Ministers awaited her arrival at the Secretariat. Her expected time of departure was 2.45 pm, which was then pushed to 3.45 pm. By around 4 pm, the waiting cadre and ministers began to disperse - Amma once again was a no-show.
"What is going on? Are the rumours true?" asked a panic stricken member of the AIADMK who did not wish to be named. "No one is telling us anything about Amma's health. Even senior party leaders say they don't know.
Rumours abound
AIADMK cadre have been working the phones in the past couple of days, calling each other and journalists, hoping to get scraps of information on the rumours about Jayalalithaa's failing health.
Reports have suggested serious health problems afflicting the leader. Although the state government is not issuing any confirmation or denial about the chief minister's ill health, it filed a defamation suit on 14 July against a website that had carried reports of a specific ailment and a possible trip abroad for its cure.
Jayalalithaa's only statement relating to an illness was on 1 July. Scheduled to host an iftar party in Chennai, the chief minister cancelled her appearance at the last minute, sending word through her party colleague and former chief minister O Panneerselvam instead.
Panneerselvam, reading out from a statement issued by Jaya, quoted her apology for not attending the iftar due to a "sudden illness".
"In the last month, there appears to have been a downturn in her health," said senior journalist and political hawk GC Shekhar. "The legal pressures of the last six months could have also taken their toll."
Jayalalithaa was last seen in public ten days ago, on 4 July, when she took oath as MLA of RK Nagar, from where she won a by-election with ease.
Since she took over as chief minister of the state for the fifth time on 23 May, whispers of poor health began circulating. These were kicked off by the fact that a chief minister who previously spent at least five hours a day in her office on average, was now spending a mere half-hour at the Secretariat.
A party and a demi-goddess
The AIADMK has exceptional reason to be worried, even if inwardly. The Dravidian party is based on the mass appeal of one leader - Jayalalithaa.
The party hails her as their goddess, senior leaders fall at Amma's feet unabashedly, mass suicides are commonplace when Amma faces a challenge.
A party which began with the fan clubs of a film star, MG Ramachandran, transferred their affections to another film star and MGR's chosen political heir Jayalalithaa after his death in 1987. And thus, in every constituency of the state, the candidates are dispensable - it is Jaya whom the electorate votes for.
In such a party, a leader who is not active and is confining herself to home, could well throw everything out of gear - even possibly hurting chances of an electoral win in the state in 2016.
"Jayalalithaa has not promoted anyone in the party as the second-in-command," said C Lakshmanan, political analyst and assistant professor at the Madras Institute of Development Studies.
"Even though O Panneerselvam was made to sit in as chief minister twice on her behalf, she has never given him any power or promoted him in any way. In the event that she is unable to handle her daily work, the party will get seriously affected internally and electoral prospects will suffer," he said.
Infighting is already rife within the AIADMK, according to party sources. Once it is felt that the leadership is weakened, camps could be exposed and rivalry is likely to spill out into the open, taking down the chances of electoral victory.
With less than a year to go for the crucial state election, the AIADMK cadre is hoping that all is indeed well within the fortress that is Poes Garden.
Anxiety over legal trouble?
Jayalalithaa was confined to her Poes Garden home since she was granted bail in October 2014, following a conviction in a corruption case by a trial court in Bangalore. An appeal in the Karnataka High Court brought with it acquittal and her reinstatement as chief minister.
But the Jaya of 2014 and earlier is not the same as the Jaya of 2015, say political analysts unanimously.
"The Bangalore case (19-year-old disproportionate assets case) has been haunting her," said Lakshmanan. "It keeps coming back and chipping away at her confidence. Psychologically, it is affecting her quite a lot I think."
Shekhar adds: "The rumours about her ill health are fuelled by the fact that she is not as active as she was before September 2014. She is fuelling the rumours by her own actions."
'All is well'
While arch political rival and Dravida Munnetra Kazhagam chief Karunanidhi demanded that the state government come clean on her rumoured ill health, the AIADMK is battling speculation in the media.
"Madam is perfectly alright," said AIADMK spokesperson Rabi Bernard. "There may be minor ailments, like any other human being will have once in a while. Rumours of her needing transplants and flying abroad for treatment are just rumours."
Countering Karunanidhi's claim that governance was at a standstill due to Jaya's health issues, Bernard said: "She is clearing all government files and notes relating to party affairs within a span of a few hours. That should show you that everything is fine."
A senior leader within the AIADMK who did not wish to be named said that Jaya suffered only from a minor ailment. "It's just a problem with her leg - something similar to a sprain. She is perfectly alright," he said.
"In Tamil there is a proverb that goes - if you repeat a lie many times, it will become the truth," continued the senior leader. "The most perfect example of this is Karunanidhi - he feels that if he spreads rumours repeatedly, it will become believable. What more can I say?"
Tamil Nadu CM Jayalalithaa was last seen in public ten days ago, on 4 July, when she took oath as RK Nagar MLA
Another AIADMK member, V Murali Krishnaprasad, South Chennai district secretary of the AIADMK's Youth Brigade, told Catch that he believed his leader was in good health.
"We believe she is hale and healthy and confident that the Iron Lady of Tamil Nadu will be back in her office soon, putting an end to all this speculation," he said firmly.
But the cadre is nervous. "Without the usually active Amma cracking the whip, we have no hope of winning," said the AIADMK member. "We need her to keep the party together."
Party members recalled how in 1984, MGR fell ill and suffered kidney failure. As India did not, at the time, have the requisite medical facilities to perform kidney transplants, he was flown to the US for treatment. A mesmerised Tamil Nadu wept and prayed for his return. MGR did return but died three years later, leaving a young Jaya as his political heir.
With all political parties kicking off campaigns ahead of the 2016 polls, the odds are likely to be stacked against the AIADMK if Jaya does not come back soon with her characteristic flourish.