Jaya's challenge: too many promises to keep, too little money
S Murari
| Updated on: 23 May 2016, 18:07 IST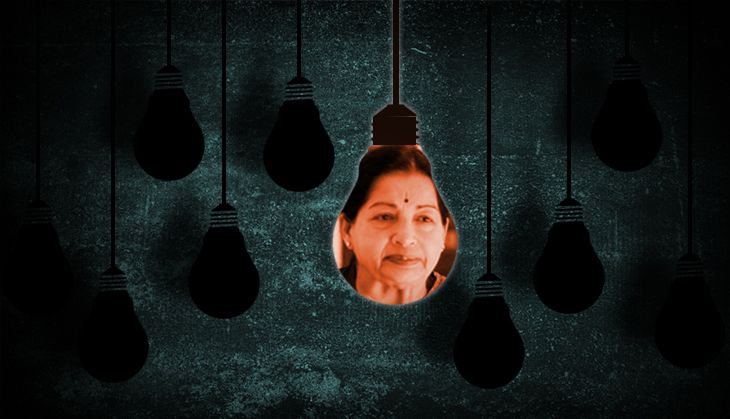 As J Jayalalithaa begins her new term as Tamil Nadu chief minister Monday, she will have to contend with a formidable opposition, unlike in her previous stint. The opposition - DMK, Congress and IUML - has taken 98 seats in the 234-member assembly as against her AIADMK's 134.
Jaya has never had to deal with such a strong opposition before. Since first taking power in 1991, she has enjoyed brute majorities, sometimes exceeding two-thirds.
This means that more than ever before, Jaya will be held to her campaign promises. The DMK won't, in principle, oppose the doling out of freebies, being as it's the architect of Tamil Nadu's freebie culture - the party would also be mindful of the fact that the PMK was rejected by the voters for saying "no" to freebies - but it will ensure that AIADMK's promises are fulfilled in a corruption-free manner and the benefits are not hogged by functionaries of the ruling party.
Jaya cannot afford to ignore the opposition's concerns as several of her key promises, like the enactment of a Lokayukta law, would entail amendments to the Constitution and, thus, cooperation of the opposition.
But even if she manages to take the opposition along, implementing the welfare measures and freebies she has promised won't be easy, not least because they will cost a lot of money.
Although all the parties promised total prohibition during the campaign and would likely support such a measure, Jaya has boldly said this can't be done overnight, but in phases. Many other promises, too, can only be fulfilled by and by.
Quite a few of the proposed measures are crassly populist. Take the scheme to provide free cell phones to all one crore households which have ration cards.
When Karunanidhi gave free TVs to voters after his victory in 2006, the sets, though of good make, mostly made their way to the grey market - some were even sold in Kerala for as cheap as Rs 1,000 a piece - because even people living in slums already had TVs.
The same fate may befall Jaya's free phones. Since almost every household already has a phone, the government might just provide them cheap Korean- or Chinese-made mobiles. But such phones won't find takers even in the grey market. The scheme, therefore, is a waste of taxpayer money.
In the same category of crassly populist schemes is the free supply of 45 lakh packages of mixers, grinders and fans, for which the state allocated Rs 2,000 crore in 2015-16.
For the needy
Jaya has already been giving free laptops to high school students. Now, the computers will come with internet connections. Tamil Nadu's administrative work is computerised down to the district-level, if not taluka-level. The new scheme is meant to further reduce the digital divide. In his 2015-16 budget speech, the then finance minister O Pannerselvam had said the free laptop scheme had benefited nearly 21.65 lakh students, and the government had allocated Rs 1,100 crore for it in the budget estimates for 2015-16.
The more serious - and more challenging to implement - of the promises include waiving cooperative loans of farmers. This is urgently required as many heavily indebted farmers have committed suicide. But fulfilling this promise will be quite expensive. As per official figures, farm cooperatives in the state had lent Rs 5,000 crore in 2013-14 alone. The Jaya regime hopes to be compensated by the Centre for the amount of loans written off.
Another truly welfarist measure is the supply of 20 kg rice free of cost to all ration card holders, whether above or below the poverty line, and subsidised kerosene and sugar through Universal PDS. In addition, the government provides wheat, pulses and palmolein under Special PDS. The universal PDS subsidies cost the state Rs 5,300 crore in the 2015-16 fiscal, and Special PDS Rs 1,230 crore.
It was known that the rice was procured from the central pool at subsidised rates. But it was left to Union minister Piyush Goyal to reveal that the Centre provides a subsidy of Rs 27 per kg for the rice and the state only Rs 3, yet it's stamped as Amma Rice.
Another food security measure is the highly popular midday meal scheme, introduced by the AIADMK government of MGR in 1982 and which now covers 55 lakh schoolchildren. The government spent Rs 1,500 crore on this scheme in 2015-16. Now, Jaya has promised to also provide breakfast under this scheme. How much this will cost is not yet known.
Another major promise made by Jaya is that the government will take over educational loans of students who haven't found jobs. But only after details of this scheme are worked out will its cost be known.
Seeking more power
The power sector presents a major challenge to Jaya's government. The first two years of her previous stint were marked by power cuts ranging from 8 to 12 hours a day. Only from the third year onwards has the situation stabilised. The government's power subsidy bill for 2015-16 was Rs 7,136 crore. The support given to Tamil Nadu Generation and Distribution Company in the form of subsidy, share capital, cash loss financing, debt servicing and debt takeover during 2014-2015 came to Rs 11,750 crore.
Given this burden, Jaya has promised only marginal relief to domestic consumers, offering to bear the cost of 100 units consumed bi-monthly.
She has, however, promised uninterrupted power supply, something the state's processing industries have been demanding for long.
There has been little addition to Tamil Nadu's installed capacity in the last five years of Jaya's rule. She made up for the shortfall by buying from other states. Now, though, she has to go for big-ticket investment in power sector. If her government is cash-strapped, she may have to take the public-private partnership route as the power projects are capital intensive and have a long gestation period.
In the interim budget presented in February, the government said its revenue deficit has touched Rs 9,154.78 crore, largely on account of welfare schemes and a fall in tax revenue.
Apart from tax revenue, the state counts on TASMAC, which manages wholesale and retail distribution of Indian-made foreign liquor, to fill its coffers. As per the latest figures, the revenue from this stream touched Rs 29,000 crore this year, a staggering rise from Rs 2,000 crore when MGR made liquor distribution a state enterprise in 1982. An estimated 60 lakh people in the state consume liquor.
That's why Jaya wants a phased introduction of prohibition. To offset the revenue loss, her government is mulling taking over the mining of garnet, sand, granite and other minerals. According to former Madurai collector Sagayam, mining in the state is beset by scams running to over Rs 50,000 crore, and all political parties are involved.
This being the case, will Jaya bring a Lokayukta Act? Tamil Nadu is one of the few states that are yet to enact this law. Responding to a PIL filed in the Madras High Court last February, the state had claimed it was considering to enact this law: "A committee has been examining issues such as drafting of the bill. The central government had also proposed certain amendments to the Lokpal and Lokayuktas Act, 2013. The legislation would be finalised soon."
Speaking of corruption, Jaya will be greatly anxious to be cleared by the Supreme Court in the disproportionate assets case against her.
More in Catch - AIDMK manifesto: Generous Jayalalithaa showers sops on Tamil Nadu
Amma returns: decoding Jayalalithaa's historic win in Tamil Nadu
Cheers! Jayalalithaa joins prohibition bandwagon. But can she afford it?