Jaya death probe widened to bring Sasikala under scanner
S Murari
| Updated on: 28 September 2017, 18:14 IST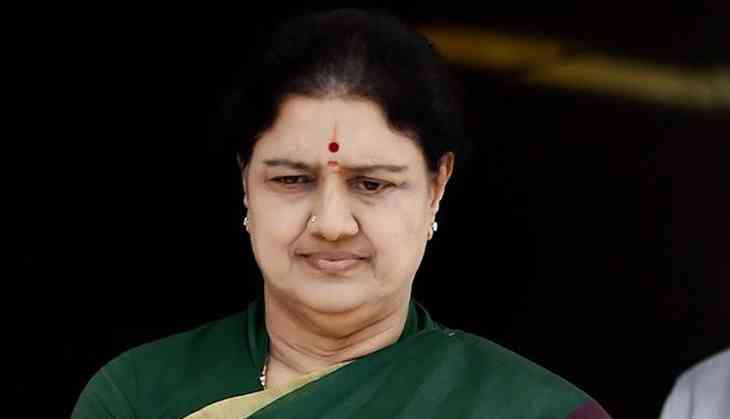 The Tamil Nadu Government has widened the ambit of the judicial inquiry into former chief minister J Jayalalitha's death last year to bring her close aide V K Sasikala under the scanner.
It has asked retired Madras High Court judge A Arumuguswamy, the one-man inquiry commission, to go into the circumstances leading to the hospitalisation of Jayalalitha on 22 September, 2016 and submit its report in three months.
A gazette notification setting out the terms of reference issued on 25 September – the day the panel was set up – was made public on Wednesday. It said the probe would go into the circumstances leading to her hospitalisation and her death.
Apollo Hospital has already made it clear that the then CM had a long history of high blood pressure and hypo-thryroid and that she was gasping for breath and had a lung infection at the time of her admission.
The wider inquiry is aimed at Sasikala as she was Jaya's personal aide and housekeeper who stayed with her for years. Sasikala took care of her from the time of her hospital admission until her death 75 days.
Earlier, senior minister Dindigul C Srinivasan said none of the ministers met Jaya in hospital as they were denied access by Sasikala. Even the likes of Tamil Nadu Governor Ch Vidyasagar Rao, the then Union minister Venkiah Naidu and Congress Vice-president Rahul Gandhi were not allowed to see her.
Her nephew and controversial leader of the rebel AIADMK faction TTV Dinakaran has said even she had limited access after Jaya was shifted to the intensive care unit (ICU) on 1 October, 2016.
Apollo Hospital Chairman Pratap Reddy has said all records pertaining to Jaya's treatment have already been submitted to the state government. "If the inquiry commission needs any more clarifications, we are ready to give them," he said.
The hospital management released a detailed statement after the government announced on 17 August that it would order a judicial probe.
Regarding the demand for closed-circuit television footage, a hospital official reportedly said there were no cameras at ICUs and wards. That evidently is to protect the privacy of patients, but the question about cameras in hallways remain.
Dinakaran has said Sasikala videographed Jaya and would submit such the footage to the probe panel if needed. He has not released it so far because Jaya was in hospital dress.
Questions remain on two aspects: One, the kind of treatment given to Jaya; two, who met her in hospital.
O Pannerselvam, the then acting-chief minister was in hospital and the first to demand a probe after Sasikala forced him out of office in February. He said his doubts were not about the treatment but about other aspects, which he didn't clarify.
After her admission to the hospital, Jayalalithaa underwent tracheostomy – the insertion of a tube into the windpipe to bypass any obstructed airways and supply oxygen directly to lungs. That was the only surgical procedure for which Sasikala's consent may have been taken.
Towards the end ECCO was implanted to revive her heart after she suffered a cardiac arrest on 4 December. The decision to withdraw life support was taken with her consent.
From 5 October to her death, teams of doctors from the All India Institute of Medicine, New Delhi, made five visits. In their reports, they said Jaya had been diabetic for 20 years and also had asthma and bronchitis, besides hypo-thoyrodism.
She was admitted with the 'history of feeling uneasy, altered level of consciousness and low blood pressure.' She had fever and leukocytosis (high white blood cells count) at the time of admission. She had fever for seven days prior to her admission due to a urinary tract infection.
Tests showed that she had mitral annular calcification (a degenerative process in the heart linked to ageing) and mitral valve regurgitation (a valve in her heart was leaking blood).
At the first visit 5 Oct), the AIIMS team found her critically ill and from then on, she was life support. The decision to remove ECCO, after it failed to revive the failed heart, was also taken by Apollo in consultation with AIIMS doctors and with the consent of Sasikala.
Such being the case, the probe cannot but endorse the opinion of experts that Jaya got the best possible treatment and she died a natural death.
As for treatment at home, to what extent Sasikala can be blamed and to what extent Jaya cooperated are issues to be probed.
The graver issue is the denial of access to Jaya. While ministers' versions can be dismissed in the final analysis, the role of the governor cannot be easily. He allocated her portfolios to Pannerselvam after visiting her in October. How did he get Jaya's advice as CM? He claims she showed a "thumbs up" which he took as implied consent. How could it be when no one was allowed into the ward?
In a similar crisis in October 1984 when the then CM MG Ramachandran was admitted to the same hospital. Ministers met him in the first few days when he was conscious. On that basis, the senior-most minister VR Nedunchezhiyan said MGR had asked him to take over as acting CM. The governor readily accepted his claim as it was not disputed by other Ministers.
Edited by Joyjeet Das