It's not communal to say note ban harmed Muslims acutely. It's the truth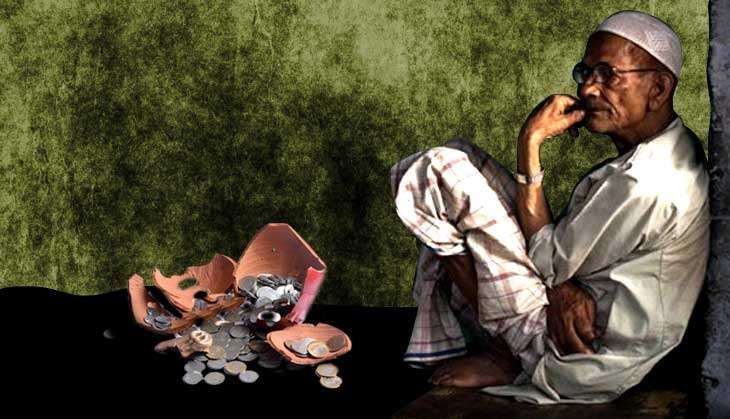 All India Majlis-e-Ittehadul Muslimeen chief Asaduddin Owaisi stirred a controversy with his statement that the note ban's impact had been particularly acute in Muslim-dominated areas.
"In many Muslim-dominated areas banks aren't present in the manner they should be. The proportion of loan distribution is also less compared to other areas....ATMs aren't there (in sufficient numbers)," he said while addressing a rally in Udgir near Latur in Maharashtra on Monday.
"If a bank is open (in Muslim areas), it is declared a red zone," he added.
Both BJP and Congress criticised his statement.
This is what Minister of State for Home Kiren Rijiju tweeted on the issue, before he got caught in corruption allegations.
Please don't say that money is not sent to Muslim areas. Temporary inconveniences are everywhere.
Banks & ATMs don't differentiate people.

— Kiren Rijiju (@KirenRijiju) December 13, 2016
Congress leader and former Maharashtra Chief Minister Prithviraj Chavan said, "We don't believe what Owaisi is saying. He should give proof if anything like this has happened".
Several news anchors also slammed the AIMIM leader for "communalising" the people's suffering.
The question is - does Owaisi have a point?
Muslims and the banking sector
Contrary to the charges being leveled against him, the Hyderabad MP's statement is actually supported by facts. The presence of banking services has been deficient in Muslim dominated areas as compared to other areas. Here are a few relevant findings from the Sachar Committee report:
After a careful study of the Prime Minister's 15-Point Programme in 44 minority concentration districts (59 bank branches) the Reserve Bank of India (RBI) found lack of thrust for increasing the credit flow to minority communities in the lead banks.

The study noted that no officers were designated to cater to the special needs of the minority borrowers in most districts.

Even the District Consultative Committee meetings were not held in about half of the districts; and the banking staff was not sensitised to address the exclusive needs of the minority communities.

While the share of Muslims as account holders is satisfactory at the all-India level, there is a 12% deficit (compared to the population share of Muslims) in the 44 minority concentration districts.

If the quantum of priority sector advances is considered, one finds a deficit of about 9 percentage points at the all India aggregate level and an even higher deficit of 25 percentage points in the 44 minority concentration districts.

In 11 districts with an extremely high Muslim population - 51.4 % cumulatively - their share in the total number of accounts is just 31.7%.

In these districts, Muslims' share in the total outstanding amount is a dismal 11.6% . This is awfully low.

The findings show that the access of Muslims to bank credit is low and inadequate. The average size of credit is also low compared to other communities in both public and private banks. The position is similar in finance from specialised institutions such as SIDBI and NABARD.

The 2001 Census showed that the percentage of households availing banking facilities is much lower in villages where the share of Muslim population is high. One of the reasons for this could be the non-availability of banking facilities in these villages.

Even in areas where Muslim population is high, the community is not able to fully benefit from banking facilities.
Therefore, given these facts, it is not hard to believe that the presence of bank branches and ATMs is lesser in Muslim dominated areas and that after the note ban, cash isn't reaching there as regularly as other areas.
A symptom of backwardness
The inadequate access to banking services is only one part of the larger backwardness in Muslim dominated areas. Compared to other areas, these localities suffer from a scarcity of almost every possible government service. According to the Sachar Committee report:
About a third of small villages with a high concentration of Muslims do not have any educational institutions.

There is a scarcity of medical facilities in larger villages with a substantial Muslim concentration. About 40% of large villages with a substantial Muslim concentration do not have any medical facilities.

Muslims are concentrated in locations with poor infrastructural facilities. This affects their access to basic services like education, health facilities, transport, etc.

As far as living conditions are concerned, Muslims seem to be at par with SCs, STs and OBCs with respect to house structure (pucca or not) and slightly better placed regarding toilet facilities. The availability of piped water, electricity and modern fuel (LPG/electricity) is lower among Muslims. Their position is poorer than "Hindu General" category for all these parameters.

For Muslim children between 0 and 6 years of age, the coverage under the Integrated Child Development Scheme is lower than even SC and ST children of the same age.
View from the ground
Security concerns and discrimination in urban areas, have forced many Muslims to live in thickly populated ghettos where civic amenities are often deficient. Some say, the only government agency adequately represented in these areas is the police, which indicates the State's priorities.
After the note ban, the cash crunch in these areas is more acute because of two factors -- inadequate banking services and high population density.
Catch visited a number of Muslim dominated localities in Delhi and found that there were very few functioning ATMs.
For instance at the time of our visit last Friday, there was no functioning ATM in the Matia Mahal area in Old Delhi. This is despite the fact that this is an old locality and has a significant population of well-to-do Muslims. The residents were using a Kotak Mahindra ATM in Nai Sadak, which is an area dominated by Hindu Bania traders. Even residents from Ballimaran, another Muslim locality, said that they had to use the Nai Sadak ATM as there was no functioning ATM in their locality.
Many residents living in Daryaganj and Turkman Gate said that they even had to go all the way to Connaught Place at night to withdraw cash.
Things were no different in Seelampur and Jafrabad in North East Delhi.
In Jamia Nagar, the situation was a sharp contrast to nearby areas in South Delhi such as New Friends Colony where there were a few functioning ATMs.
Other cities perhaps fare no better and Owaisi's comments are partly driven by the shortage of cash in his city Hyderabad.
Watch a police officer not @asadowaisi explaining people of Old city that their's no cash in banks coz SBI nt forwarding cash to local banks pic.twitter.com/mOwEfycSRj

— Faraaz Khan (@AIMIM_faraaz) December 13, 2016
HUGE protest at SBI Tolichowki in Hyderabad with a massive roadblock and 'Haay Haay Modi' slogans. Watch full video. Day 31, #demonetisation pic.twitter.com/dgfzVCLAt5

— Truth Of Gujarat (@TruthOfGujarat) December 9, 2016
Therefore, Owaisi has a point when he says that banks aren't present in Muslim dominated areas in the manner they should be. This is largely a product of discrimination that is systemic and not just restricted to the note ban aftermath.
Why Muslims are more vulnerable
A significantly larger proportion of Muslims are engaged in the informal or unorganised sector - in activities such as weaving, craftsmanship, street vending - which are by and large cash based.
Read this story about how the note ban has devastated the silk weavers - most of them Muslims - in PM Narendra Modi's constituency Varanasi.
The Sachar Committee report narrates in detail the socio-economic profile of Muslims, which makes the community particularly vulnerable when developments like demonetisation take place. Here are some of its findings:
A significantly larger proportion of Muslim workers are engaged in small proprietary enterprises and their participation in formal sector employment is significantly less than the national average.

As compared to all other socio-religious communities, a much larger proportion of Muslims work in self-owned proprietary enterprises. This is particularly so in urban areas.

Participation of women workers in women-owned proprietary enterprises is significantly higher for Muslims. These enterprises are mainly home based sub-contracted work with low pay, mostly in cash.

Participation of Muslim workers in PSUs or with the government is the least among all socio-religious communities. For example, among Muslim male workers, less than 6% are engaged in such work as against more than 10% for all male workers and 13% for all Hindu male workers.
Given this socio-economic profile of large sections of Indian Muslims, it is hardly surprising that the community has been acutely affected by the note ban, perhaps more than other communities. It isn't communal on Owaisi's part to point this out. To ignore it, is being blindly apathetic.