It's advantage BJP if there's no alliance in UP: RLD's Jayant Chaudhary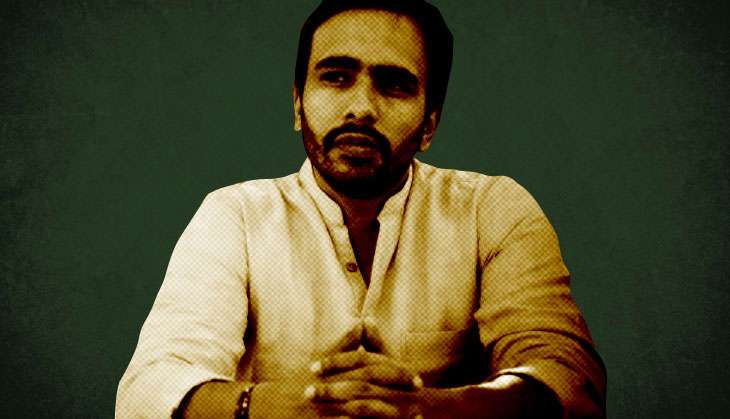 With the Uttar Pradesh elections around the corner, smaller players are scrambling to retain their share in the 403-member Assembly. Thanks to the results of the last Lok Sabha elections, which saw a wipeout of most of these players, there is a sense of unease.
The Rashtriya Lok Dal (RLD) is one such party, with even its chief Ajit Singh failing to retain his seat, Baghpat, in the sugarcane belt of western UP. The party's core vote bank, the Jats, mostly farmers, deserted the party and chose to vote for the BJP.
The 2013 riots in Muzaffarnagar altered the carefully crafted social and political alliances. In addition, it remains to be seen how demonetisation will affect the upcoming elections.
Catch spoke to Jayant Chaudhary, general secretary of the RLD, on how demonetisation is affecting farmers, the prospects of the party in the forthcoming elections, the issues it plans to take to the electorate, the question of a bigger alliance, and if the BJP has an edge. Excerpts from the conversation:
You recently held a rally at Jantar Mantar. What are your demands?
The basic issue is a call for a debt waiver, for which leaders from all over the country and farmers from western UP came to Jantar Mantar. There is a lot of agrarian stress. In the last two years, farmers have not got remunerative pricing, since prices have come down drastically in the last two years, even when the cost structure remains the same.
After notebandi, what has happened is that when the farmers go to the mandi to sell the standing crop, like paddy, there are no buyers because of the cash crunch. Commission agents have no money.
Even today, people are buying from farmers at a discount, if the farmers demand cash. And if they don't want cash, then the money is going to the banks, from where the farmers are insecure about their ability to withdraw.
In terms of market power, the farmer is at a complete loss, because the government's decision has sucked liquidity out of the market.
What about the sowing season?
The sowing season has got affected badly because the farmer has no cash, and there is a limit to how much he can do on credit. The old structures, like informal lending in rural areas, have come to a standstill.
Most farmers don't have access to the formal system. And banks are anyway reluctant to lend to farmers.
Year after year, the Centre enhances targets for agricultural credit, but in terms of disbursement, it is not a very efficient system.
Do you have figures for the disbursement of credit?
In Uttar Pradesh, for example, the target was Rs 84,000 crore in 2015-16. Against that, only Rs 37,000 crore was disbursed. Right now, the outstanding is about Rs 16,000 crore.
But a loan waiver is seen as a populist measure...
All the talk that the government is engaging in, that it is a war against black money, is also populist. The Prime Minister's language has changed. Earlier, he was saying it is against counterfeit money, then he said it is a war on black money, now he is saying it is for a cashless society - we want the digital economy to boom. So the goalposts are changing.
The common man is wondering - was this actually an exercise to unearth black money or was this a scheme to give a way to people with black money to convert it into white?
In any case, the government will have more resources after this exercise then it had earlier in terms of tax revenue or gain from the Reserve Bank of India.
We don't want these resources to be only utilised by Adanis and Ambanis. The top 10 corporate houses in India have taken Rs 5.3 lakh crore. More than Rs 6.7 lakh crore have been declared as non-performing assets (bad loans).
When poor people and the middle class are standing in queues, depositing their money in the banks, we don't want the banks to lend money to the same big corporates.
The last elections saw a complete wipeout of your party from western UP. Jats say that post the riots in Muzaffarnagar in 2013, they expected you take their side, while you chose not to, even as the BJP came out in their support...
At that time, it would have been easy for me to pick up a lathi and say let's set every house on fire. Let's burn our homes. The BJP was doing that.
BJP leaders have cases against them, while no RLD leader has any case connected to the riots. We did not want to stoke fires. We were there to put it out. That was a very polarised environment.
Today, those same people are asking hard questions of even BJP leaders, who, at that time, promised the moon. They are asking, what happened to those promises? Do you expect us to continue to live in an environment where we are not secure? Do you want to make another Pakistan in our own country?
BJP is going to try create the same enmity. For instance, the Kairana issue which was raked up was a case of ordinary crimes which happen, but to pin it to a particular community and paint it as the aggressor is unfair.
But the riots broke the alliance that Charan Singh and others had carefully crafted...
We had to bear the brunt of the whole episode. When the social fabric is completely torn, political equations will take even longer to repair. But one way of bringing people together again is through political alliances, when they start voting together. The farmers' issue, for example, is an identity shared by both Hindus and Muslims.
There were reports of you being in talks with both SP and Congress for an alliance. Now both parties say they don't want an alliance. Mulayam Singh says parties are welcome to merge into the SP...
The conversation with the SP was restricted to an event, that is their silver jubilee celebrations. Mulayam Singh called Ajit Singh as he was going through some stress, which, today, is out in the open. We did not want to be seen as people who don't stand up for those we have had an old association with. However, that did not translate into a political alliance. But the relationship is still there.
What about the Congress?
With the Congress, we did not have a conversation on alliance in the upcoming elections. Yes, we have fought elections together, there is a relationship. On certain issues, during the last government, there was some shared affinity for those issues and we took them up - whether it is land acquisition or Jat reservation.
It is still unclear if all these parties would be able to work together in the upcoming elections. It seems unlikely to me.
But you were approached by the SP...
Yes, but there was no discussion on the seats, on a joint campaign, on coming together in an alliance. It was nipped in the bud by Mulayam Singh's comment, before that conversation could even happen.
We have been in Opposition for four-and-a-half years. For us to suddenly go for an alliance, we would want our issues to be taken up. There is a distrust among the farmers against the SP government.
Do you think the lack of an alliance would automatically benefit the BJP?
Definitely. The BJP is in power at the Centre. It can make a lot of announcements. In the Bihar elections, we saw the PM going and announcing packages for Bihar which never came through. The same hype may be used in this campaign.
The BJP is going to use its offices to try and impress the people of UP that it represents change. Without a pan-UP platform, the voters of UP are still waiting and watching.
I sense a certain confusion. That is why even political parties are unclear about their positioning when there are barely three or four months left for the elections.
We are trying our best to get these parties together. We are talking to the small parties, and if we are able to build something credible, it will get traction. Otherwise, with the BJP being in power at the Centre, it has an advantage.
Edited by Shreyas Sharma
More in Catch
UP polls: No Bihar-style grand alliance, but Nitish has an ally in Ajit Singh
Puttar Pradesh: RLD's Jayant Chaudhary set to join Akhilesh's govt
Mahagathbandhan 2.0: Are Nitish Kumar & Prashant Kishor working to form a party before 2019 polls?