Seemanchal set to vote: the overdose, the outsiders & the real fights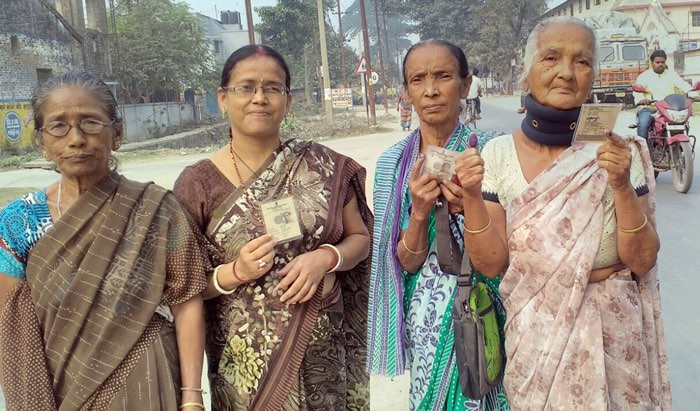 The region
The fifth phase consists of 57 seats in the Seemanchal region
This includes nine-districts, including the Muslim-dominated Kishanganj and Araria
The propaganda
The BJP has gone all out with its communal propaganda ahead of this phase
More in the story
A ground report about what\'s on people\'s minds
A community-wise breakdown of who\'s likely to vote for whom
While travelling from Madhubani to Supaul along the Kosi river, paddy fields spread out to the horizon. The colour of the crop is golden.
It was not the same when Bihar began voting for a new assembly on 12 October. The crop was green then. The colour has changed, which means that crop is ready for harvest. And after Thursday's final phase of voting, the state will be ready to reap what it has sowed in EVMs over the last 23 days.
The nitty-gritties
There are many striking hues to this phase of polling. There are colours imported from Gujarat and Hyderabad; some hoping to repeat the success of last year's Lok Sabha polls, others trying to be relevant across the country.
There are nine districts going to the polls in this phase - Kishanganj, Araria, Supaul, Madhepura, Madhubani, Darbhanga, Purnea, Saharsa and Katihar. They constitute 57 seats in the assembly of 243. A significant gain in this phase is important in an election which has been a close contest till now.
Read- Divide, polarise, confuse: BJP's strategy for final phase of #BiharPolls
Here, in the past few weeks of campaigning, people have received an overdose of propaganda. But they've patiently listened to outsiders and locals alike. They know who the candidates are, what are the factors important to them and whom to vote for.
'M' is more consolidated than 'Y'
As opposed to other phases, the key presence in the fifth phase is that of the Muslims. They form the majority of the population in Kishanganj, while in Araria, they are present in large enough numbers to be the most important factor. They are influential enough on many other seats as well.
Lalu Prasad Yadav's politics hold the key here - the M-Y equation. And while the Yadavs stand solidly behind Lalu in other parts of the state, here, they are not as consolidated.
A significant gain in the fifth phase is important in what has been a close contest till now
On the other hand, Muslims are clear and determined in their outlook. As 85-year-old Mohammad Kalimullah, a retired Urdu teacher at the BS College from Singheswar assembly segment in Madhepura says: "What's happened before will happen again. It's not going to change."
Saif, from Araria, adds: "Don't doubt our wisdom. Our position is clear." Kishanganj's Salahuddin says: "We know what we want to stop." The writing is on the wall.
Forward vs backward
Even on the marginal seats, the upper castes are clear about their choice. Ameer Jha of Maladh in Pipra assembly seat says, "Nitish propagates his good side. But we know his bad side as well. We know where to vote."
Radha Raman Thakur, another Brahmin voter from Purnea, has same view. "Try Modiji at least once. What you are scared of and why?"
But among the backwards, there is a clear shift towards Lalu.
In Kumhet, a Yadav-dominated village in Pipra, Surya Narayan says, "Forget about a vote, the BJP will not get a polling agent in this village." A Class IX student, Ashish, jumps in to the conversation, and says: "Modi takes the people's money and roams the world with it. He hasn't done a single thing till this day."
That seems to be the general consensus. Pappu Yadav, a youth from Madhepura, tells us, "95% [of the Yadav vote] won't go anywhere." He also expresses a desire to meet Lalu's younger son Tejaswi.
Bablu Kumar, an OBC from Bhaisna Chauk in Katihar says he has voted for the Congress and the BJP in the past. This time, he has decided to vote for Lalu.
The fence-sitters
The Mandal community has an influential presence on some seats, and is largely voting for the NDA.
But Rajendra Mandal, a man who hasn't even heard of the Mandal Commission that led to the reservation era in India, is clear that he'll vote for the RJD's lantern symbol.
Sweet seller Vishveshwar Shah belongs to the EBC category and is a former armyman. He hails from Jarjhat Sawaila in Singheswar assembly constituency. His vote is for Nitish Kumar.
Also read- #BiharPolls: Pappu Yadav may not matter in Phase 5. Here's why
Some Mahadalits are voting for the grand alliance while some are going with the NDA.
Ramadeyi Musahar of Phulparas in Madhubani has spurned the biggest leader of the caste, Jitan Ram Manjhi, and is set to vote for Nitish. Unlike NDA ally Ram Vilas Paswan, Manjhi is not that influential in these parts of the state.
Rajesh Kumar Teli of Chauhatta is not even voting for his maternal uncle Mahendra Sahu, who is the BSP candidate from Pipra. His vote will go to the BJP.
EBCs and Dalits are divided. Nitish has some influence on them in this belt.
Bihari vs bahari
The campaign the BJP has run make it obvious that it sees Muslims as 'baharis' or outsiders. To party leaders, they are Bangladeshi or Pakistani. Refer to Amit Shah's comment that a BJP defeat will lead to the bursting of firecrackers in Pakistan.
But for the public, Shah and Prime Minister Narendra Modi are the outsiders. As is Asaduddin Owaisi, whose AIMIM party is trying its luck on six seats.
For the public, Amit Shah and Narendra Modi are the outsiders. As is Asaduddin Owaisi
The BJP has tried its best to play the communal card and polarise the voters. But has it had any impact on the voters?
"We know who are bahari and what they want. This is their politics. They are seasonal; we live here together. We'll have to wait for five years before they come back. We understand fully well who is saying what and why," says Vinod Kumar, a businessman in Kishanganj.
Insignificant others
There are others in the fray as well. Muslims in these areas are divided into two sub-categories - the Sheikhs and the Surjapuri or Pasmanda.
The Nationalist Congress Party's Tariq Anwar is the influential leader of the Sheikh Muslims in Katihar district. The party is fighting on all seven seats in Katihar, but doesn't look like a force to be reckoned with.
Ditto for Rajesh Ranjan alias Pappu Yadav, the leader of the Jan Adhikar Party. He has a strong presence in Supaul, Madhepura and Saharsa districts. His popularity could influence a few outcomes.
Then there are candidates from the Samajwadi Party and the BSP as well. But the UP-based parties are struggling for recognition. It would be a surprise if they saved their deposits.
The fate of 186 constituencies is already sealed inside the EVMs, awaiting declaration on 8 November. But Seemanchal still has theirs in their own hands.