Isn't this wrong, unethical & shameful, Mr. Modi?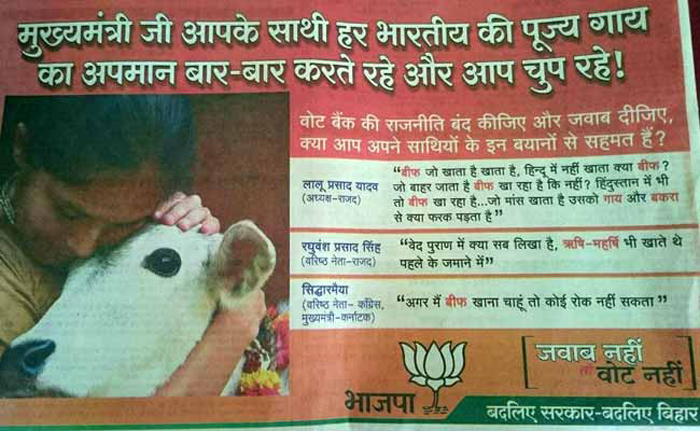 Divisive tactics
The communally sensitive Seemanchal area of Bihar goes to poll tomorrow
The BJP has published another ad that seeks to divide people on religious sentiments
Lesson not learnt
Last week, the EC banned two insensitive poll ads the party put out
But the BJP seems to have decided such ads are the way to go forward
More in the story
What kind of a message is PM Modi trying to send out
How are people from different walks of life reacting to such politics
Numbers are not everything in the world. Politics and ideology are much more than numbers.
But does the party with a difference understand that? Or has the it lost it?
When I woke up this morning in Purnia, which is going to polls tomorrow, bitterness awaited me: Page One of a popular Hindi daily carried this half-page BJP advertisement about how the allies of Chief Minister Nitish Kumar have insulted the cow.
For those who don't read Hindi, this is what today's morning ad translate to:
Mr. Chief Minister, while your allies were repeatedly insulting the holy cow, you kept quiet.

Stop vote bank politics and explain whether you endorse these statements.

"Don't Hindus eat beef too? Aren't people eating beef outside the country too? Beef is eaten in India as well. It does not make any difference to a non-vegetarian whether is goat or cow."

Lalu Prasad Yadav, President, RJD
"It's written in Vedas that Rishi-Maharshis (saints) also used to eat beef." (Senior Leader, RJD)
"No one can prevent me from eating beef if I want to." (Siddaramaiah, Senior Leader & Chief Minister, Congress)
No Answer- No Vote.
Change Government, Change Bihar.
The party has already been pulled up by the Election Commission for two offensive ads last week.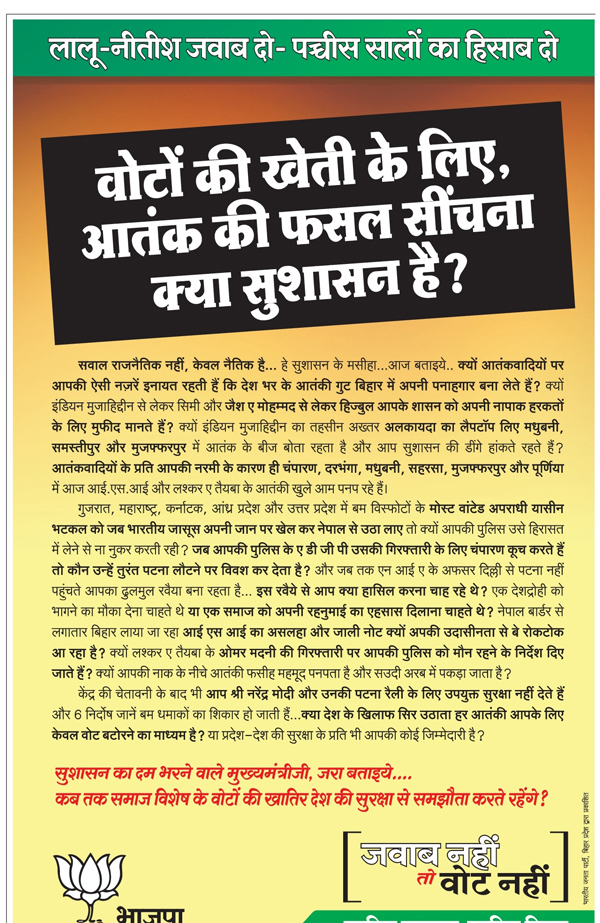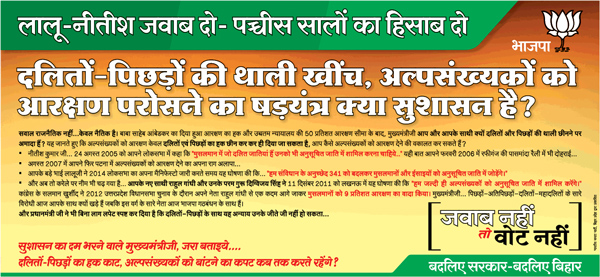 Those ads were banned, but the BJP seems to have be decided that a change in content and slogans would just fine to keep promoting hatred and social divide in the poll-bound area.
The fight between the NDA and the Grand Alliance is tight. The desperation to win is so high and insensitive that political discourse has been reduced to abuses and hatred.
And the BJP's campaign has been full dirty tricks - communally charged statements, politics of beef and cow, terrorism and Pakistan, caste and religious polarisation, personal allegations and below-par language for the family of politicians and political ideologies.
With this politics and this level of discourse, one wonders what would the party achieve even if it wins the election.
The Constitution of our country seeks a progressive and inclusive society. But this kind of political discourse will just Take us back by centuries - not to the 19th or the 20th century when Swami Dayanand Saraswati and Vivekananda were around, not the 16th or 17th century of Kabir and Meera.
Not even the 12th or 13th century when we had Amir Khusrau and Guru Gorakhnath. Neither was this discourse prevalent in the post-Buddha period, nor in the most ancient texts of our land, the Vedas.
Mahatma Gandhi never contested an election, but he stands taller than any other politician in this country. Ditto Jai Prakash Narayan, whom the BJP used to boost its campaign.
Narendra Modi is the first non-Congress Prime Minister with an absolute majority. Is this the way he wants to take the people of India ahead?
The hatred is like dark smoke clouding the sky - it's all darkness, difficult to breath. If Modi looks around, he will find people from all sections of society disappointed within 18 months: academicians, writers, journalists, historians, artists, scientists, environmentalists, social scientists.
Even those who praised him and helped him gain majority - the business and corporate community now find it uncomfortable.
Even the business community which praised Modi is uncomfortable with the politics of hatred
Modi is conscious of his image - his presence and his outfit. He seems desperate to gain some praise like Nehru and Indira Gandhi, even Atal Bihari Vajpayee - NDA's first PM. But what is happening now will not help him gain that.
He should not let the history of Indian politics mark his era as the darkest. And yes, he should ride a horse, not a cow - the mother. It is unethical according to his text book and our culture.