India Ideas Conclave: the right wing's way of gaining acceptability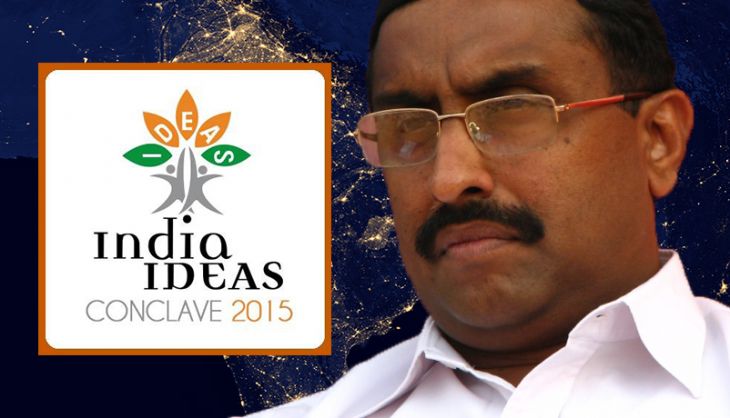 The conclave
The India Ideas Conclave began in Goa on Sunday
It has been organised by the India Foundation
It is one of the most high profile gathering of right wing intellectuals
The reason
Ram Madhav, the brain behind the conclave, says it isn\'t just for right wingers
He says that people from different ideological persuasions have been invited
More in the story
What is the motive behind the conclave?
How closely is the RSS involved in it?
The India Ideas Conclave began in Goa on Sunday. This is one of the most high profile gatherings of Hindu right wing intellectuals in recent times.
Not a very old initiative, the conclave which is conducted by the India Foundation, a right wing think tank, started last year after BJP came to power.
The brain
The key architect of the conclave is RSS man Ram Madhav. He is now with the BJP as its National General Secretary. "India Ideas Conclave brings together a luminary gathering of policy makers and public intellectuals from around the world," he told Catch.
"There is lack of a proper discourse on serious national and global issues. The need of the hour is to have an open minded discussion on important intellectual issues," he said.
Ram Madhav said that it is wrong to consider the conclave as a gathering of right wing intellectuals.
"It's not just a right wing intellectuals. we have very prominent people from different fields and ideologies. They are coming together to put forward their ideas. This helps to understand things in a more democratic and comprehensive manner. We want a meaningful and neutral discourse," he adds.
The event
Over 350 intellectuals including government leaders, professionals, scholars, journalists, politicians and social activists are participating in this conclave.
According to a brief provided by the organisers, "Last year, scholars from over 25 countries including several heads of state attended this conclave. Several scholars presented white papers, one of which was subsequently been adopted by the Government of India this year".
The theme of this year's conclave is "Learnings from Civilisations". Prime Minister of Bhutan Lyonchhen Tshering Tobgay is the chief guest of the occasion.
Among the 60 speakers this year, there are Governors, chief ministers, former PMs from other countries, Cabinet ministers, spiritual gurus and scholars. Intellectuals like Walter Andersen, Tariq Ramadan, Lobsang Sangay, David Frawley, Jaya Jaitly, Tufail Ahmad, Tarek Fatah will be attending the conclave. .
RSS Sah Sarkaryavah Dattatreya Hosabale is expected to be present as is Jamiat Ulema-e-Hind leader Mehmood Madani.
However, Madani's presence seems uncertain as he is supposed to attend an event with another right wing think tank, the Vivekananda International Foundation at the same time.
Obviously, there are no representatives from progressive left wing scholars and intellectuals. Is this deliberate?
"We have our own criteria. Many people who don't agree with us and have a differ way of looking at things are also coming. We have our critics and opponents," Madhav said.
"We invited people from ideologies which are against us. Some of them refused due personal reasons or prior engagements," he clarified.
Themes
The topics are very interesting and cover a large area of issues Here's the list of themes:
Kashmiriyat, Jamhuriyat and Insaniyat (Kashmiriyat, democracy and humanity)
Cultures in conflict: the roads ahead
Digitisation and future of India
The new politics
World without poverty
In search of Lakshmi: towards Indic economics
Gender equality, gender sensitivity, gender neutrality
Rise of radicalism - future of civilisations
Mother earth, mother nature - the Eastern Wisdom
RSS and its cultural agenda
The pen warriors- literary battles for civilisational ideas
Semitic ideas - orthodoxy, modernity and reform
Are lifestyle issues becoming identity questions?
This conclave must be seen as the right wing's attempt to gain larger acceptability. The foundation is giving out the Ustad Bismillah Khan Award for cultural activism and has invited a progressive band like Indian Ocean to perform.
This need for acceptability is crucial at a time when the right wing is facing flak in India and writers, historians and artists are returning awards in protest against rising intolerance.
"We have speakers who stand in complete opposition to each other. The idea is to bring them together. People are free to comment and give their views on any of the themes," Madhav said.