In Rajnath Singh, Congress finds a punching bag for budget session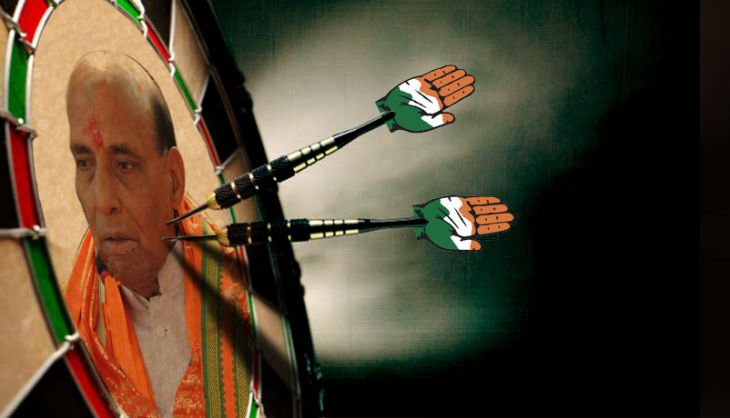 Home Minister Rajnath Singh is all set to be the punching bag for the Opposition in the forthcoming budget session of Parliament.
The Congress has said it will try to corner Rajnath in particular, as it mounts its offensive against the government on a host of issues.
The Congress's attack on him is centred around a strange coincidence - three different instances, all involving terrorists.
Must read: #JNUCrackdown: politics of paranoia around sedition can singe Rajnath
The three instances
The party appears most riled by Rajnath's defence of police action in JNU based on an alleged tweet by Lashkar-e-Tayyeba founder Hafiz Saeed. On 14 February, the Home Minister had claimed that the pro-Afzal Guru event in JNU had received Saeed's "support".
He backed his claim citing a series of tweets, said to be by Saeed, that asked Pakistanis to support the agitation in JNU. Rajnath drew further flak when word got around that the Twitter handle that he believed was Saeed's was a fake account.
Three days before this statement, Rajnath had cited Pakistani-American terrorist David Headley's testimony to assert that Ishrat Jehan was indeed a Lashkar operative. He also demanded that Congress apologise to Prime Minister Narendra Modi for levelling allegations of Ishrat's encounter by Gujarat cops when Modi was the state's Chief Minister.
In yet another incident, early in January, Rajnath had egg on his face when he had declared that the Pathankot terror attack was over, when it went on for two further days.
All-out attack
Through its assault on Rajnath, the Congress hopes to drive home the point that the office of the Union Home Minister deserves much more seriousness than this. This argument will also lead up to the Congress's allegation of low-quality of governance under Modi.
The Leader of the Opposition in the Rajya Sabha, Ghulam Nabi Azad, told the media that Rajnath has a "habit of quoting terrorists".
"He believes Headley. What if tomorrow Headley says something against BJP? Will he trust him then?" Azad wondered.
Reports have indicated that the Congress may also bring either a censure motion or adjournment motion against the government in the session.
The party has no dearth of issues for these motions, with several recent controversies having already prepared the ground for confrontation. These include Dalit scholar Rohith Vemula's suicide, the Pathankot terror attack and the Afzal Guru protests in JNU.
Edited by Shreyas Sharma