In Goa, AAP gives signed guarantees to fulfill poll promises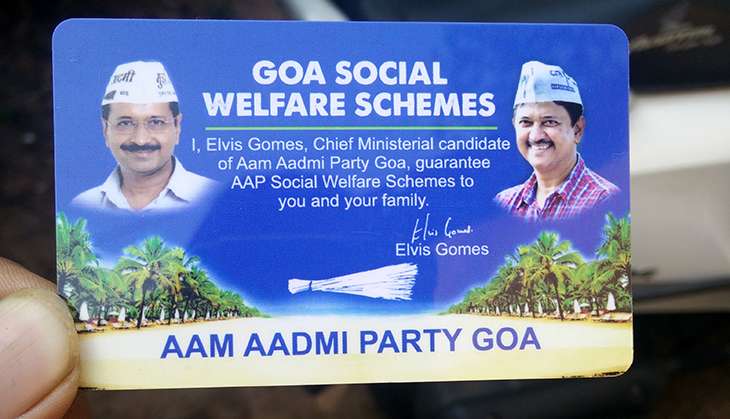 Elections in India are incomplete without promises, while politics in India is incomplete without lampooning politicians about unkept promises. The Aam Aadmi Party's campaign in Goa has taken this seriously. AAP's candidates for the state polls scheduled for 4 February are distributing leaflets and debit card-sized plastic cards listing the six social welfare schemes it has promised. This is accompanied by a signed "guarantee" by the party's chief ministerial candidate Elvis Gomes that they will be implemented.
For example, the first promise says: "AAP Yuvak Scheme to provide Rs 5,000 per month as unemployment allowance. I, Elvis Gomes, guarantee that you will be provided Rs 5,000 per month," which is followed by Gomes's signature. A similar scheme follows for the rest of the five schemes, related to women, senior citizens, the differently abled and HIV/AIDS patients, with each promise followed by "I, Elvis Gomes,..." and the signature.
This is not all. Each leaflet, printed on glazed paper, has a cutout at the end. Here, AAP volunteers fill in the name, address and contact details of each voter they visit on door-to-door campaigns. A unique registration number is assigned to each voter, which is copied on to the main leaflet. The leaflet remains with the voter, while the slip containing their details is detached and kept with AAP.
In some cases, the party is also providing plastic cards, which will also bear the registration number. Like the leaflet, the card bears photographs of Arvind Kejriwal and Elvis Gomes, with the statement: "I, Elvis Gomes, Chief Ministerial Candidate of Aam Aadmi Party Goa, guarantee AAP Social Welfare Schemes to you and your family." At the back, the card says, "This card represents the solemn promise of Aam Aadmi Party Goa that it will keep its pledge about AAP Social Welfare Schemes. Preserve this card and keep it in a safe place."
The idea is that if AAP comes to power, and doesn't implement any scheme, voters can present this leaflet bearing their unique registration number to Gomes to presumably invoke his "guarantee".
"The distribution of cards to eligible voters is a pledge by Elvis that when he becomes the chief minister they can hold him accountable, using that card," AAP spokesperson Ashley do Rosario told Catch. He added that the cards are distributed to only those voters who declare to AAP volunteers that their family income is below Rs 5 lakh per year - which is the eligibility criteria for these schemes.
"Often when we go door-to-door, people do not pay attention to what we are saying. But when we give them these monetary guarantees, they take us seriously and we can have a conversation," an AAP candidate said, adding that this is a way to counter cash distribution by other candidates. In Goa, it is common for politicians to distribute Rs 1,000-2,000 per each voter in return for support. At one of his rallies, Arvind Kejriwal told voters to accept the money but vote for AAP (his statement has since been challenged before the Election Commission).
Indeed, the leaflets only promote schemes with monetary benefits. For example, the AAP Mamata scheme promises to pay Rs 10,000 when a girl is born, another Rs 10,000 when she is immunised, and three more installments of Rs 10,000 each when she completes 10th, 12th and an undergraduate degree. AAP Dayanand Social Security scheme grants Rs 3,000 per month to senior citizens, while Aam Aurat Grih Aadhaar Scheme promises the same amount to "every single or married woman all their lifetime" with household income under Rs 5 lakh per year.
On asked why the other points in AAP's manifesto, including on mining and agriculture, were not similarly assured, an AAP leader said, "These social welfare schemes are tangible and involve expenditure from the treasury. Other promises, on the other hand, are generic in nature."
Most of these schemes, which the party announced on 24 December, already exist, but their payouts have been raised and all members of an eligible family are eligible, against the current restriction of one beneficiary per family. Chief minister Laxmikant Parsekar had, in response, told the press that he wondered where the money for the increased payout would come from. In 2015, Goa had the fifth highest debt relative to its state GDP.