If BJP wants to destroy Dalit-OBC ethics it should be ready for backlash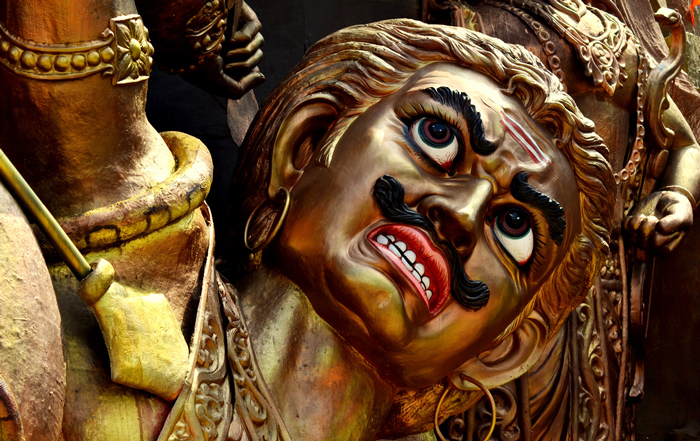 Durga and Mahishasur
Prem Kr Mani recast the myth in the prism of debrahmaising history
Mahishasur, Bali Raja & other Dravidian deities have millions of followers
Dharma and adharma
Brahminic Hinduism equates such trends with aharma
It calls for the elimination of all adharmics
More in the story
What is the intent behind Smriti Irani\'s Parliament speech
Why the BJP won\'t have it as easy as it thinks
Some time back, Prem Kumar Mani wrote an article on Mahishasur and Durga in Forward Press - a fortnightly magazine published from Delhi.
He undertook the project of rewriting the history of Shudras against the Brahminic history, based on the mythology itself, that became popular during the freedom struggle.
In this article, he told the story of how Durga killed Mahishashur. Mani, from the 'Other Backward Classes' of Bihar, is the elder brother of Braj Ranjan Mani who wrote the famous book, Debrahmanising History.
Also read - They want her head after all: Opposition to move privilege motion against Smriti Irani
The All India Backward Student Forum (AIBSF) of Jawaharlal Nehru University (JNU), headed by Jitendar Yadav, printed this article as a pamphlet and celebrated Mahishasur Jayanti. The Hindutva forces on the campus were very worried about this ideological and historical transformation of the OBCs of North India. They complained to the police and also to JNU authorities.
University authorities were also worried about this new writing of history taking place as they too believed in Brahminic history. The unfolding of multi-cultural historiography was part of the post-Mandal transformation of the Indian educational institutions.
By quoting the pamphlet selectively in Parliament, Irani opened ideological battle between BJP govt & Dalit-OBCs
The Proctoral committee examined the pamphlet and heard the arguments of AIBSF leaders and could not find anything wrong with that kind of new historiography.
Ever since, Akhil Bharatiya Vidyarthi Parishad (ABVP), headed by brahminic, upper-caste students started celebrating Ram Navami, Ganapathi, Durga puja festivals etc at university campuses, Dalit-OBC students started their own icon-centered festivals.
This, they thought, would lead to de-hinduisation of OBCs, who were being used by Hindutva forces as the main muscle-power resource from the days of the demolition of Babri Masjid.
The Dravida icon celebration has been there in the South: The famous Onam celebrations of Kerala around the icon of Bali Raja, whom the Hindu Vamana killed in a criminal conspiracy is well known.
Similarly, near Mysore there are small temples of Mahishashur, Ravana and other Dravidian gods and goddesses and people pray those deities - but only Shudras and Dalits.
In Andhra Pradesh and Telanagana, there are many local Dravidian deities, who have no history of a violent life like Durga. Millions pray to such deities. Hindutva forces wanted to brahmanise them, but havn't been successful yet.
Once cultural battles between Dalitbahujans and upper castes take shape nobody can stop them
There is a big statue of Mahishasur in Mysore. In fact, there are several stories about how the name 'Mysore' comes from Mahishasur. That area used to be called Mahisha Mandala. This divine image has a story narrative that goes with buffalo-friendly nationalism as against the cow nationalism of the Hindutva forces. Mahishasur is also shown in the jet-black colour of a buffalo.
Periyar Ramasami Naicker invoked several such Dravid icons while fighting against Hindu Brahminism.
By quoting from that pamphlet selectively in Indian Parliament, Minister for Human Resource Development, Smriti Irani, opened a major ideological battle between the BJP government and the Dalit-OBC culture.
By opposing all Dravidian history narratives and its culture of divinity, the minister opened yet another intolerant chapter.
Also read - Smriti Irani steals the show: 8 takeaways from the JNU debate in Lok Sabha
The Sangh Parivar treats the Dalitbahujan (Dravidan) cultural heritage as un-Indian as they treat Islam and Christianity as un-Indian. In their notion of nationalism, Indian culture is equivalent to Brahminic culture.
She was the one who sent feelers into universities that they should serve only vegetarian food in campus hostels and canteens. Thus, the present regime treats serving meatatarian food items in India as anti-national.
Sangh Parivar treats Dalitbahujan cultural heritage as un-Indian as they treat Islam and Christianity as un-Indian
In her view only Durga is Indian, not Mahishasur. In her view only Vaman is Indian, not Bali Raj. In her view only Ram is Indian, not Ravan. In her view only Sita is an Indian woman, not Shurpanak.
Thus, the Mahishasur-Durga metaphors are 'national' and 'anti-national' metaphors. Mahishahur is 'anti-national' like Rohith Vemula, Kanhayiah Kumar, Omar Khalid and other Hyderabad University and JNU students.
The fundamental discourse around Mahishasur and Durga relates to violence and victimhood. Brahmin ideologues construct this discourse around 'dharma' and 'adharma' and say all adharmics should be killed.
If you map up this mode of justifying all those who are defined as adharmic and they need to be physically eliminated, the opponents of BJP and its vegetarian cow nationalism should also be eliminated: all Dalitbahujans who have ideas of alternative history should be eliminated as they are refusing to follow the Brahminic Hindu Dharma. So also the Muslims and Christians should be eliminated because they have a different understanding of God and Allah from that of Ram and Durga. They precisely started doing this by eliminating Kalburgi, Akhlaq, Rohith Vemula and so on.
There is specific hatred towards everything black in the Hindutva camp. Mahishashur is buffalo-black in his historical image, whose death does not matter at all, like buffalo slaughter does not matter in all BJP-ruled states.
Unfolding of multi-cultural historiography was part of post-Mandal transformation of Indian educational institutions
They believe in protecting cow, Brahma, Ram and so on. The Brahmin Rishi cultural history is racist history. The Dalitbahujan scholarship initiated by Mahatma Jotirao Phule started taking on this Hindu mythology and turning it on its head. The Indianness of this kind of reading of even mythology is indigestible for the Hindutva school.
During the 2014 general elections they put Narendra Modi in the forefront and campaigned that he is an OBC and Dalit-OBC concerns would be taken care of through their development agenda. But, having come to power with that promise, they are attacking everything that Dalit-OBCs believe as their culture, their history, their mythology, their food, their symbols and so on.
Irani's attack on the Dalit-OBC cultural heritage will have a huge backlash as did the death of Rohith Vemula. If Irani wants to destroy the productive and native cultural ethics of Dalit-OBCs, the BJP will realise how that will damage to Narendra Modi's 'Make In India' project.
Once the cultural battles between Dalitbahujans and upper castes take a definite shape, from Panchayats to Parliament, nobody can stop such cultural battles.
The views expressed here are personal and do not necessarily reflect those of the organisation.
More in Catch - Mayawati beats Irani with her own words: 'will you chop off your head now?'
"If you're anti-national, so are we": JNU students write to Kanhaiya, Umar & Anirban