Idea of India in danger: Oppn reacts to RSS chief's call for law based on 'ethos of society'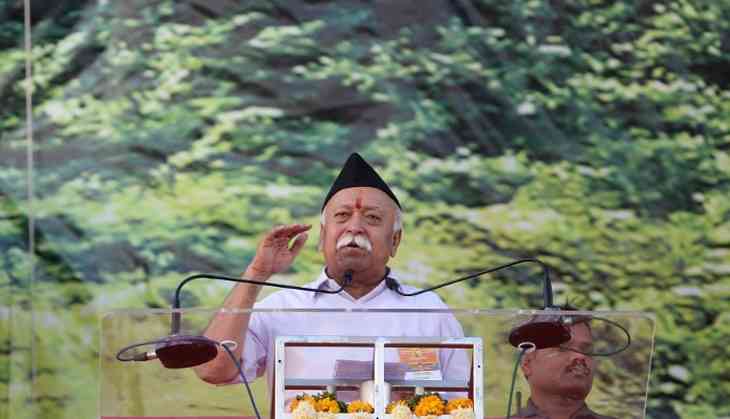 (AFP PHOTO/INDRANIL MUKHERJEE)
Rashtriya Swayamsewak Sangh (RSS) chief Mohan Bhagwat raised a political storm after he pushed for reforms in the Constitution and jurisprudence in accordance with "Indian ethos".
This is not the first time that the RSS or its ideologues have made such a demand but what is worrying the Opposition is how the RSS feels emboldened enough to raise the issue repeatedly ever since BJP came to power in 2014.
Taking serious note
Opposition leaders are of the opinion that this threat can no longer be taken lightly and every effort should be made by political parties and common man to resist any such attempt.
According to senior Congress leader Mani Shanker Aiyar, "At this point, we should warn the people of the country that everything that our founding father fought for would be destroyed if RSS has its way. Well, I would only say that such a move would lead to the end of idea of India."
He goes on to add that this has been a longstanding demand of the RSS and they have been propagating a new Constitution based on Manusmriti. "They might do all this drama of celebrating Constitution Day and pledge their loyalty to it but deep inside the RSS and its ideologues hate the very idea of a constitution that does not distinguish between people based on their caste or religion," he said.
A longstanding tradition
While speaking at the silver jubilee celebrations of Akhil Bharatiya Adhivakta (Lawyers) Parishad in Hyderabad, Bhagwat was quoted by Times of India as saying, "Our Constitution was written based on the understanding of the 'Bharatiya' ethos of our founding fathers, but many of the laws that we are still using are based on foreign sources and were made as per their thinking. Seven decades have passed since our independence... this is something we must address."
Bhagwat has been a vocal proponent of altering the Constitution, something his predecessors and ideologues have always pushed for. In fact, RSS wanted the Constitution to be replaced with Manusmriti, which has derogatory references to Dalits and women.
There is ample evidence to suggest RSS' dislike for the Constitution and many of its ideologues, including Golwalkar, had publicly spoken against it. And the tradition continues with Bhagwat pitching for altering the Constitution whenever the opportunity arises.
What constitutes Indian ethos?
Meanwhile, Biju Janata Dal leader Tathagata Satpathy questions what constitutes Indian ethos and whether RSS has any authority to define it. According to him, there are no unified ethos in India and cited example of how Hinduism with so many sects does not have any unified ethos.
"Ethos that apply to UP may not apply to Kerala or to West Bengal. As a citizen of India, I feel that this is a very dangerous threat and another means to spread hate which has already taken deep roots in our society. It would be an extremely sad day for India if RSS succeeds in carrying out its longstanding demand. This is a very dangerous thought," he added.
Taking on both Bhagwat and RSS, Sathpathy said that no one individual or organisation is empowered to decide on what are Indian ethos. He, too, reiterated that any changes in the Constitution would destroy the very idea of India.
Warning BJP that any attempt to alter the Constitution and establish a fascist regime would not be tolerated by the people of India, CPI (M)'s Mohammed Salim said that people of India voted for Narendra Modi for development and not to bring RSS ideology at the centerstage.
"More they forget about their electoral promises and more they fall back on Golwalkar, Hegdewar or Bhagwat, people will realise their sinister agenda and throw them out of power. They want to create an environment where the likes of Gauri Lankesh can be murdered but people will resist such attempts," stated Salim.
Rejecting such demands by Bhagwat outrightly, Bahujan Samaj Party's Sudheendra Bhadoria said that BJP and RSS' demand will never be accepted by any political party, particularly BSP. Accusing the BJP and its ideological mentor of reviving an exploitative system of casteism, subjugation and oppression would be resisted by the people.
"They want to revive Manusmriti which treated Dalits worse than slaves. Indian ethos does not believe in reviving an exploitative system and any effort to tinker with the Constitution will have far reaching consequences. We reject this outrightly," he added.
However, Aiyar believes that this won't be as easy as being made by the likes of Bhagwat and pointed that the BJP still needs a two-third majority in Parliament to make any such changes. Moreover, he added that courts will intervene if any such attempts are made.
"Whatever be their plans, Bhagwat is not in the position to make any such move. It is certainly a long term project of the Hindutva brigade but it is not likely to happen soon. However, we will have to be very watchful and ensure there is resistance if they do push for it," the veteran Congress leader maintained.
Meanwhile, earlier in 2015, Bhagwat had created a furore when he in a interview to RSS' mouthpiece Organiser sought an end to the reservation policy which could have only be done through a constitutional amendment. BJP lost the elections and everyone, including party leaders, blamed Bhagwat for it.
Let's hope that Bhagwat's suggestion of rewriting the Constitution based on Manusmriti doesn't lead to a Bihar-like situation in 2019. Opposition parties are hoping that it would.