'I'll sue Prashant Bhushan & Yogendra Yadav for defaming me': Varun Gandhi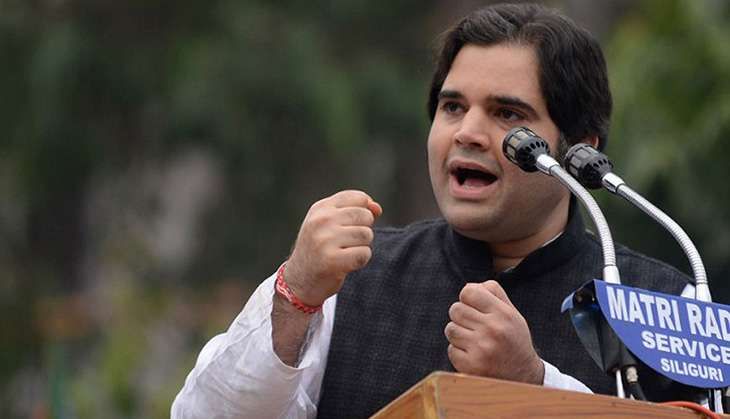 Edmunds Allen, the estranged business partner of Abhisek Verma, has made some startling claims about BJP MP Varun Gandhi - claims that, if true, could dent and even finish Gandhi's political career.
Allen's letters written to the Indian Prime Minister, Defence Minister and National Security Advisor claim that Verma was behind several national security leaks, which he got from Gandhi, who was once on defence consultative committee by blackmailing him.
He's claimed that Verma had 'honey-trapped' Gandhi and got his photos with foreign prostitutes and escorts which he was using to blackmail Gandhi to force out secret defence information and sell it to foreign firms.
These allegations come at an interesting time for Gandhi, at a time when the big UP polls are just a few months away and his party, the BJP, is putting its full might in to win it. Rumours have already started doing rounds that this could be a hit job from inside the party to cut down to size Gandhi, whose name was doing rounds as the face of BJP's CM candidate for UP.
In this interview, Gandhi speaks to Catch about the claims made in Allen's letters which were released by Swaraj Abhiyan leaders Prashant Bhushan and Yogendra Yadav, in a press conference in the capital on Thursday.
SM: The claim that you revealed secrets of national security to an arms dealer are pretty serious. How do you respond?
VG: There are various points to be raised here. First is that in their press conference Prashant Bhushan and Yogendra Yadav did not substantiate or give even an iota of proof to back a single insane claim that they made. They read out a letter by an American lawyer who himself has not given an iota of evidence to back his claims.
The second point to consider here is that it is true that I was in the defence consultative committee but such committees are not privy to any secret information. This is public knowledge. Matters vital to security of the country are never discussed in these committees or in any other parliamentary committee.
So there is no question of me revealing any secret information to any outsider, because any such secret is never discussed in these meetings.
SM. But did you not know Abhishek Verma?
VG: I last met Verma when I was 22 or 23. Now I'm going to be 37 years old. Nearly 15 years have passed since I last met him. I'm not saying that I never knew him.
And the reason why I knew him was because he came from a family of politicians, so it was nothing out of the ordinary to know him then. But since assuming my public life, I have never once met him.
SM. But you could have passed on information to Verma without meeting him in person.
VG. So there should be some sort of paper trail or e-mail trail to connect me to him. To whom am I giving this so called secret information? Is there any chain of e-mails or messages that are available with Bhushan or Yadav.
SM. What about the photographs and 'honey trap' that they claimed, Verma was using to blackmail you?
VG. Look such photographs can be made for a pittance on any computer these days. Still if they're available, why not release them. Also if you get any of my pictures with a girl, what does it prove? We need to find out when such photographs were taken. And are there also some videos, for God's sake?
SM. Prashant Bhushan and Yogendra Yadav did not take your name, but it was quite evident who they were referring to. If all these claims are bogus why not take them to court?
VG. I will. They did not take my name because they were scared that I'll take them to court, but they've made it obvious. I am going to take them to court for defaming me.
SM. These claims have been made on the heels of UP elections. Do you think they will harm your political career?
VG. You think so? This story [based on press conference by Bhushan and Yadav has not even lasted through the day], how will it hamper my career? I'm a fairly popular leader in Uttar Pradesh, who has done a lot of ground work and has had an unblemished career so far. I don't think these baseless charges will stick for even a minute.