How 'fake news' right-wing websites threaten opponents of BJP & RSS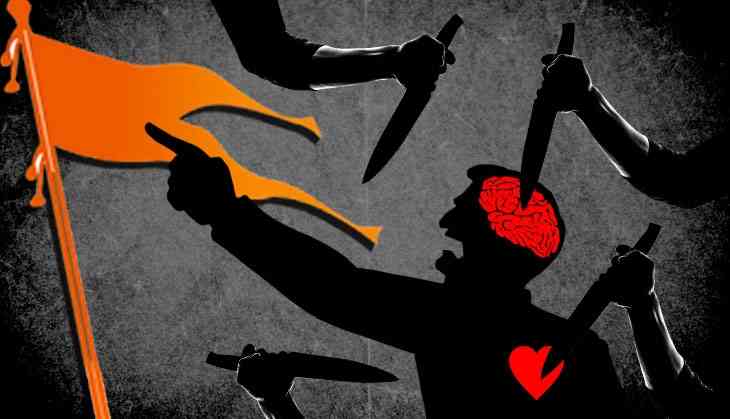 (Photo: Arya Sharma/Catch News)
Sonu Nigam may have run away from the debate he ignited months ago on social media, but right-wingers on the web are still striving to keep that controversy alive.
Not just that, they are also singling out those who have raised a voice against their agenda and deploying intimidation tactics against them.
Shehzad Poonawalla, civil rights activist and secretary of the Congress party's state unit in Maharashtra, was among those who had expressed reservations against Nigam's objection to public airing of the azaan from mosques. If action was to be taken against violation of loudspeaker guidelines by mosques, then same action should be taken against similar violation by pandals, Poonawallah had said then.
SonuNigam can criticise!When I say stop illegal use of loudspeaker in Pandals&Azan I m given death threat Fair? @vivekagnihotri @ShivAroor pic.twitter.com/VxzNcJRJwy

— Shehzad Poonawalla (@Shehzad_Ind) April 17, 2017
Subsequently, an obscure website, www.srishtanews.com, picked this statement up and published it with a spin.
A post appeared on the website on 18 April with the headline "Congress threatens to stop ringing of bells in temples if loudspeakers are taken down from mosques". The post attributes this statement to Poonawallah, without giving any details of when and where he had said this.
One thing leads to another in the right-wing world
It is not known who runs www.srishtanews.com, because its 'About Us' section is blank and it gives no information about its operators elsewhere. What is evident is that the website's content is obsessed with only two themes, both of which are massive click-baits – sex and Modi. Sample a few stories -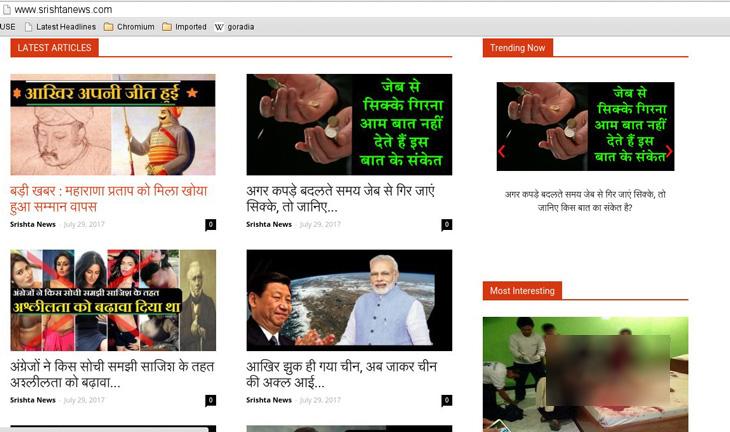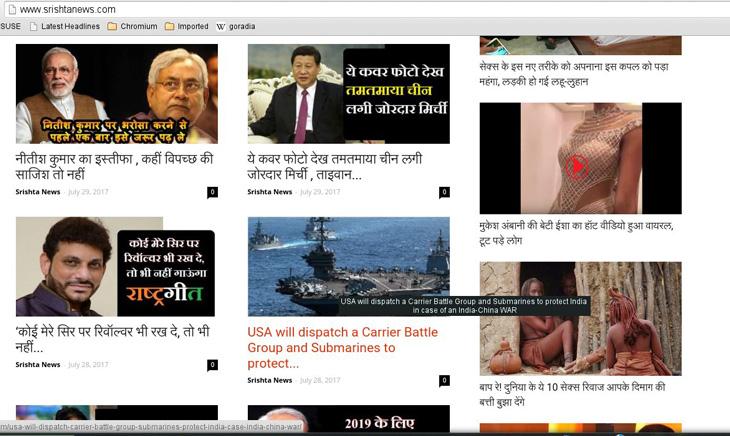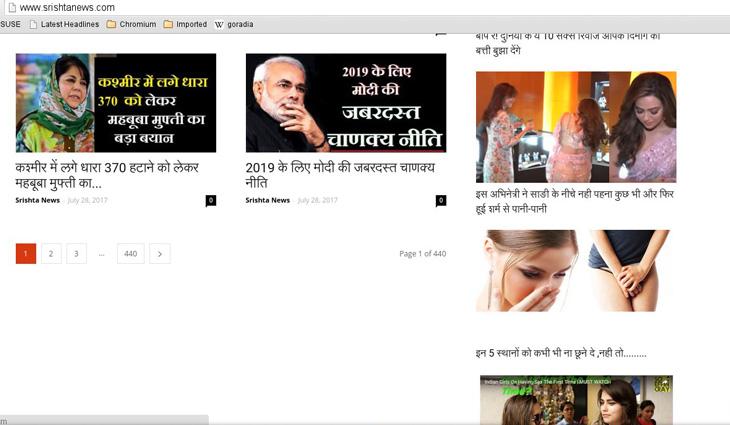 Ignoring the sex-driven pieces, all the political stories share three hallmarks – bad grammar, no source and a pro-BJP editorial slant. The doctoring of Poonawalla's statement too suits the majoritarian view and carries no evidence to support the claim that he made the statement as the website has reported. However, what the piece has led to is something much more sinister than simply malice.
The piece was picked up by a page on Facebook called "Bjp All India" (@Bjpalindia).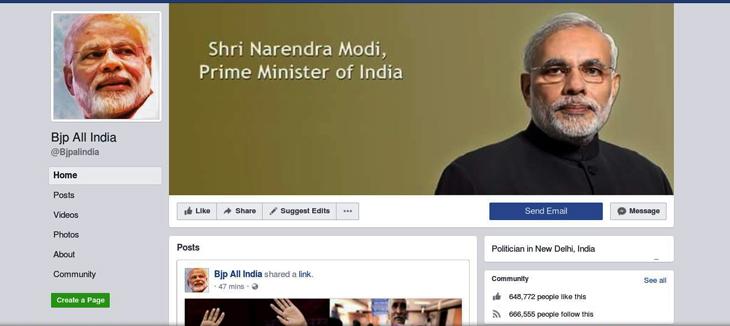 A post on the page dated 19 April mentioned this particular statement as reported by this website and carried it along with Poonawalla's picture. The post also gave out two mobile numbers that it claimed belonged to Poonawalla and urged the page's followers to call him and share with him their views on the subject.
Poonawalla has alleged that he is now actually receiving calls from unknown numbers. The callers allegedly refuse to identify themselves but abuse him and caution him to mend his ways.
Poonawalla has complained to the Delhi Police against these threat calls. He has told Delhi Police that he fears for his safety now and that the police should immediately track these people and take action. He has also appealed to the police to get the fake story and his mobile number removed from the website and the Facebook page, respectively.
Virtual to real threat machinery
It appears that the operators of this Facebook page specialise in criminal intimidation tactics. In another post published on the page is a video of a speech delivered by Samajwadi Party's MP Naresh Aggarwal in the Rajya Sabha. There was a controversial portion in his speech that was later expunged by the Deputy Chairman, who also cautioned media as well as social media from publishing it.
This Facebook page has gone ahead and published specifically that portion and abused Aggarwal. Just like in Poonawallah's case, this post too carries Aggarwal's contact numbers and urges people to call him up directly. Hinting at sinister intentions, the post specifically mentions that nobody should abuse Aggarwal's mother or sister and no wrong should be done to his daughter.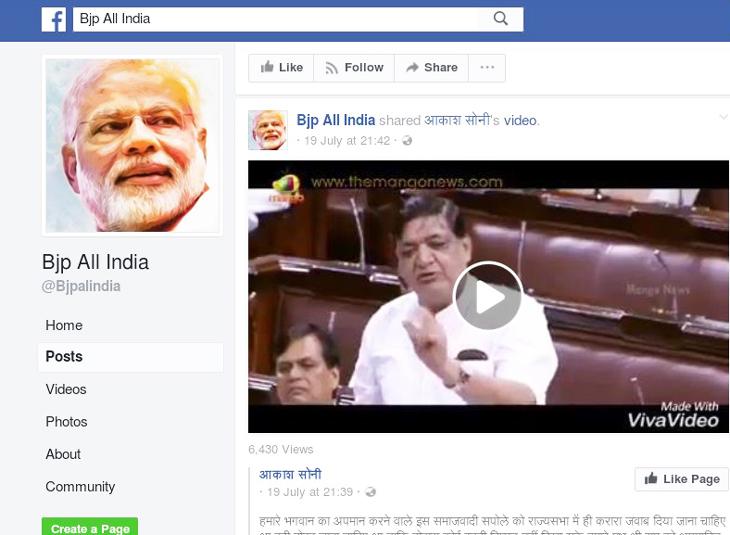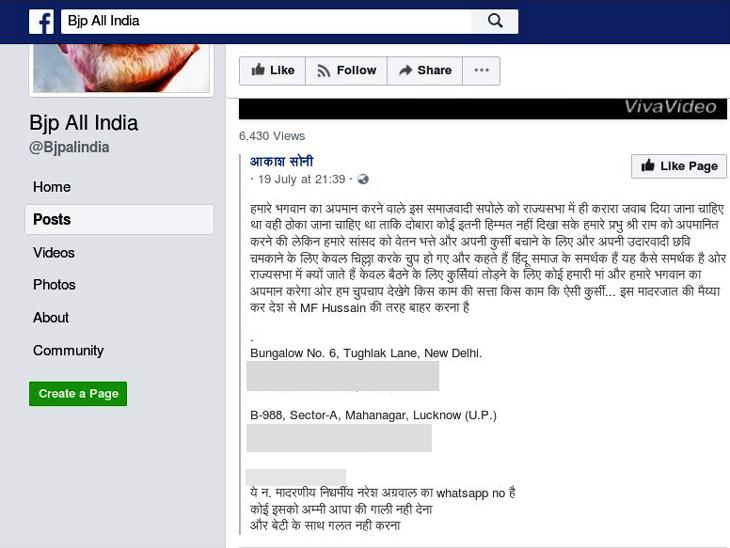 Aggarwal has already complained to the Deputy Chairman that he is indeed getting threat calls on the issue. Right-wing organisations and individuals are resorting to these intimidation tactics outside the virtual world as well. Last month, a freelance writer and activist named Gaurav Jain had reported how Hindu Sena guys were distributing pamphlets against him in his colony.
Jain had called for a beef-eating protest outside BJP office in Delhi two years ago and these pamphlets told "Hindus" in his neighbourhood about him how his family too must be a deviant lot.
These threats are just a step away from the lynchings that have been reported from many parts of the country in the last two years.
They show that there is a network of goons from the real world to the virtual who are patronised by right-wing organisations and who can be used to intimidate opponents into silence. The fact that they vow allegiance to the same ideological agendas that the ruling dispensation subscribes to is their shield and also their giveaway.