Himachal polls: Virbhadra unleashes sops but infighting continues to plague Congress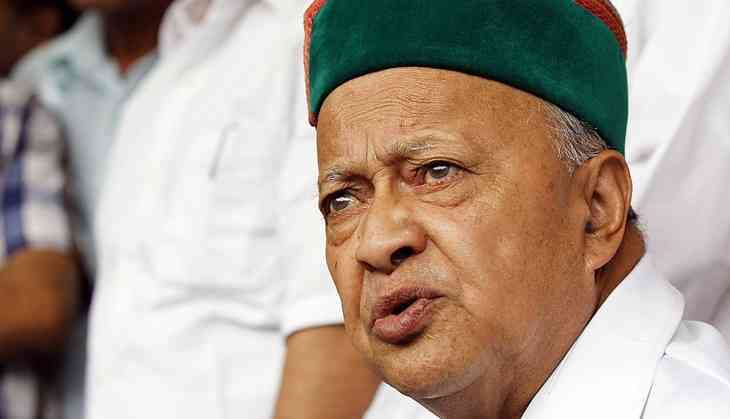 (Vipin Kumar/ Hindustan Times via Getty Images)
Treading the age old path to beat anti-incumbency, Himachal Pradesh Chief Minister Virbhadra Singh is busy doling out sops to the state electorate these days. But it might not yield the desired results given the intense infighting in the Congress in the state. The party's internal tussle shows no signs of ending even in the run-up to the Assembly elections in the state.
With HP being a state with very little industrialisation, its economic mainstay is mainly government jobs, tourism, agriculture and horticulture. The difficult terrain also calls for persistent development in terms of infrastructure like road connectivity, better health facilities, transportation, water and power supply to remote areas. A high level of literacy also fuels demand for better institutions of higher education in remote areas.
If one looks at the sops announced by Singh in the last one week, it can be seen that these are precisely the areas that he has targeted hoping to see these announcements will turn into more votes for his party.
Virbhadra's sops
On Sunday, he dedicated developmental projects amounting to Rs 60 crore in Anni constituency of Kullu which included laying the foundation stone of a Polytechnic at Dalash that would have five engineering branches with an intake of 60 students in each branch.
He inaugurated a newly constructed 50 bed civil hospital building and a stadium at Nirmand besides Kedas bridge over Kurpan Khud.
He laid the foundation stone of a college in Nirmand and water supply schemes in Shilla-Bona-Sarga and Kushwa- Kindla in Sarga.
Later he laid foundation of water supply schemes Chail-Sarahan-Nore and Rahnoo in Chail area of Solan district.
In his address at Nirmand, Virbhadra refuted the BJP's allegations that the government is on a foundation stone laying spree without adequate budget. He said there are enough funds in the government coffers to complete the schemes and the foundation stones are being laid for development in all areas and welfare of the people only after due consideration.
On Saturday, in his own constituency of Shimla (Rural) Virbhadra presented cheques worth Rs 20,000 each to 72 Mahila Mandals of 24 Gram Panchayats besides announcing a degree college for Poaba Ka Chonra in Chanog.
He said Shimla (Rural) constituency has been developed as model constituency where every section and sector has been given priority. He said 10 government senior secondary schools, nine high schools, 10 middle schools and 15 primary schools were opened during this tenure of the Congress government besides three degree colleges, a polytechnic college, a fine arts college and regional vocational training institute for women. For catering to the health needs of the people, three community health centres, 10 primary health centres, various sub health centres and ayurvedic dispensaries were opened during this period.
On Friday he had unveiled a statue of Maharana Pratap at Pong Dam that weighs 3000 kilograms and is 15 feet in height and 16 feet in length. He also laid foundation stone of a bridge over Khawajji Khud in Fatehpur constituency..
On Thursday, he announced a degree college to be opened at Ronhat in Sirmaur district. He had earlier announced a college at Dadahu. With this announcement, the number of colleges in Sirmour has gone up to twelve. He also announced an Industrial Training Institute for Dharti-Dhar in Renuka constituency besides dedicating a number of irrigation and drinking water supply schemes in the area.
In the Cabinet meeting held last week, the government had announced a series of sops for the government employees who are the biggest factor in deciding which party comes to power in the state.
It allowed financial benefits including annual increase as well as honorarium for vacation period on notional basis at par with their counterparts with effect from 1 June, 2017 for teachers that were earlier appointed through Parent Teacher Associations at places where the posts of teachers were vacant for a long time.
The government decided to grant retirement and death gratuity to New Pension System (NPS) employees and an increase honorarium of Panchayat Chowkidars.
It approved filling up 110 vacant posts of Junior Office Assistant (IT) in Health and Family Welfare Department on contract basis, appoint 110 staff nurses for Pandit Jawahar Lal Nehru Government Medical College at Chamba, create 96 posts of Foreman by upgrading the vacant posts of Pump Operators in Irrigation and Public Health (IPH) Department, fill up 20 posts of Assistant Professors (College Cadre) on contract basis, 31 backlog posts of lecturers in various disciplines in government polytechnics and 12 posts of publicity assistants in Public Relations Department on contract basis. The nod was also given for creating, filling up and upgrading posts in various other departments and a lot of these posts are in the health department.
Factional tussle
Despite such sops now being doled out on daily basis, the Congress still faces an uphill task in the run up to the polls because the infighting at the top level between factions led by Virbhadra and the state Congress president Sukhvinder Singh Sukhu is showing no sign of abating. The confusing statements from Virbhadra are further neutralising the positive results that this sop distribution can yield.
Virbhadra eventually got an audience with Congress president Sonia Gandhi last week where he is learnt to have sought Sukhu's removal. But at the same time the central in-charge of the party for Himachal Sushil Kumar Shinde ruled out Sukhu's removal bringing the situation back to square one.
Virbhadra has been saying that he will not contest the polls with Sukhu at the helm. He also did not attend a meeting convened by Congress vice-president Rahul Gandhi in Delhi.
The Congress now stands in a quandary as it cannot remove Sukhu at this point of time. It is desperately trying to placate Virbhadra while looking for a working formula. It does not want an episode like the one in Gujarat where senior Congress leader Shankersinh Vaghela's departure from the party was marked by the exit of several Congress MLAs.
On the other hand Virbhadra while doling out sops is also using the public platforms to attack his detractors in the party. Observers say that this is being done at the cost of attacking the Opposition BJP which should be the target at these functions.
At Nirmand, Virbhadra went to the extent of saying that it seems that Congress has forgotten the ideals and party constitution. He said that right from block level up to All India Congress Working Committees, members were earlier elected but now the party is going in a different direction. Nowadays even the Block Congress members are being nominated from Pradesh Congress Committee (PCC) office. He said the new blood should be given preference as the stagnant water emits foul smell and one bad fish can spoil the whole pond.
He complained that his suggestion to All India Congress Committees (AICC) as well as to PCC is that there is a need for change in thinking and change in working, and if any member is to be given preference he should be elected on basis of his dedicated services for the party right from Block level to District Congress Committees. The policy of pick and choose should be avoided as it has finished the culture of the party