High profile battle in Lehragaga: Punjab FM Dhindsa takes on former CM Bhattal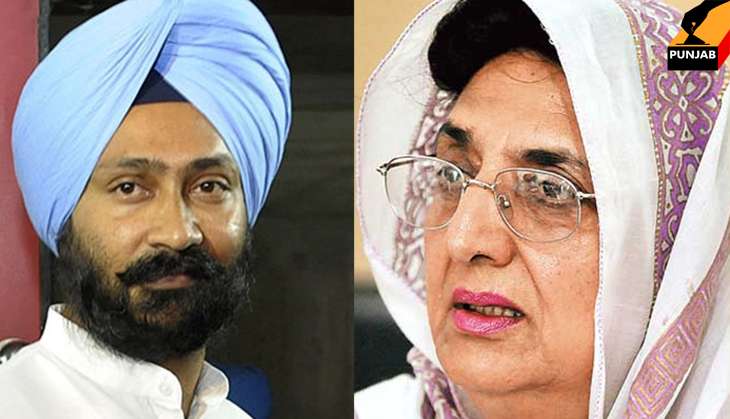 A scuffle breaks out at the Main Bazaar in Lehragaga in Sangrur district, when a group of volunteers begin distributing free food. Nearly 50 people jostle to grab a handful of pakoras the volunteers were handing out.
Amidst the commotion, a VIP cavalcade - with two read beacon cars and several other vehicles - comes and parks itself barely 20 metres away. Former Union Minister and Akali stalwart Sukhdev Singh Dhindsa gets out of one of the red beacon cars, looks around, expecting people to recognise him, and walks into a small building with several party members.
The jostling for free food continues completely unmindful of Dhindsa's arrival. Dhindsa stays in the shop for about ten minutes after which he comes out, rushes back into his car and leaves town. The scuffle continued for at least 15 minutes more until the volunteers arrived with fresh supplies.
In a state where VIP culture is rampant, it is rare to see a politician - that too someone as senior as Sukhdev Singh Dhindsa, presently a Rajya Sabha MP - be treated with such indifference.
Sukhdev Dhindsa had come to Lehragaga or Lehra as it's popularly known, to campaign for his son and Punjab's finance minister Parminder Singh Dhindsa, who is the Shiromani Akali Dal candidate from this seat.
The seat is witnessing a high profile contest as Parminder Dhindsa is up against former Punjab chief minister and Congress stalwart Rajinder Kaur Bhattal. After losing once in 1985, Bhattal has been unbeatable in the seat, having won it five times since.
Parminder Dhindsa, on the other hand, has been shifted from Sunam, a constituency he had represented since 2000 when he won a bypoll from there at the age of 27.
Apparently, Dhindsa had to be shifted as he had become an object of farmers' ire. Last month, a farmer called Darshan Singh, died after consuming poison outside Dhindsa's residence at a protest organised by farmers and labour organisations. The administration's response was to say that Darshan Singh wasn't a farmer in the first place.
Angry farmers in Lehragaga also plan to make it difficult for Dhindsa to win though it isn't clear whether they would back Bhattal or the Aam Aadmi Party candidate Jasbir Singh.
The area
Lehragaga, in many, ways is a microcosm of the larger political battle going on in Punjab. Here an Akali scion (Dhindsa) is pitted against a Congress veteran (Bhattal) and the AAP, whose popularity seems to stem from the rural poor and sections of the youth.
Lehragaga is situated on the southern end of Sangrur district, barely 10 km from the Haryana border. It was a high-profile constituency even before it became Bhattal's bastion. The legendary Akali leader Harchand Singh Longowal won from the seat in 1969. The constituency was also one of the pockets of influence of the Communist Party of India, which even won the seat in 1980.
Despite being a VIP constituency, Lehragaga is one of the most backward areas in Punjab. This is evident in its poor infrastructure and inadequate employment opportunities.
"This is a poor and neglected part of Punjab. The farmers here are in acute distress and are reeling under heavy debt," says a farmer Tarsem Singh who lives in a village adjoining Lehragaga.
A number of private education institutions have come up here - many of them after taking over large tracts of farmland. Even Bhattal is said to own one such institution.
It's emergence as an educational hub for the Malwa region and Haryana's northern districts has shaped parts of the town's economy. One can see a disproportionately large number of coaching centres, photocopy and printing shops and textbook shops at Lehragaga. Even the building Sukhdev Dhindsa held his meeting in, was a coaching centre.
Go West
Many of the youngsters here dream of going abroad and there is a fair share of English-speaking classes and visa assistance units at Lehragaga. Apparently, the youngsters' craze for "the west" is such that in many areas pizza and burger joints outnumber traditional sweet shops and chaiwalas.
A large number of beauty parlours with western sounding names have also sprouted across the dusty little town.
The vote in Lehragaga will therefore be driven by a seemingly contradictory mixture of aspiration and hopelessness.
Many young voters seem to be impressed by AAP.
"SAD-BJP and Congress have done nothing for us. There aren't enough opportunities here," says Gurdeep, a commerce student. A first-time voter, Gurdeep intends to vote for AAP.
However, the elders in the town say that Bhattal will sail through for her sixth win.
"Akalis have deployed their finance minister to take Bhattal on. For years they discriminated against this area because it was a Congress bastion. She will definitely win," says AK Garg, a shopkeeper.
Interestingly, in the 2014 Lok Sabha elections, Lehragaga was the only Assembly segment in the Sangrur Parliamentary seat in which the SAD was leading. All the rest went AAP's way. In that election, SAD's Dhindsa was trounced by Bhagwant Mann of AAP by over two lakh votes.
Garg says that people in Lehragaga voted for Akalis largely due to the "Modi wave". He says the Congress' popularity was at its lowest then and that's not the case anymore.
The entire town is now dotted with posters of Bhattal with Congress leader Captain Amarinder Singh. Factional rivals in the past, Bhattal and Captain now need each other to succeed.
Should the Congress win Punjab and Bhattal score a six in Lehragaga, it may become a VIP constituency once again.
But that may not be sufficient to address the hopelessness among Lehragaga's farmers and youth.