He quits! What Vishal Dadlani's exit from AAP tells us about the party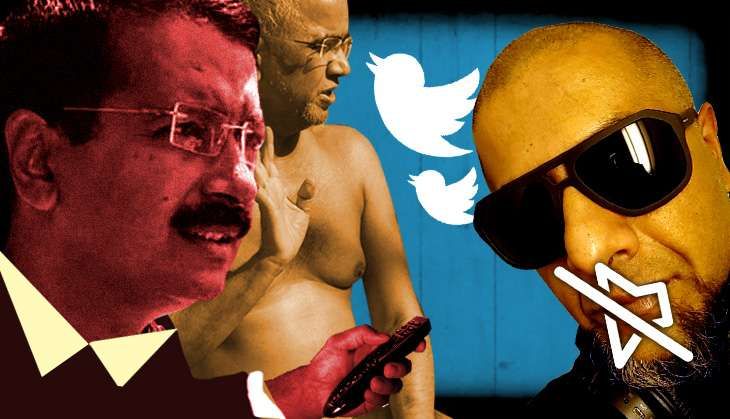 Social Inclusion

Foreign Policy

Terrorism

Climate Change

Water and Sanitation

Monsoon Management

Agrarian Crisis
These are just some of the several issues covered in about 30 lectures that have been organised by the Lok Sabha for our Members of Parliament in the last decade.
Contrast this with the event that Haryana Assembly hosted on 26 August in Chandigarh - a sermon by a Digambara Jain (a Jain sect that believes that the sky is enough to cover their bodies and refuse to wear clothes) monk in which, not one but several of, his parochial views were aired and endorsed.
What wrong did musician Vishal Dadlani commit in saying that this was a
mockery of democracy
?
Also read: Under fire over sarcastic tweet on Jain monk, Vishal Dadlani apologises and quits politics.
The monk, Tarun Sagar, addressed the assembly on the first day of the Monsoon Session. He was seated on a dais that was positioned above the seats of the MLAs, the Speaker, who is the supreme authority with respect to all matters pertaining the House and even the Governor, the constitutional head of the state.
If that was not enough, Sagar's sermon itself was feudal, patriarchal and anti-democratic.
Even though he had been invited by the government, the entire House listened to his sermon in rapt attention! Now if that doesn't qualify to be mocked, then what does?
Some of Sagar's views are downright silly and deserve condemnation even if they would have been aired at a private gathering of his followers.
That he was invited to say this in an elected house is especially unfortunate.
Going against not just the spirit of the Constitution of India but the entire democratic ethos, Sagar firmly placed religion over politics and even drew a misogynistic analogy to illustrate his point.
Also read: Is ML Khattar saffronising Haryana politics? Jain monk delivers sermon in Assembly
Kejriwal's rap on Dadlani's knuckles
Dadlani - singer, songwriter, music director and formerly a very vocal member of the Aam Aadmi Party - was quick to slam this disgraceful event.
The tweet that he was forced to delete carried a clever pun on the words "monk" and "mockery" of democracy.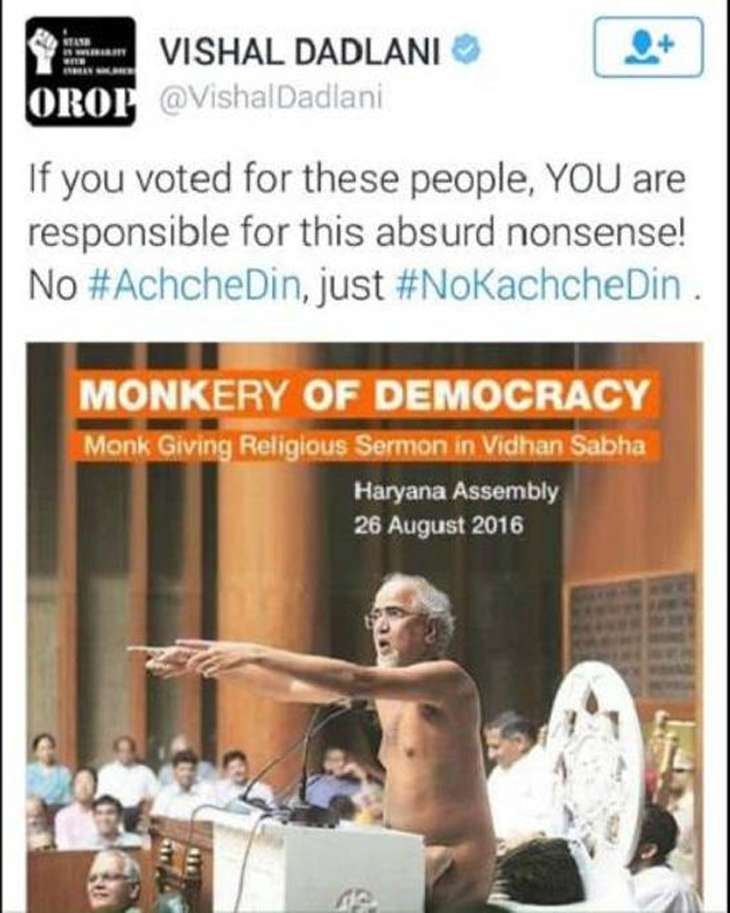 The hashtags were hilarious but a bit too clever by half considering that mainstream politicians would have refrained from such comments, even if they would have criticised the event. So, Dadlani could have been chided for those.
But what happened instead was a shocking statement from AAP Chief Arvind Kejriwal -
Tarun Sagar ji Maharaj is a very reverred saint, not just for jains but everyone. Those showing disrespect is unfortunate and shud stop

— Arvind Kejriwal (@ArvindKejriwal) August 27, 2016
Kejriwal didn't just stop there. He went on to disclose completely unnecessary information that he knows Sagar personally and his family listens to his discourses on television regularly.
I met Shri Tarun Sagar ji Maharaj last year. Our family regularly listens to his discourses on TV. We deeply respect him and his thoughts

— Arvind Kejriwal (@ArvindKejriwal) August 27, 2016
Does Kejriwal "deeply respect" Sagar's views that "religion is husband and politics is wife"? Or that "religion must be used to restrain politics"? Or that "it is every wife's duty to accept the discipline laid down by the husband"? Or that "ek baar galti kare wo agyaan, do baar nadaan, teen baar shaitan and jo baar baar galti kare wo Pakistan!"
So, does Kejriwal endorse Sagar's views?
We don't know what does the Delhi chief minister feel about the monk's golden words because he didn't tell us. He made no comment on the inappropriateness of a religious leader delivering a retrograde sermon inside the assembly.
What he only chose to comment on was Dadlani's mocking it.
The message was clear - that the monk must not be mocked and that this stand needed to be put out in the public domain with emphasis.
Three things are clear from Kejriwal's defence of Sagar and his sermon -
1.
The AAP chief is no different from the Haryana government and all those MLAs who respectfully lent their ears without raising an eyebrow.
2.
Arvind Kejriwal has no qualms about mixing his personal religious beliefs with his politics.
3.
Kejriwal wants all members of his party to also share his set of beliefs and if they don't - they should just shut up.
Dadlani is a gritty character and it is surprising that he chose to meekly surrender by apologising for his tweet and also quitting the party.
Though he did add a rider to his apology, tweeting that his problem was with "religion in governance".
People actually trying to defend the colossal idiocy of some naked monk, addressing Haryana assembly, telling women how to live! UNREAL! (2)

— VISHAL DADLANI (@VishalDadlani) August 27, 2016
(2) That dude has the same education, as he has clothes on. None. I've no problem with nudity. I have a problem with religion in governance.

— VISHAL DADLANI (@VishalDadlani) August 27, 2016
Everyone is entitled to believe whatever they like & worship whomever they choose. Can we just keep ALL of those OUT of Governance, please?

— VISHAL DADLANI (@VishalDadlani) August 27, 2016
I apologise if I've upset Jain feelings. The intent was to ridicule the merger of religion & governance, and not any religion in particular.

— VISHAL DADLANI (@VishalDadlani) August 27, 2016
He has sent out tonnes of tweets since then with apologies, but each one of them has this caveat
-
I apologise again. But can't 'religious beliefs' be peacefully disconnected from governance? https://t.co/ecMrTmX8HL

— VISHAL DADLANI (@VishalDadlani) August 27, 2016
I got carried away. I apologise to you, and all concerned. Now, can we not have religion in governance? https://t.co/fQzmUKgwvF

— VISHAL DADLANI (@VishalDadlani) August 27, 2016
Happy to apologise to each person I may have upset. But let's also talk about disconnecting religion & governance. https://t.co/FFXe0crAJ1

— VISHAL DADLANI (@VishalDadlani) August 27, 2016
I apologise to you too. But I insist that religion and governance mustn't overlap. It will destroy India. https://t.co/ohgkbXgn5O

— VISHAL DADLANI (@VishalDadlani) August 27, 2016
Given this, Dadlani's resignation could also be an act of rebellion against the very visible attempt by his party chief to force everybody to toe his line.
One wonders how Kejriwal would be responding to these tweets. Dadlani was a resolute AAP supporter and was the creator of the Paanch Saal Kejriwal song that became the party's anthem in the historic Delhi Assembly elections of 2015.
His departure is a clear loss to AAP but the bigger loss is the expose of an ugly facet of the party - that it has no qualms about the intermixing of religion and politics and that it is centered around the views of its leader.
Edited by Jhinuk Sen
Also read: Jain monk Tarun Sagar 'forgives' Vishal Dadlani for his irreverent tweet
Also read: Exclusive: Host Vishal Dadlani gives a sneak peak into Talk to AK
Also read: Vishal Dadlani on [email protected]: it has done more in a year than others do in a lifetime