Has Meghalaya Governor V Shanmuganathan given BJP its ND Tiwari moment?
In December 2009, a Telugu TV news channel rocked politics in Andhra Pradesh after it aired a sleazy video footage of what it claimed was a sexual encounter between the state's then Governor ND Tiwari and three women.
Massive protests were soon held outside Raj Bhavan, a police complaint was filed against Tiwari and police even interrogated the Raj Bhavan staff.
Tiwari publicly apologised for the scandal, but also alleged 'political conspiracy'. He eventually resigned, after being signaled by New Delhi to do so.
The resignation of V Shanmuganathan as Governor of Meghalaya is reminiscent of the scandal surrounding Tiwari.
Both incidents have sullied the high-constitutional office of the Governor. What is different this time is that there is no spectacle of video footage and that it is Raj Bhavan staff who have demanded the governor's head. The last bit could actually be unprecedented.
Over 80 staff members of the Raj Bhavan in Shillong reportedly wrote a letter to Prime Minister Narendra Modi asking him to sack Shanmuganathan.
The governor, they alleged, is "demeaning the position of the Head of the State...is rude, arrogant, temperamental, and untruthful...has seriously compromised the dignity of the Raj Bhavan...and made the Raj Bhavan into a "Young Ladies Club".
The allegations
The grievances aired in the letter include -
"The Raj Bhavan has now under this Governor become a place where young ladies come and go at will with direct orders from the Governor. The security of the Governor's house is also being seriously compromised. It is well known that many of these ladies have direct access to his bedroom."
- After his taking over the following appointments were made - a lady from Chennai was appointed as personal cook and another from Jorhat, Assam was appointed first as his personal assistant and later as PRO.
- Not just the PRO, but her relatives and friends, under directions of the Governor, were provided with free lodging, food, laundry services, toiletry items, vehicles, and stays in Raj Bhavan
- One nurse each was appointed for a day-and-night duty, in addition to the Raj Bhavan's a permanent medical set up with a doctor and two assistants.
- Several "so-called" female nurses stayed at Raj Bhavan at different points of time. One of them left because the Governor allegedly misbehaved with her at night.
- The PRO has no office and functions from her bedroom, which is attached to the Governor's bedroom.
- She also used to accompany the Governor on his visits to Manipur and stay in the same room as him in Raj Bhavan, Imphal.
- On 7 November 2016, only 10 female candidates were called for interviews for the posts of PRO. One of them was also molested.
- Apart from these, the staff's allegations also include complaints of high-handedness and insensitivity shown by Shanmuganathan towards the staff.
Who is Shanmuganthan?
Shanmuganathan appears to have been a political nobody till the time he was appointed Governor of Meghalaya in May 2015.
Hailing from Thanjavur in Tamil Nadu, the 68-year-old is an old-timer in RSS's ranks, from where he would have been later sent to the Bharatiya Janata Party (BJP). He served the party in various positions, as Additional Secretary, BJP Parliamentary Party. He has also handled the party's Defence, Research and Documentation and 'Overseas Friends of BJP' cells.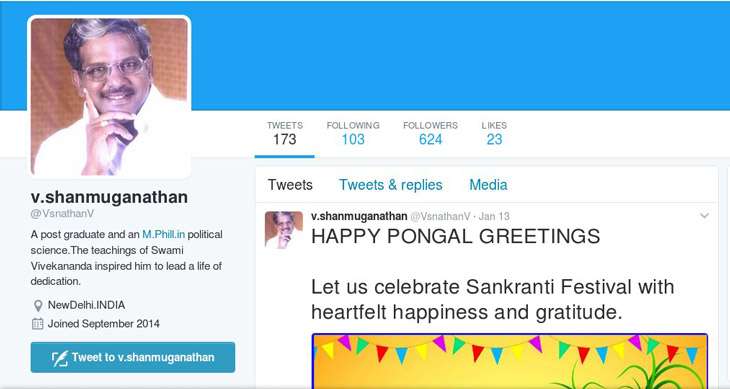 He claims to hold a post-graduate degree as well as an M.Phil in political science. He has reportedly written three books, all of them in Tamil, on subjects like culture and society.
Patricia Mukhim, Editor of the Shillong Times, calls him "an RSS pracharak who was bamboozled by the very opulence of the place".
She has confirmed the molestation incident and has given a detailed account of it.
She also believes that since Shanmuganathan had never visited Meghalaya before his appointment as Governor, "the culture shock must have been such that he mistook the easy manner of women in Meghalaya who live independent lives and move around without hindrance as being an invitation to sexual exploitation".
Allegations of high-handedness
The Raj Bhavan's staff members' grievances against Shanmuganathan also included a complaint that he shunted overnight the Governor's Principal Secretary, only because he was not supporting the Governor "in his nefarious activities".
They also alleged that he "insulted, humiliated and psychologically tortured officers and staffs" to the extent that the then Deputy Secretary suffered a brain stroke after being "severely insulted and humiliated" by him. He eventually passed away in the hospital in November 2016.
They also alleged that the Governor harboured "distrust towards the Raj Bhavan employees and appointed three Assam rifles uniformed personnel" to take care of tasks for which the Raj Bhavan already had employees for.
They also complained that "the ADCs to the Governor are having a free run" and that they "boss over other employees and use filthy language".
The protest by the Raj Bhavan staff evidently became too hot to handle for the Centre. BJP sources told Catch that Shanmuganathan was asked to resign to avoid the unpleasantness of a sacking.
Edited by Jhinuk Sen