'Happy birthday Durgesh Pathak' trends on Twitter. Meet the 'next Kejriwal'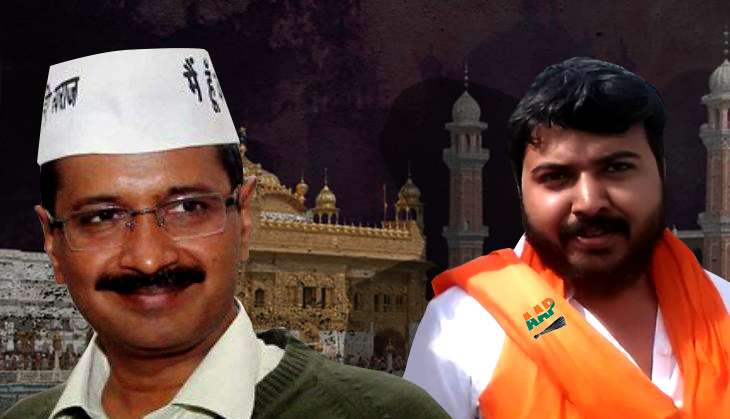 Twitterati woke up to find an unusual topic trending on the social network on 3 August. "Happy birthday Durgesh Pathak" was among the top trends, and many were left scratching their heads, wondering who Durgesh Pathak was and how did a birthday wish for him start trending.
Pathak, for the uninitiated, is a key leader of the Aam Aadmi Party, and the trend was his followers' way of telling the country about his rise within the ranks.
The trend also gave an opportunity to several AAP aspirants to either show off their proximity to Pathak, or strive to achieve it.
Pathak's word matters in the party, and more so these days. In addition to being the national organisation building head of AAP, a member of the party's central political affairs committee and the all-powerful national executive, he is also said to be party chief Arvind Kejriwal's eyes and ears in Punjab.
In a party that is largely centred around one figure, but is also teeming with dreamy-eyed political aspirants, Pathak is a star. The 32-year-old, who hails from Uttar Pradesh's Khalilabad, was himself one such volunteer once. He was preparing for the civil services when he decided to join the Anna Hazare-led anti-corruption agitation in June 2011. When the agitation turned towards electoral politics, many decided to part ways, but Pathak remained.
In 2015, AAP showered praises on him for the work he did for the party, saying: "He shows wisdom beyond his years and is one of the perfect examples of the volunteer cadre that Aam Aadmi Party has nurtured."
He is said to have worked his way up in the party, having risen from a volunteer who used to distribute pamphlets to becoming the national head of organisation building.
Pathak played a stellar role in the Delhi Assembly elections as well, when he was personally handling 35 out of the 70 Assembly constituencies, assisting AAP's Delhi chief Dilip Pandey.
The keys to Punjab
Pathak is said to be close not just to Pandey, but to Kejriwal too. The Delhi Chief Minister trusts him and when, after pocketing Delhi, the time came to start working for the Assembly elections in Punjab, Pathak was his natural choice.
Upon being handed over the charge, Pathak travelled for nearly two months across Punjab and set up the organisation structure in each Assembly constituency.
The hard work paid off, and soon, AAP had an extensive organisational network in the state. It is largely on the back of the groundwork done by Pathak and his team that the party now seriously appears to be in a position to challenge the ruling Shiromani Akali Dal and the Opposition Congress. Understandably, Pathak is the name on every ticket aspirant's lips.
Adoring fans or sycophants?
Among the younger workers, Pathak is a celebrity. They say he is sharp, like Kejriwal, and hold him in awe - possibly also because of his proximity to the supremo. Pathak is said to be accompanying the Delhi CM to a Vipassana camp at present.
Here's a look at some of the adoration that AAP workers sent out to make Pathak's birthday trend on Twitter:
Happy Birthday Durgesh Pathak sir ..u r our inspiration. @ipathak25 pic.twitter.com/mV75JAgVHK

— Saransh Tiwari (@saranshtiwari19) August 3, 2016
@ipathak25 Happy Birthday Durgesh Pathak Sir .. Saddi party punjab chunav to baad levanga.. Party sharty nahi chodne wale hum☺💐🎂

— Anahat Sagar (@AnahatSagar) August 3, 2016
Happy birthday Durgesh Pathak@ipathak25 keep inspiring us! Have a great day bhaiya!!!!

— Neel Shah (@i_neelshah) August 3, 2016
RT NavenduSingh_: Happy Birthday Durgesh Pathak (ipathak25) . The man behind AAPocalypse in Delhi & then in Punjab. May god bless you. .0

— Pappu Fail (@fail_pappu) August 3, 2016
Happy Birthday Durgesh Pathak (@ipathak25) . Selfless AAP volunteer who brought about organisation building in Delhi, Punjab

— Akshay B (@aabothale) August 3, 2016
However, it must be said that many of these tweets also betray a culture of sycophancy which was already a staple of established political parties, but is now creeping into the AAP as well.
Happy Birthday Durgesh Pathak Ji pic.twitter.com/8GnLGzaP9o

— Aman Rakhra (@group_dreams) August 3, 2016
हीरो-हिरोइन के बर्थडे trend होते देखा है.पहली बार Political Analyst का बर्थडे Trend
Happy Birthday Durgesh Pathak
God Bless U @ipathak25

— Roshan Shahare (@roshanshahare) August 3, 2016
My Leader, My Friend, My Brother, My Guide, My Partner in Crime, My Inspiration -- Happy Birthday Durgesh Pathak pic.twitter.com/7eKlXgxKbX

— Harjot Singh Bains (@harjotbains) August 2, 2016
A friend, guide, planner, thinker and what not. He fits in every role he plays
Happy Birthday Durgesh Pathak pic.twitter.com/kJTBS2AwkC

— Kishor Jha (@TheKishorJha) August 2, 2016
जन्म दिन मुबारक हो दुर्गेश भाई
Happy Birthday Durgesh Pathak pic.twitter.com/75qMF6FTrL

— Aap Puneet Sood (@aappuneetsood) August 2, 2016
Former AAP member Prashant Bhushan, now a bitter critic of the party, scoffed at the trend.
This hashtag promoted by AAPtards shows where AAP has travelled in 4yrs.Prostrating before 'leaders' openly promoted https://t.co/765hABXKkK

— Prashant Bhushan (@pbhushan1) August 3, 2016
Nevertheless, the trend continued as tweets wishing Pathak kept pouring in. It is a measure of the status he has achieved in AAP that when a young member of the party was asked about the reason behind running this trend, all she said was: "Because he is our next Arvind Kejriwal".
Edited by Shreyas Sharma
More in Catch
Sweep Stakes: AAP emerges as a serious contender in Punjab assembly polls
AAP, Congress & SAD take Delhi politics to Punjab
Row over hurting Sikh sentiments: has AAP walked into a trap?