Gujarat elections: Will alienation drive Adivasis to NOTA? What about Chhotubhai Vasava?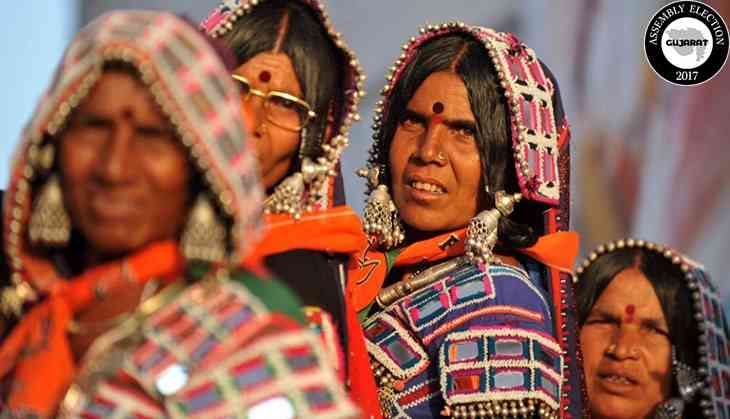 With the mobilisation among Patidars, Other Backward Classes and Dalits assuming centre stage in the Gujarat Assembly elections, few seem to notice another significant trend: the gradual political alienation of Gujarat's Adivasis.

At about 16% tribals are numerically significant in Gujarat than Patidars (12%) or Dalits (7%), but they draw much less attention. A major reason for this is that Adivasis haven't witnessed the kind of political mobilisation as seen among Patidars, OBCs and Dalits.

The alienation has reached a point now where a few tribal villages have threatened to boycott the elections this time.

Talking about such "high degree of alienation", social scientist Professor Ghanshyam Shah said: "The Adivasis feel that the BJP and Congress don't represent their interests". He cited how there were "inordinately high number" of 'None of the Above' (NOTA) votes in seats reserved for Scheduled Tribes, particularly in Chhota Udaipur, in the 2014 Lok Sabha polls.

A quick fact check reveals the extent of this: a majority of constituencies with high NOTA votes were either reserved for STs or were general seats with a significant concentration of STs.

Here are 16 Assembly segments in Gujarat, where NOTA votes were the highest. Out of these 12 are reserved for STs; naturally they have a higher proportion of Adivasis. Two constituencies, Devgadbaria and Kalol, are general constituencies with a significant Adivasi population.

NOTA votes seem to have been concentrated most in the Adivasi-dominated districts of north and central Gujarat such as Dahod, Panchmahal, Chhota Udaipur and Sabarkantha.

Devgadbaria
District: Dahod
NOTA: 6770
Even though it is a general seat, the ST population is 23%

Khedbrahma ST
District: Sabarkantha
NOTA: 6627

Kaprada ST
District: Valsad
NOTA: 6121

Garbada ST
District: Dahod
NOTA: 5771

Kalol
District: Panchmahal
NOTA: 5671
ST population: 11%.

Jetpur ST
District: Chhota Udaipur
NOTA: 5665

Chhota Udaipur ST
District: Chhota Udaipur
NOTA: 5447

Vansda ST
District: Navsari
NOTA: 5310

Halol
District: Panchmahal
NOTA: 5123
ST population: 30%

Fatehpura ST
District: Dahod
NOTA 4923

Sankheda ST
District: Chhota Udaipur
NOTA: 4919

Jhagadia ST
District: Bharuch
NOTA: 4774

Morva Hadaf ST:
District: Panchmahal
NOTA: 4723


Dediyapada ST
District: Narmada
NOTA: 4671

Rajkot West
District: Rajkot
NOTA: 4557
ST population: 8%

Dharampur
District: Valsad
NOTA: 4503

This will be the first Assembly election in Gujarat after the introduction of NOTA. When the results are announced on 18 December, it would be interesting to see whether this pattern of Adivasi-dominated seats registering more NOTA votes is repeated.
The 'tribal' party
This time The Bharatiya Tribal Party (BTP), with its auto-rickshaw symbol, will contest the elections as an ally of the Congress. It needs to be seen if the entry of a purely tribal-based party, led by a popular albeit localised leader like Chhotubhai Vasava, can stem alienation among Adivasis.

Vasava has been calling for the formation of "Bhilistan", a state for Bhil tribals comprising the Bhil dominated areas of Gujarat, Maharashtra, Madhya Pradesh and Rajasthan. Three years ago he formed the Bhilistan Tiger Sena, that has often been in confrontation with the BJP. The BJP organised an Adivasi Gaurav Yatra earlier this year. According to reports, the party did manage to penetrate the tribal areas in South Gujarat. This was shown even in some of the pre-poll surveys. During the yatra, BJP cadres are also reported to have attacked Bhilistan Tribal Sena workers, who subsequently staged counter-protests.

In August this year, Vasava played a key role in ensuring the victory of Congress leader Ahmed Patel in the Rajya Sabha election in August this year. He was then part of the Sharad Yadav faction of the Janata Dal (United).

Vasava described his role in Patel's election as an act of "kindness" or "charity". A Robin Hood-like figure in the tribal-dominated areas of South Gujarat, this sense of "charity" is integral to Vasava's politics.

However, a few Congress leaders such as Tushar Chaudhary, son of Gujarat's only tribal chief minister Amarsinh Chaudhary are said to have opposed some terms of the alliance with Vasava. Now that he is on board, the effort is to project Vasava as a tribal leader on the lines of Patidar leader Hardik Patel, Thakor leader Alpesh Thakor and Dalit face Jignesh Mevani.

In order to be seen as a pan-Gujarat tribal leader, Vasava and his party will contest five seats – four reserved seats (three in South Gujarat, one in Central Gujarat) and one unreserved seat in Central Gujarat. In addition, his party's nominee will be fighting under a Congress ticket from the unreserved Ankleshwar seat in Bharuch district. Here's a look at the six seats.

Jhagadiya (ST)
District: Bharuch
Adivasi population: 51%
This is Vasava's own seat. He has been unbeaten here since 1990. His main contest had been with the Congress. He is likely to sail through with a huge margin, courtesy the alliance.

Dediapada (ST)
District: Narmada
Tribal population: 87%
Congress lost the seat in 2012 with a narrow margin of around 2500 votes mainly because the Vasava-led JD(U) was in the fray and got 20,000 votes. The Congress-BTP alliance will fancy its chances in this seat now.

Mangrol (ST)
District: Surat
Tribal population: 70%
The Congress-BTP alliance will be up against former Speaker and present Cabinet Minister Ganpat Vasava of the BJP. This will be a battle of prestige for Chhotubhai Vasava as BJP has often promoted Ganpat Vasava to counter his influence in the region. Ganpat Vasava's supporters are said to have beaten up Bhilistan Tribal Sena workers during the BJP's Adivasi Gaurav Yatra.

Morva Hadaf (ST)
District: Panchmahals
Tribal population: 40%
Congress had won this seat in 2012 but lost it in a bypoll in 2014. The seat isn't in outside of Vasava's area of influence but a victory here would help establish him as the tallest Bhil tribal leader in Gujarat.

Vaghodia
District: Vadodara
Tribal population: 12%
This is an interesting choice. BJP strongman Madhu Shrivastav has won this seat as an independent in 1995 and has been subsequently undefeated as the saffron party's nominee. Shrivastav is a co-accused in the Best Bakery case and has several other cases pending against him. While there were several claimants from the Congress for this seat, it was given to BTP as it was felt that only Vasava and his party have the muscle power to take on Shrivastav.

Ankleshwar
District: Bharuch
Tribal population: 20%
Anil Bhagat, the son of a close aide of Vasava, will contest from the Ankleshwar unreserved seat in South Gujarat under the Congress symbol. It will be a tough battle as BJP hasn't lost this seat since 1990.

Vasava and his BTP face two major challenges in these elections: defeating the BJP and countering the alienation among Adivasis. The second may prove to be a longer and tougher battle.