Grain of truth: missing stocks 'scam' may spell the end of the Akali regime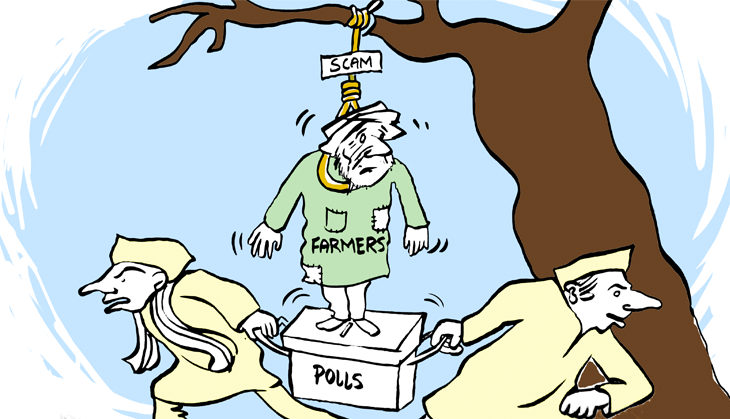 According to the Reserve Bank of India, food grain stocks worth Rs 12,000 have gone "missing" in Punjab. So, nationalised banks, led by the State Bank of India, have held up funds for procurement of wheat for this season.
While the Parkash Singh Badal regime has denied that there is "anything inappropriate" about what has happened, its rivals are crying a scam. In any case, the revelation could not have come at a worse time for the SAD-BJP government, which is facing the assembly election in less than a year.
More worryingly for the ruling combine, the "scam" and its consequences most affect the farmers, a constituency that no party can afford to alienate, especially in an election year.
The Badal government had sought Rs 21,000 crore under the Centre's Cash Credit Limit programme for procurement. The state gets advance funds from a consortium of banks led by the SBI against "anticipated procurement". The state has reportedly procured 9.97 lakh tonnes of wheat, for which payment is yet to be made. This despite the rules stating that farmers must be paid within 48 hours of procurement. It cannot afford further delay in the release of this money as that would certainly anger the farmers.
Missing stocks
The stock of grains procured by a state must match the money released by the central government under CCL, but, according to the RBI, there is a huge gap between the two in Punjab. The state is also reportedly yet to settle accounts worth thousands of crores with the Food Corporation of India.
The Badal regime has now sent a "status report" to the RBI and the Centre, insisting there has been no misuse of funds and all the money received so far has been used for procurement in the "national interest". It has also insisted that all food grain is "duly accounted for" and nothing has gone missing.
The "gap" found by the RBI, the Akali regime has argued, has appeared "on account of the difference between actual costs and reimbursements made by the FCI pertaining to interest, transportation, incidental charges, etc." over the years. It has also pointed out that as Punjab avails huge cash credit loans from commercial banks to fund procurement, "non-reimbursement of actuals leads to an increasing interest component that is compounded on a monthly basis by the lending bank". And these payments are released by the FCI directly to the bank without recourse to the state, after receipt of stocks.
Tip of the iceberg
The opposition Congress and the Aam Aadmi Party aren't convinced though. They seem determined to use the "scam" as a stick to beat the Akalis with ahead of the polls.

State Congress chief Amarinder Singh has said the RBI's revelations could be just "the tip of the iceberg as the Akali-BJP government has survived only on deceit and fraud during the last nine years".

"It is a fit case for dismissal of this government as it has blatantly cheated and defrauded not only the financial institutions, but also the farmers for whom this money was actually meant," he said. "What is evident is that the government has raised the loans against non-existing stocks or it has not bought the stocks after raising the loans from the banks and diverted and embezzled all this money."

Amarinder charged that "this was the reason" the farmers were not getting their due payments on time for their produce. The "scam", he said, has cast an ominous shadow on the procurement of wheat, which has started arriving in grain markets. As a result, the farmers will be the ultimate sufferers.

"This government was already suffering from a credibility crisis as nobody was prepared to lend money to it," Amarinder said, adding the situation will deteriorate further now "as it will be difficult for the state government to get the first installment of CCL for wheat purchase".

Call for probe