Govt to set up 10,000 new LPG dealerships. Noble agenda or poll gimmick?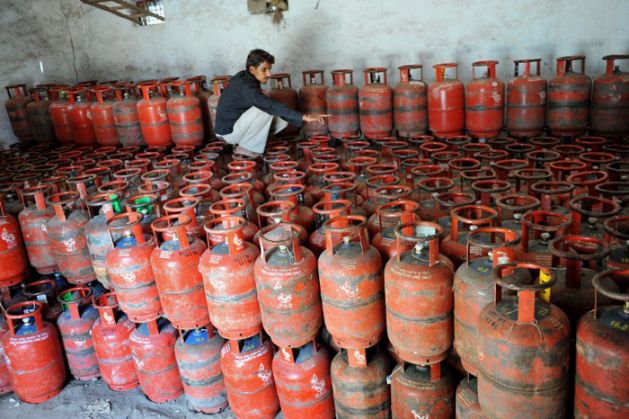 A seemingly mundane step by the NDA government is facing allegations of possible electoral gimmickry.
Working upon its ambitious plans to radically expand the LPG network, the government announced a target of setting up 10,000 new dealerships in 2016.
The only problem is that assembly elections in Assam, West Bengal, Kerala, Tamil Nadu and Puducherry are just round the corner, and this move can be seen as a bonanza for the states headed for polls.
Also read - Fired up: will the plan to home deliver LPG cylinders put out the Chulha
Present scenario
Presently, there are a total of nearly 17,000 distributors through whom oil marketing companies supply LPG to households.
Ostensibly in the interests of transparency and pursuing a need-based approach, Petroleum Minister Dharmendra Pradhan has written to all state governments and all MPs, seeking location suggestions for new dealerships.
Under the existing policy, locations are identified based on the potential sale of LPG refills. This potential is based on factors such as the population of the area, population growth rate, economic prosperity of the location and the distance from the nearest existing distributor.
As per the Petroleum Ministry's data for March 2015, there were just under 16,000 LPG distributors across the country. State-wise scrutiny of the data reveals anomalies, because there is a wide gap between the number of consumers and the number of distributors in many states.
For example, at 2,389, Uttar Pradesh had the highest number of distributors, with a consumer base of nearly 2.1 crore people. However, Maharashtra, with a nearly identical consumer base, has only 1,549 distributors. Similarly, Madhya Pradesh has a lower consumer base than poll-bound West Bengal and Kerala, but a much higher number of distributors.
Among other poll-bound states, Tamil Nadu appears rich, with the third-highest number of consumers as well as distributors. West Bengal seems to be have suffered so far, as has Kerala.

Not the first time
Observers who are familiar with the process say these imbalances are because distributorships are granted on discretion, in spite of the existence of an exhaustive set of guidelines. This is the reason why eyebrows are raised when government announces LPG distributorships or petrol pumps when polls are around the corner.
The UPA government had also come in for similar criticism in 2011, when it had announced 11,600 fresh petrol pump dealers just ahead of polls in several states, including Uttar Pradesh.
The Election Commission has already announced that the polls will be held sometime in March-April, which means the dates are most likely to be announced in February. Once the dates are announced, the Model Code of Conduct will come into place, and the government may find it difficult to grant new LPG distributorships.
It is for this reason that questions are being raised about the timing of the government's announcement.
More in Catch - No LPG subsidies for those with income exceeding Rs 10 lakh
DBT scheme on LPG saved Rs 15,000 crore in a year by stopping blackmarketing: PM Modi