Game changer? Heckled in House, Mayawati resigns from RS when not allowed to raise Dalit atrocities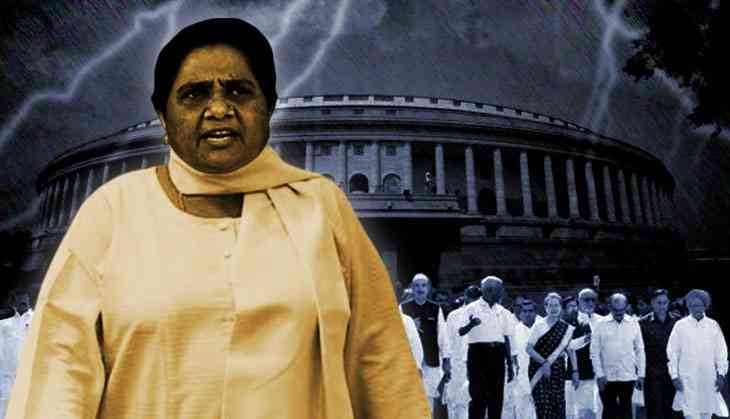 After being heckled by senior ministers and Parliamentarians of the ruling party, Bahujan Samajwadi Party(BSP) chief Mayawati resigned from Rajya Sabha on Tuesday.
When the former Uttar Pradesh chief minister raised the issue of Dalit atrocities in Saharanpur in the House of Elders, Deputy Chairman PJ Kurien asked her to wrap up in three minutes.
An angry Mayawati was further infuriated by the comments by Union minister Mukhtar Abbas Naqvi and other members of the Treasury Bench. She threatened to resign from the House and walked out in protest. Hours later, she submitted her resignation to the Chairman.
"Honourable Chairman, I had to take the decision to resign with a very heavy heart. I have been dedicated my entire life to the well-being of poor, Dalits, adivasis, backwards, Muslims and other minority communities. If I am not allowed by members of the BJP and other NDA parties to raise the issues of the well-being of these sections in the Rajya Sabha then there is no point of me being part of this house," she wrote in her resignation.
At a time, when the government is facing heat over multiple incidents of atrocities on dalits and lynchings, Mayawati's resignation has put the ruling dispensation on the back foot. And in all probability, her resignation is likely to resonate in Parliament for the next few days, which could also lead to a complete washout of the Monsoon Session.
Analysts and political commentators hailed the Dalit leader's decision as a masterstroke that could help her rejuvenate her party and cadres, and even build a pan-India appeal as the crusader of rights of Dalits and other marginalised sections constantly under attack ever since the Narendra Modi government took over.
Calling the resignation a historic decision, Lucknow-based political commentator Ramesh Dixit said for the first time Mayawati displayed traits of a mature politician.
"With her resignation, she can expose the duplicity of the Bharatiya Janata Party (BJP). On the one hand, the BJP has nominated Ram Nath Kovind as their presidential candidate to appease Dalits while on the other they are so hostile towards a Dalit leader for raising issues of atrocities against them. It is certainly a brave decision," Dixit said.
The setback of her last last two political campaigns raised serious questions over Mayawati's appeal among Dalits, some of whom have shifted allegiance to the BJP. The first setback for the BSP suprmeo was her party's disastrous performance in the 2014 Lok Sabha polls where she failed to win a single seat.
Thereafter, her next political challenge came in 2017, but the BSP was confined to only 19 seats in the UP Assembly elections.
On top of that, the BJP's Dalit outreach has begun to pay dividends, considering the fact that the saffron party won 69 of the 85 reserved seats, while its allies won six more.
Observers pointed out that the Modi wave and BJP President Amit Shah's carefully crafted strategy of allotting party posts to a large number of Dalits and those from other backward classes OBCs worked wonders. As a result, BSP's obituaries were being written widely.
According to Dalit rights activist Kancha Ilaiah: "Her resignation will no doubt resonate with the Dalit masses and even the Muslims of UP. Since the Samajwadi Party is not ready to fight beyond a point because of family tussle, Mayawati can make her resignation into a major political issue and mobilise support."
Ilaiah pointed at how Kanshi Ram would always say that leaders do not necessarily need to sit in Parliament; they need to work with the masses.
"She has done a good job and should continue to hold rallies across India and raise issues of Dalit atrocities. Once she mobilises good enough support, I am sure the BJP would threaten her with the Central Bureau of Investigation.
"If they do that then she should expose how the agency is being used to target Opposition leaders as is evident with cases on Lalu Prasad Yadav and Aam Aadmi Party, among others. Mayawati has the guts and will to fight," he added.
Meanwhile, BSP leader Sudheendra Bhadoria was livid with how the ruling dispensation treated Mayawati who was only trying to raise the issue of atrocities on Dalits.
"The government wants to throttle voices of the poor, Dalits, minorities and other marginalised sections. Mayawatiji was protesting against the divisive agenda of this government. Parliament is there to address the grievances of people and not the rights of Adanis and Ambanis," Bhadoria said.
He stressed that the party's next move would be to take this issue to the people and expose the BJP's doublespeak on Dalits.
Dixit too was hopeful of Mayawati going back to her roots to expose the anti-Dalit deeds of the governments in UP as well as at the Centre.
"NDA's graph is going down largely because of price rise, farm distress and lynchings, and this is the opportune moment for her to seize the moment. She should ensure that the UP government can no longer resort to gimmicks of religion to hide their failures," Dixit said while adding that she and she only remains the only sane voice of Dalits.
Dixit said the likes of Ram Vilas Paswan, Keshav Prasad Maurya and Udit Raj have sold out to an upper caste party; if Mayawati could rope in a young crop of talented Dalit leaders, it would make for a formidable combination which should make the BJP nervous.
However, Sudha Pai, who earlier taught at Jawaharlal Nehru University and is considered an authority on the BSP, said it was too early to predict whether Mayawati's resignation could rejuvenate her image and the party.
"If she has merely resigned and doesn't try to reinvent herself and the party, the resignation would mean nothing. The BSP has declined as a political force and its support base has shrunk considerably. Apart from Jatavs, other groups have abandoned her."
According to Pai, Mayawati will have to go to the masses and work hard to reinvent herself: "We will have to wait and see what she can achieve and it would then be appropriate to comment on her revival."
Underscoring the non-feasibility of an overnight change Pai said: "Everyone is thinking of 2019, which is still far away. It gives her time to build her support base."
Pai was also not convinced that the resignation could help Mayawati build a pan-Indian appeal. "I don't think any Dalit party in India can have a pan-Indian appeal. It is best if she just concentrates on UP to recover lost ground and that alone would be enough to catapult her into a position of national prominence."
Meanwhile, RJD leader Yadav, who is facing considerable heat from investigating agencies, called the BJP an anti-Dalit party and has offered his party's support to Mayawati to send her to the upper house again. Mayawati's term was to end in April and she doesn't have the desired numbers to ensure her return.
Earlier, many parties, including Congress, had expressed the desire to support her candidature to ensure her return to Rajya Sabha. In fact, sources have informed that the BSP supremo could contest Lok Sabah elections from Phulpur, which has been vacated after Keshav Maurya took over as the deputy chief minister of UP.
How things would unfold is in the realm of the unknown, but the possibility of Mayawati's resignation being a game-changer can't be negated.
Edited by Joyjeet Das