Four signals from Bihar that indicate impending churn in politics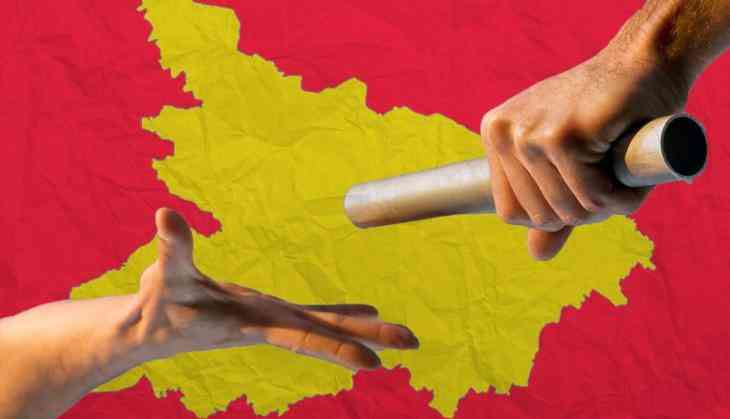 (Arya Sharma / Catch News)
With just about a year left for the term of the current Lok Sabha to end, heavy churning has begun in political corridors. The latest bye-polls in Uttar Pradesh were an early indicator of this churn. A large number of other key signals are coming from Bihar.
Bihar also saw bye-polls, along with UP, for one Lok Sabha and two state Assembly seats, but two noteworthy events had happened before the bye-polls.
Former chief minister Jitan Ram Manjhi left the National Democratic Alliance (NDA) and joined the anti-BJP camp and a sidelined IPS officer with a particularly communal past was made the state police chief.
These two events were indicative of two broader narratives playing out in Bihar, which has continued after the bye-polls too. One, the BJP appears to be asserting itself over the state government, in a bid to emerge as the leading player on its own. Two, its other National Democratic Aliance (NDA) allies, including the governing Janata Dal (United), have realised this and have started scouting for options and back-up plans.
Let us look at five other developments that have taken place after the bye-polls and let us try to understand what they seem to be indicating.
1. NDA allies having a rethink – It is true that Manjhi's Hindustani Awam Morcha (Secular) is not too big a player in the state, with just one MLA in the state Assembly. However, the part commands a vote share of 2.3% that can come in handy in a rainbow coalition. His exit, therefore, indicates a definite shrinking of the NDA in Bihar.
Manjhi was never comfortable with Chief Minister Nitish Kumar, having fought with the latter bitterly over his own removal as CM. He was said to be unhappy with the BJP's decision to welcome Kumar back in the NDA and eventually moved out after realising that he wasn't being made a part of the NDA government in Bihar.
Union Minister and Rashtriya Lok Samata Party (RLSP) leader Upendra Kushwaha harbours similar misgivings towards Kumar, having left JD(U) to create RLSP after a bitter fall-out with the latter. He has also been reportedly uncomfortable with Kumar's return to NDA. Though, on record, Kushwaha has denied any plans to quit NDA, sources say his statement is an eye-wash and he is only waiting for the right moment to make a move.
2. BJP's assertion – KS Dwivedi, recently appointed Bihar DGP, was SP in Bhagalpur during the 1989 riots and the state government's commission of inquiry into the riots had made adverse comments about his role (http://indianexpress.com/article/india/bihar-govt-tells-critics-why-it-made-k-s-dwivedi-dgp-5083405/). Opposition parties have alleged that he was appointed at the BJP's behest.
BJP also appears to be working on a polarisation campaign in Bihar, as is evident from recent incidents in Bhagalpur. The town saw a communal clash on 17 March over a Hindu procession that passed through a Muslim-dominated locality reportedly without police permission. Police has lodged a case against 20 people in connection with the violence and those named include BJP leader Arijit Shashwat, the son of Union Minister Ashwani Choubey.
Another controversy is brewing over the beheading of the father of a BJP leader in Darbhanga. Several BJP leaders, including state BJP chief Nityanand Rai and Union Minister Giriraj Singh, had alleged that the victim was killed because he had led the renaming of a local square in the name of Prime Minister Narendra Modi. However, CM Kumar and the state police have asserted that the beheading took place over a land dispute.
3. Nitish Kumar's statements – Kumar also appears to have started signaling discomfort with the BJP. The state police's case against Choubey' son and the CM's assertion in the Darbhanga case that it was the result of a land dispute are all being seen as indications of a counter-assertion on his part.
Interestingly, he has also said in the wake of these incidents that he will not compromise on the maintenance of social harmony in the state. This is being seen as his veiled message to the BJP to stop its campaigns.
4. Ram Vilas Paswan's statements – Union Minister and Lok Janshakti Party chief Ram Vilas Paswan recently sprang a surprise when he commented on the BJP, for the first time ever in last four years. After the BJP leaders' comments on the Bhagalpur and Darbhanga were reported, Paswan hit out at BJP and urged the party to pursue a secular agenda. He also said, "We ought to look carefully at how Congress remained in power in the country for so long, enjoying the support of Dalits, Brahmins and Muslims without actually doing anything for them.".
Many are looking at Paswan's statements as the definitive indicator of changing equations in the state. Sources in Rashtriya Janata Dal and Congress told Catch they were indeed looking at Paswan's statements as a concrete indicator that he was reading a change. The LJP chief has long had the reputation of an early and accurate reader of which way the wind was blowing.