What Rahul Gandhi needs to learn from Arvind Kejriwal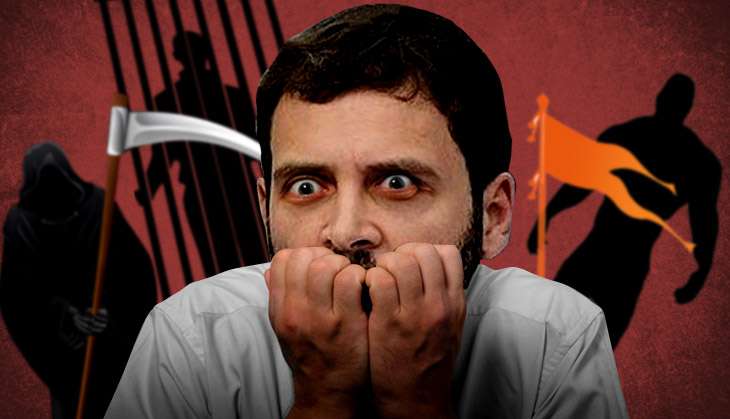 If there is one weakness among politicians that is never forgiven, it is fear. Our leaders can make one faux pas after another and get away with it. They are never held to account for breaking promises made during elections. Even those facing serious criminal charges get elected. But the one fault that our voters never forgive, it is a politician with shaky legs. A politician who is afraid of the opposition. A politician who is scared in the face of jail or physical attacks.
Unfortunately, this is the one trait that Congress leader Rahul Gandhi seems to have displayed time and again.
At a time when the fortunes of Congress style secular politics are at its lowest against the hyper-nationalist and communal politics of the BJP, the opposition needs a person who takes the bull by its horns.
Rahul Gandhi did try to go on the offensive. In an election campaign in Bhiwandi, Maharashtra in 2014, Gandhi had said that the RSS had assassinated Mahatma Gandhi. Rahul's speech was followed by a defamation suit by an RSS worker.
As a politician Rahul was expected to stick to his words. Moreover, there's a lot that Rahul could have used to support his argument.
Sardar Patel had banned RSS after the Mahatma's murder in 1948. Even though the ban was lifted later by Patel due to lack of incriminating evidence but the Congress leader did mention that "RSS men expressed joy and distributed sweets after Gandhiji's death. It became inevitable for the government to take action against the RSS."
ALSO READ: Exclusive: RSS chief Golwalkar threatened to kill Gandhi - 1947 CID report
Despite this, Rahul Gandhi did not stick to what he had said.
Earlier this week in the Supreme Court, his counsel Kapil Sibal defended Rahul by saying "The petitioner (Rahul Gandhi) never accused the RSS as an institution for the crime... it is clear from my affidavit before the (Bombay) High Court".
Compared to Rahul's earlier stand, this was a significant climbdown, if not a downright U-turn.
Everyone including the RSS knows what Rahul Gandhi had said.
This tweet dated 15 February this year, reiterates his earlier stand on the matter.
RSS ने देशभक्ति के certificate की दुकान खोल रखी है, यह वही RSS है जिसने गांधी जी के सीने पर 3 गोलिया मारी pic.twitter.com/YHG1rYesxh

— Office of RG (@OfficeOfRG) February 15, 2016
"RSS has opened a shop to distribute certificates of patriotism. This is the same RSS which fired three bullets into Gandhi ji's chest."
Clearly, Rahul is blaming the RSS as an institution here, contrary to what Sibal claimed in court.
This climbdown surely must have been a disappointment for lakhs of Congress workers as well as those outside the Congress who stand against Hindutva politics.
Why did Rahul backtrack? Was he misled by his lawyers? Or did he simply get scared - scared of going to jail?
Learn from Arvind Kejriwal
Facing defamation suits and even physical attacks are part and parcel of being a politician. One cannot let fear of these two determine one's political choices.
Arvind Kejriwal, whose rise from an activist to the chief minister of Delhi within a space of a few years, is one of the most phenomenal success stories in Indian politics. This rise has come with a fair share of attacks. Kejriwal faces defamation cases for his remarks against BJP leaders.
But instead of changing his statement in court, Kejriwal even refused to pay the bond, daring the government to arrest him for calling Nitin Gadkari one of the most corrupt politicians in the country. He later targetted finance minister Arun Jaitley as well.
Also read: Exclusive: BJP icon SP Mookerjee complicit in raising funds to defend Gandhi's killers
He even went to the extent of calling Prime Minister Narendra Modi of being "a coward and a psychopath" and later accused the PM of trying to get him killed.
He may be a maverick prone to hyperbole, but unlike Rahul Gandhi Kejriwal never backtracks from his statements.
And this is perhaps the reason why Kejriwal's AAP is rising by the day in Indian politics while Rahul's ship seems to be sinking by the hour.
At a time when liberals as well as religious minorities are under threat, Rahul would have done well to keep up the offensive against the RSS. Someone like Kejriwal would have used the courtroom tussle to take the battle to the RSS camp.
Rahul's climbdown in the Supreme Court, therefore, is a lost opportunity.
The reluctant politician
In the run-up to the 2014 Lok Sabha elections, Rahul Gandhi was asked during a TV interview whether he was scared of taking on Modi.
In his reply Rahul had said "I've seen my grandmother and father die, I'm not scared of anything."
But his political decisions so far don't seem to reflect this fearlessness, be it his reluctance to take up a position of responsibility or his inability pursue any cause steadfastly. Sadly, our polity doesn't have much patience for reluctant politicians.
The hopes of India's oldest party are on him. Rahul has no choice but to overcome his fears.