Fadnavis versus Amit Shah? Maha BJP hit by a slew of corruption charges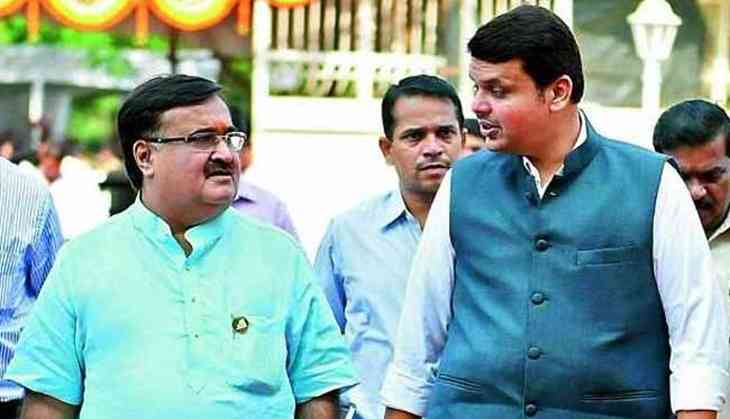 In Maharashtra a dark cloud hangs over the Devendra Fadnavis-led BJP government as a series of corruption charges have been levelled against it.
In the latest drama to hit the party, senior member of the Cabinet and state Housing Minister Prakash Mehta has been accused of illegally approving a slum rehabilitation project.
Also, Radheshyam Mopalwar, a senior Indian Administrative Service officer, is under fire after being caught seeking bribe to allot a plot in Borivli in the western suburb of Mumbai. Mopalwar is executing the Nagpur-Mumbai Samruddhi Highway, Fadnavis' pet project.
The Opposition was quick to jump in and an inquiry has been ordered. The bureaucrat has been divested until the project is completed.
But Fadnavis, who has tried his best to maintain his image as 'Mr Clean', is still facing the heat over the allegations against Mehta. With the Opposition baying for Mehta's blood, it has come to Fadnavis to face them as other senior BJP ministers have chosen to remain mum about the issue.
In fact, several BJP MLAs staged a walkout from the state legislative council last week - a first in India's parliamentary history where the members of the ruling party walked out after being put under too much pressure from Opposition parties.
Internal conflict
In fact, when the Opposition initially "exposed" the two major corruption cases, Mehta claimed that the current situation is the result of some devious handiwork from his opponents within his own party. According to him, it is an attempt to remove him from the Cabinet, leaving his seat up for grabs.
This revelation has made it clear that there are two factions within the Maharashtra BJP unit.
A senior BJP leader says, "It is nothing but a strategy to get one-upmanship in the party. Fadnavis has to keep his control over Cabinet at any cost and there are many who want to remove him. It is well known that party president Amit Shah and Fadnavis are not on good terms. Since the latter enjoys unconditional support from Prime Minister Narendra Modi, no one is able to touch him. But this does not mean that they will stop trying."
It is the battle to survive, to strengthen a grip on the party and cut rivals down to size, the leader added.
According to senior journalist and political analyst Kumar Ketkar, "Since Mehta is close to Amit Shah, it is difficult to remove him from the Cabinet. This is the reason, these cases of corruption are getting 'exposed'. It will be interesting to see who wins the battle."
"The corruption cases against Prakash Mehta have neither been exposed by the media, nor by the Opposition. The details were 'supplied' to them by an insider who wants to dent the Amit Shah camp. Everyone knows the tussle between Fadnavis and Shah. The present expose on corruption by Mehta is fallout of this tussle," he added.
While Amit Shah was on a three-day tour of Mumbai in mid-June, he had held a meeting with party workers. Shah discretely cautioned them to not indulge in any corrupt practices in order to maintain a clean image.
"This was a clear hint to leaders to not to create trouble in the state. His closeness with senior leader and PWD minister Chandrakant Patil is not hidden from anyone, nor are the latter's ambitions to become the chief minister of the state. Fadnavis is also aware of the impending threat and is taking each step with utmost caution. One should not be surprised if corruption cases involving Patil are 'exposed' once the dust over Mehta is settled," said another senior party leader.
"Prakash Mehta should be removed from the Cabinet immediately and subjected to inquiry. This is nothing but an internal conflict in the BJP. If Eknath Khadse was forced to resign from cabinet on charges of corruption, Mehta should also be treated similarly," says veteran journalist Ganesh Torsekar.