Expelled MLC Udayveer Singh lays the blame for Yadav feud at Amar Singh's feet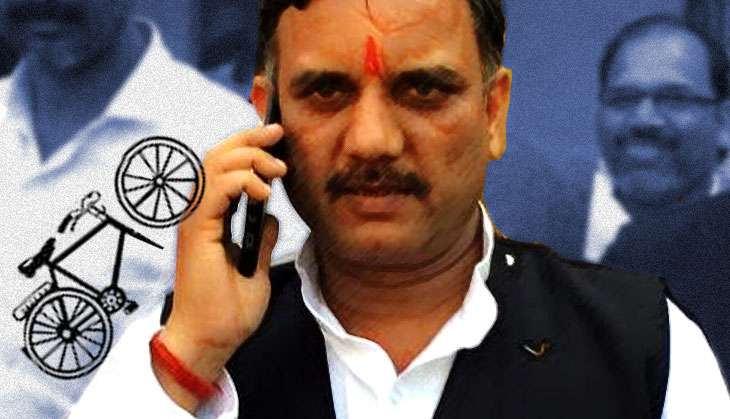 The Samajwadi Party, which has been witnessing a feud within its ruling family over the last few months, reached a breaking point early 23 October when Uttar Pradesh Chief Minister Akhilesh Yadav showed uncle Shivpal Yadav the door from the cabinet of ministers for the second time. Shivpal wasn't the only casualty, five other ministers were also sacked. This turn of events has fuelled speculation about whether this decision will lead to a split in the party.
But over the next few hours, the battle for power only got bloodier when Ram Gopal Yadav - cousin and face of the party in Delhi, who has taken the chief minister's side often - was expelled by the party. Shivpal, during a press conference, alleged that Ram Gopal, fearing the CBI over the Yadav Singh corruption case, has been colluding with the BJP.
Shivpal, speaking after meeting with Mulayam Singh, also said that he would not allow the party to be split and that he will go into the next elections under the leadership of the SP supremo.
The logjam in the Samajwadi Party, sources say, will take another couple of days to clear since a meeting is due at Mulayam Singh's office tomorrow. While supporters of Akhilesh Yadav have decided to not attack Mulayam Singh, the latter seems to be in no mood to relent.
"Akhilesh has made it clear that he does not want to go to the next election with this baggage of corrupt politicians at a time when he enjoys a clean image," says a source who works closely with the chief minister on planning and finance issues of the government.
Also read - Samajwadi Party mess worsens as Akhilesh skips party meet
"Akhilesh Yadav is the face of the Samajwadi Party. There is no reason for him to form a new party," says Udayveer Singh, a member of the legislative council and a friend of the chief minister of Uttar Pradesh from their days at the Sainik School.
Speaking exclusively to Catch a day after he was expelled from the party for writing a letter in support of Akhilesh, Singh says the chief minister enjoys the majority support from all sections of the party.
Blood feud
Many say something much like the Ramayana is playing out in the Yadav family with reports that the rift in the party - Akhilesh on one side and the rest of the family, including father and party patriarch Mulayam Singh Yadav, uncle Shivpal Yadav on the other - was fuelled by the political aspirations of Akhilesh's stepbrother Prateek Yadav and his family. Prateek's mother is Sadhna Yadav, Mulayam's second wife.
Singh says, "Prateek Yadav is a non-political person, but his wife (Aparna Bisht Yadav) is a first time entrant in politics after she was declared the party's candidate from Lucknow Cantonment Assembly seat."
"They aren't particularly big players politically. However, like everyone who enters politics, they too have aspirations," Singh says, adding that "their jealousy is being used by vested interests including Shivpal Yadav and Amar Singh."
Another source close to the family says while Prateek is an animal lover and is happy doing other things, it is his wife who is socially and politically active and wants to play a bigger role.
A play for power
Udayveer, who was expelled after he wrote a five-page scathing letter criticising the state of affairs in the Samajwadi Party, says it is Amar Singh - who was recently inducted back into the party - who is using the aspirations of Shivpal to send wrong signals about the chief minister to Mulayam and other powerful sections in Uttar Pradesh.
Amar Singh, Udayveer claims, "likes proximity to the ruling party at the Centre and is working at the behest of the BJP."
He points out an earlier instance when "Singh, through his proximity to Netaji (Mulayam), forced Dimple Yadav to contest the elections against Raj Babbar, with whom he has personal rivalry in Ferozabad, before distancing himself from the campaign."
"The star campaigners close to Amar Singh like Amitabh Bachchan and Jaya Prada came to campaign only once," Udayveer says. The 'bahu' of the family lost that election to Babbar, a member of the Congress, in 2009.
In 2010, Amar Singh had been expelled from the party over anti-party activities.
The BJP angle
Now that the BJP is in power, Udayveer alleges, Amar Singh is batting for the BJP which is already hard at work in UP. He cited the case of Rita Bahuguna Joshi, and how the BJP first poached Vijay Bahuguna, the former chief minister of Uttarakhand and her borther before finally managing to get Rita to quit the Congress and join the BJP.
Udayveer says while Shivpal may not be directly under the influence of the BJP and it may just be his aspirations to be the chief minister, it is Amar Singh who along with a few others is playing the members of the family against each other.
The other players in the game
Other sources point out the name of two others - Ketan Desai and Subhash Chandra - both considered close to the BJP top brass and Mulayam Singh and Amar Singh alike.
Desai, for example, sources in the Samajwadi party say, is among those who are closest to Mulayam Singh - so much so that the SP supremo wrote to the then health and family welfare minister Ghulam Nabi Azad asking that Desai be reinstated as the chairman of the Medical Council of India (MCI), a post he had to relinquish over charges of corruption.
Another source close to Akhilesh claims that each time Mulayam arrives in Delhi, Desai has always rushed to his side in a matter of minutes. When Desai's daughter Erika got married in 2014, the whole Yadav clan, including Akhilesh, Shivpal and Mulayam, were present in Ahmedabad.
Similarly, both Amar Singh and Subhash Chandra had moved close to Shivpal Yadav as well, insiders claim. In April this year, for example, the Delhi reception for Shivpal's son Aditya's marriage was hosted by Chandra and Amar Singh together at 4, Bhagwan Das Road.
Sources close to the Samajwadi top brass also point out to a September party reportedly thrown by Amar Singh and Chandra together, which was attended by Mulayam Singh, Shivpal and chief secretary Deepak Singhal, which could have precipitated the feud then.
Desai, sources claim, was also present. Two days later, Singhal and another minister Gayatri Prajapati, said to be close to the family of Mulayam Singh's step-wife, were removed over allegations of corruption. Prajapati's proximity to the power centre may explain his phenomenal rise as well, from a first time MLA, to the cabinet minister in-charge of mining - the cash cow - all within a span of just four-and-a-half-years.
It is then, according to SP sources, that the section opposed to Akhilesh, through Mulayam's Singh's wife's family, pressured Akhilesh to re-instate Prajapati and Singhal.
"Prajapati and Singhal's removal had Mulayam Singh's nod. It came as a surprise that he went back on his own decision," Udayveer points out.
Speculations galore
Meanwhile, the grapevine in Lucknow is abuzz with all kinds of stories about the ongoing feud, including one which claims that the BJP is in touch with Prateek and his family.
Another source in the party points out that the corruption cases especially the one against Noida engineer Yadav Singh, also directly affects leaders like Prajapati and the Prateek Yadav family and that Amar Singh is using the opportunity to convince them to attack Akhilesh.
"It is like a traditional inter-family rivalry, which exists in all families at some level. But in this case, it is being misused," Udayveer claims, adding that they are using their proximity to Mulayam to influence his decision.
Access to Mulayam, he says, is blocked by these vested interests that ensure that he only hears one side of the story.
"Netaji is a simple man. He does not realise what is happening," he says, adding that he hopes that better sense will prevail and Mulayam Singh realises that Akhilesh Yadav alone is the next leader.
"I am not bothered about my sacking over the letter. There are bigger issues," Singh says.
Edited by Aleesha Matharu
More in Catch - SP split wide open: Akhilesh & loyalists may miss party's silver jubilee
Yadav family feud: Mulayam snubs Akhilesh again, refuses to name him CM candidate