EVMs, state-funding & simultaneous polls: RS debates electoral reforms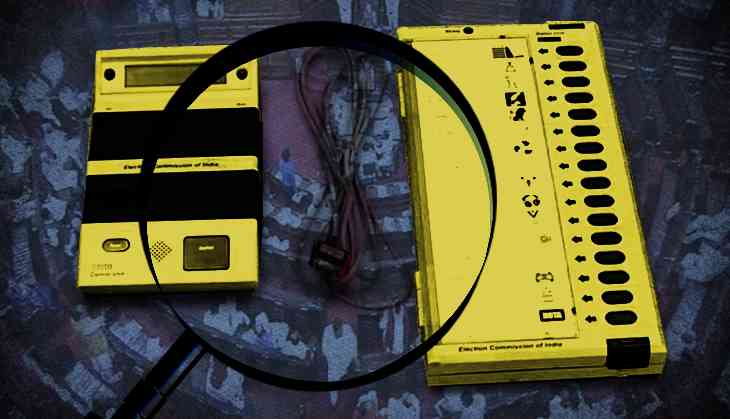 A gamut of electoral reforms was discussed in the Rajya Sabha on 22 March, but the Bharatiya Janata Party (BJP) cleverly used the opportunity to give another push to its pet agenda of simultaneous Parliamentary and Assembly polls.
Several other ideas were discussed too, but very little new information came out on the allegations of Electronic Voting Machine (EVM) tampering, which have become an issue after the recent Assembly polls in five states.
There was consensus on only one reform measure – capping political parties' expenditure.
Trinamool Congress's Mukul Roy said EVMs have reduced malpractices, but since parties are doubting them, the Election Commission "should take appropriate care of this concern". Other points made by him included:
Make the Election Commission a more democratic body. It should not be an absolute authority and its functioning should be regulated.
Existing spending limit of Rs 20,000 in Representation of People's Act has remained untouched.
Union Budget has talked about electoral bonds, but no clarity on redemption of bonds.
I would propose the House to consider state funding for elections.
Violation of SC order
Leader of the Opposition Ghulam Nabi Azad did not appear too enthusiastic for state-funding, and only urged the government to convey what it thought on the matter. His main emphasis was on EVMs; not on doing away with them, but to introduce paper-trails in all EVMs across the country.
Azad referred to the Supreme Court judgement of 2013, which made it incumbent upon the EC to install Voter Verifiable Paper Audit Trail (VVPAT) in all EVMs. He said EC has, since then, been asking for a fund of Rs 3,100 crore to install VVPAT machines, but the Union government has not released the funds. "If your hands are clean, why have you not done this for three years?" he asked the government.
Azad demanded that in future, the EC should use only as many EVMs as there are VVPATs, and in all other booths, ballot papers should be used. A beginning, he added, could be made from Himachal Pradesh and Gujarat, which are set to go to the polls later this year.
Responding to queries on whether he doubted the mandate in Punjab as well, which went in Congress's favour, Azad challenged that if BJP agreed to hold re-polls in UP, Congress will agree for re-polls in Punjab.
Additionally, he demanded that the audit of expenditure of all parties should be done and placed in Parliament.
Simultaneous polls
Bhupendra Yadav of the BJP asserted that the EC was impartial, and EVMs were in possession of collectors. He then changed the discourse of the debate altogether by asserting that the biggest electoral reform was to hold Parliamentary polls and all Assembly polls simultaneously.
He said because of the continuous cycle of Parliamentary, Assembly and local body polls, the Model Code of Conduct is in place for a long time, because of which, governance suffers.
Simultaneous polls will also bring down the expenses of political parties, he contended. His other suggestions included:
Let us have one common list of voters for all polls and one permanent voter identification number.
This will enable everybody to vote in every election seamlessly. Even if a person has moved from one place to another, he/she can easily transfer the number.
Let us link social traditions with polls by removing restrictions imposed by EC. People should be allowed to celebrate elections like a festival.
We must also move towards e-ballots to enable maximum people to participate in elections.
Indrajit Gupta Committee forgotten
Samajwadi Party's Ramgopal Yadav lamented that the influence of money power had only gone up in elections, and the Indrajit Gupta Committee's report recommending state-funding of elections was gathering dust.
He demanded that just like candidates' expenses were capped, a ceiling should be imposed on parties' expenditure too. He hit out at media coverage too, asserting that the Election Commission should ensure that big parties did not get undue coverage in private media.
He told Bhupendra Yadav that simultaneous polls could only be held in two-party systems. Teasing the BJP, he asked treasury benches if they would dissolve the Uttar Pradesh Assembly in 2019. "Yogi dauda lenge aap sab ko (Yogi will chase all of you)," he chuckled.
Yadav asserted that EVMs were indeed susceptible to misuse, because programming the chips was very easy. He underlined that he was not doubting the EC's impartiality, but deals could be struck at manufacturing stage of the machines. He declared that SP candidates won in postal ballots in many areas, as well as wherever VVPATs were installed in UP polls, but the EVMs had shown a different result.
Janata Dal (United)'s Sharad Yadav also agreed that influence of money power had gone up so much, especially since 2014 Lok Sabha polls, that leaders like Madhu Limaye, Ram Manohar Lohia, Atal Bihari Vajpayee and LK Advani would not be able to come to Parliament now. He too said that since EVMs had come under the shadow of doubt, the issue must be investigated. He suggested that if needed, a House committee could look into the allegations.
Banning corporate funding
CPI(M)'s Sitaram Yechury demanded VVPATs in all EVMs, capping parties' expenses, state funding not in cash, but in kind, banning corporate funding, and moving towards a a partial proportional system.
He explained that every two seats of the Lok Sabha could be clubbed, bringing down the total number to 271. Every voter could then be given two votes, one for candidate and one for party. Parties would then get to have MPs in proportion to their vote share in Parliament.
Yechury also demanded adequate women's representation in Parliament, strict action against paid news, disallowing contesting on more than one seat, ban on cross-holding in media, and control over social media platforms like Facebook, Twitter and WhatsApp.
On simultaneous polls, he asked the BJP if it was prepared to remove Article 356 from the Constitution, because that was an imperative for it. He cautioned that the real threat behind proposing this concept was that Parliamentary democracy was surreptitiously being sought to be changed into a presidential system.
Advani's past experience with EVMs
SC Mishra of the BSP, the party that most vocally alleged EVM tampering in the recently-concluded polls, minced no words in telling the BJP that its leaders cited a 300-plus figure even before polling, because they knew how many EVMs were fixed. He alleged that the only exit poll that got the result right, Chanakya's, was released late in the evening because the BJP supplied it the figures that it was sure of winning on account of EVM-tampering.
Mishra waved a book written by GVL Narasimha Rao, now BJP's spokesperson, that explained in detail how EVMs could be tampered with. The book, called "Democracy at Risk", also had a preface by senior BJP leader LK Advani. He added that BJP's Rajya Sabha member Subramanian Swamy was well-known for leading a long agitation against EVMs.
Mishra said that because VVPATs were installed only on 20 out of 403 seats, this was not a fair election in the light of the SC judgement. He reminded that EC had claimed that in Goa, VVPATs were installed on all 40 seats, and the result was there for everybody to see.
He asserted that the BJP itself had amply demonstrated that EVMs were vulnerable, and the party had all the necessary expertise to hack them. He demanded that the recently held elections be declared null in their entirety, because if "voters' confidence is shaken, democracy is shattered".
He also demanded a proportional system of representation, disqualification on defection without any riders, and a ban on opinion polls.
The debate went on till late in the evening, and the government said it would reply to the debate the next day.