End of drama: Congress to fight 105 seats in UP. Samajwadi keeps 298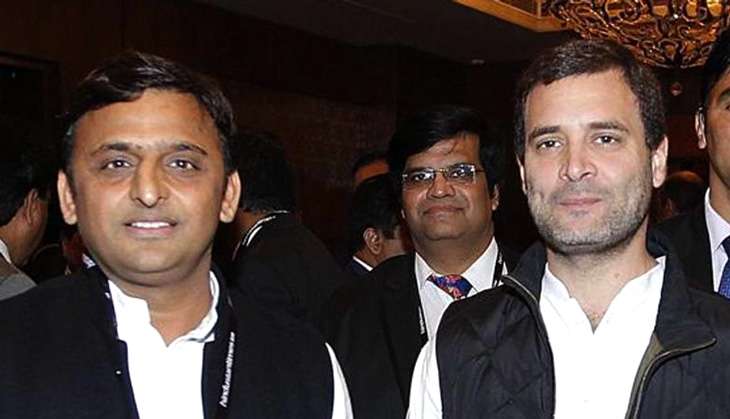 The Samajwadi Party (SP) and the Congress Sunday announced they would together contest the Uttar Pradesh (UP) Assembly elections. This alliance, after days of hectic parleying, is expected to lead to a largely two-way contest with the Bharatiya Janata Party (BJP).

The ruling SP will contest 298 seats while the Grand Old Party will fight the remaining 105, both parties said at a conference at Lucknow's Taj Hotel. The venue, in fact, was shifted from SP's 15 VD Marg headquarters over reservations from the alliance partner.

Speculations were on that Prashant Kishor may manage the joint campaign. The poll strategist didn't confirm this though.

Kishor, hired by the Congress to manage polls to Assemblies in UP and Punjab, aggressively pushed for the alliance. However, he may be given the miss as he is seen to be close to Amar Singh who Chief Minister Akhilesh Yadav ousted from SP and blamed for the rift in his family.

The Congress announced a list of 41 constituencies. Its candidates include Jitin Prasada, said to be close to party Vice-president Rahul Gandhi. He may bag an important portfolio in case the alliance wins, party insiders said.

The Samajwadis released a new list of 77 candidates, which did not include Amethi. Catch earlier reported the party might leave half the seats in Amethi and Rae Bareli, traditional Gandhi family pocket boroughs, for the Congress to clinch the deal.

"They may not have won enough seats, but the Congress was runner-up in many seats in the two districts," an SP office bearer told Catch.

Three seats in Rae Bareli and two in Amethi have been offered to Congress, SP Vice-president Kiranmoy Nanda told Catch.

The Amethi Assembly constituency, currently with SP's Gayatri Prajapati may be retained by the party though. Prajapti is close to Mulayam Singh Yadav and party sources said he might contest again as Akhilesh was not keen on annoying his father further.

"Netaji (Mulayam) has given us his blessings," Nanda said. The party patriarch was ousted unceremoniously in a 1 January coup.

Both Raj Babbar, Congress' UP president and Naresh Uttam Patel, SP's state chief, went out on a limb to send a message across that the alliance was to stop 'communal' forces the BJP and the Bahujan Samaj party.

Earlier this month, while the SP's internal feud was on, Congress sources indicated it was keen on 105-108 seats. The party won managed to win only 28 in 2012 and placed second in another 31 other, losing deposits in 240.

The Congress was stunned when the SP announced candidates two days ago. The seats included those in Rae Bareli and Amethi.

Within the party, there were speculations on who was calling the shots. Eventually thought it bargained hard to clinch 105 seats - the SP leadership sought an explanation as to why it should get more than 54, later increasing its offer to 99.

The process has the imprimatur of Ghulam Nabi Azad, Congress general secretary in-charge of UP and the party's go-to person for alliance negotiations.

Party President Sonia Gandhi reportedly stepped in to salvage the deal, putting her political secretary Ahmed Patel on the job.

Patel, however, put this to rest this morning. Reports of lightweights dealing on Congress' behalf were wrong; Azad and Sonia's daughter Priyanka were in touch with the SP leadership, he tweeted.
Earlier there were reports that the Congress had left negotiations on Dhiraj Srivastava, once Sonia's liasion with the UP government. But sources close to Akhilesh indicated that his role didn't stretch beyond facilitating communication between brasses of two parties.
While Priyanka emerged as an active player in the episode, the role of her brother Rahul wasn't clear.

Edited by Joyjeet Das