Durga as Defence Minister, Laxmi as FM: Here's what a 'ministry of gods' would look like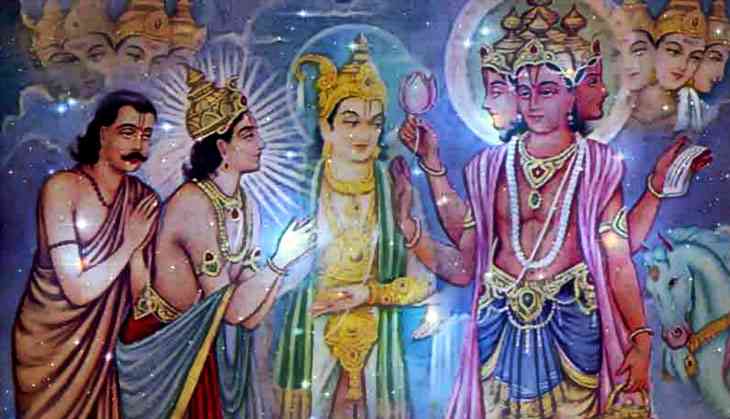 It wasn't long ago that M Venkaiah Naidu had called Prime Minister Narendra Modi "God's gift to the nation". The former minister is now the Vice-President and appears to be avoiding showering individuals with such adulation, perhaps in keeping with the neutrality that his high-office demands.
In fact, he has taken his oratory to the next level where he appears to be focusing entirely away from lesser mortals. If his latest speech is any indication, the inspiration that he is seeking these days is divine. This is fitting in a way, as the government is unlikely to steer the domestic economy to safety without divine intervention.
Speaking at a leadership summit hosted by the Indian School of Business in Mohali, recently, Naidu reportedly made a pitch to defend India's record in empowerment of women using Hindu mythology. He said women were accorded highest importance in "our philosophies ... our culture" and substantiated his argument by submitting that in ancient India, Goddess Durga was the defence minister, Goddess Laxmi finance minister and Goddess Saraswati education minister.
While this may or may not be a message from the government that it had left the country to the mercy of the gods, it has definitely put forward a great idea for those who believe in mythology as history. Since this government is filled with a large number of such enthusiasts, they may even consider allocating more portfolios in the Union Council of Ministers to gods, goddesses and other figures from Hindu mythology.
We have prepared an indicative list for them. Take a look -
Defence Minister, Finance Minister and Education – Since the honourable vice president has already allotted these ministries to Goddesses Durga, Lakshmi and Saraswati, we wouldn't want to interfere with their portfolios.
Civil Aviation Minister – Perhaps Lord Hanuman would be an appropriate choice for the job, given his amazing flight to Sri Lanka. Incidentally, that was also the first surgical strike in India's history so he could also be considered for the post of defence minister as well. However, Lord Hanuman might not pass muster with the BJP as a serving Union minister has already beaten us to the job of identifying the best candidate for the civil aviation ministry. Minister of State Satyapal Singh recently said that engineering students in India should be taught about the Pushpak Viman, a flying chariot described in the Ramayana. Given that logic, the Viman's owner can certainly be appointed in charge of civil aviation in the country. That could be Ravana, who is said to have kidnapped Sita and taken her to his kingdom in that aircraft. The job could even be given to Kuber, from whom Ravana is said to have stolen the Viman.
Information & Broadcasting Minister – One name wins hands down over all others for this position – Narad Muni. The BJP and its sister organisations of the Sangh Parivar believe that Narad was the first journalist ever. They even have journalism awards in his name. Why not handle the ministry to a pioneer who is sure to know the field like no-one else? Perhaps the first Narad award can be given to Mahabharata's Sanjay, who was a pioneer war reporter.
Railway minister: Given alarming rise of fatalities related to rail accidents that have taken place in the past few years, it is perhaps best to officially give the ministry to Yamraj. He could also be given additional charge of the minority affairs ministry to take stock of the killing of minorities across the country.
Leader of the ruling party: Who could be a better leader of the ruling party than Shakuni, given his expertise in managing intrigues and creating dissensions in the Opposition ranks?
Leader of the Opposition: As there is no leader of the Opposition in the country presently, the position is best offered to a deity who is on a Vanvaas: Lord Ram.
Foreign Minister – Hindu religious texts identify Brahma as the creator of the universe. However, Brahma has very little to do once everything has been created because all affairs are run by Vishnu, the preserver. Foreign Minister Sushma Swaraj too has very little to do because the country's diplomacy is in the hands of the PM himself and a few bureaucrats he trusts. She limits herself to being active on Twitter and saving Indians trapped in myriad situations across the world. Brahma can do these things smoothly and probably much more efficiently because he has three heads and can see Twitter, Facebook and YouTube simultaneously.
Telecom minister: For this position, the most suitable candidate remains the present incumbent Ravi Shankar Prasad. As Ram Lalla's lawyer, Prasad has unique experience of negotiating between the divine and the temporal world and his skills would be invaluable as the only human member in a ministry of Gods.
Prime Minister – And now we come to the first among equals. There are many contenders for this post, as is usually the case. Many would say Vishnu would be best-suited for this position, given his role as the superhero in Hindu mythology. However, Modi government does things differently. The figure who comes closest to what the present prime minister is doing to the country is Shiva, the destroyer. It's not just the Varanasi connection. There is strife all over, economic growth is plummeting, inflation is rising and jobs are getting destroyed. If destruction and disaster is the mantra, why not let a pro like Shiva do it?