Dry Delhi? Kejriwal seems to have some aces up his sleeve & Nitish should learn from him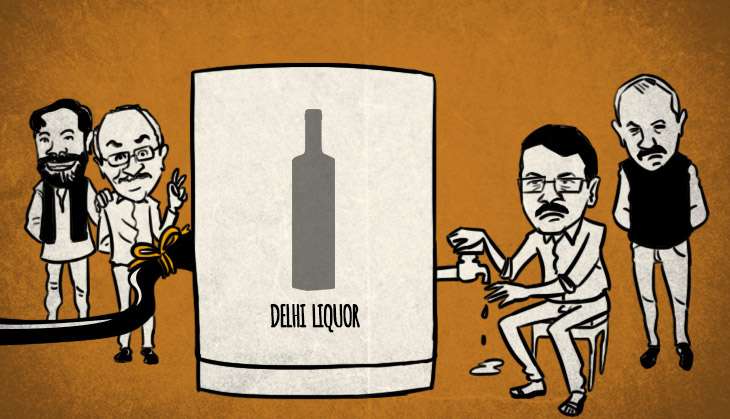 Amidst a rising clamour against liquor addiction in many parts of the country, the two new provisions of Delhi's excise policy announced yesterday are an interesting departure.
The Aam Aadmi Party (AAP) government in the national capital announced on Wednesday that no new liquor shops will be opened in the city this year.
Further, if the residents of a particular area are unhappy with the presence of liquor shops in the vicinity, they can get the government to shift those shops elsewhere.
Watch & RT

No New Liquor Shops In Delhi This Year: Chief Minister @ArvindKejriwal https://t.co/A2e0hCSKLP

— AAP News Alert (@AAPNewsAlert) August 17, 2016
Interestingly, this announcement has come on the back of reports that 58 new liquor shops were opened in Delhi under the watch of the AAP government, in the last one year.
Swaraj Abhiyaan (SA), the outfit headed by former AAP leaders Prashant Bhushan and Yogendra Yadav, had made this revelation, based on an RTI query.
SA members alleged that the AAP government had reneged on its electoral promise of actively working to reduce alcohol consumption and distribution in Delhi. SA members had also launched protests in various areas of Delhi against this.
Quite understandably, they are calling this revision of policy by the Arvind Kejriwal-led government a result of their pressure.
Delhi govt responds to Swaraj Abhiyan campaign
We shall continue till regular policy changeshttps://t.co/EIXM2h4uaR via @IndianExpress

— Yogendra Yadav (@_YogendraYadav) August 17, 2016
AKs flip flops!Before polls:No Liq shops w/o res consent.After polls:72 shops despite protest. SA campaign impact:AK says no new shops now!

— Prashant Bhushan (@pbhushan1) August 17, 2016
SA members, especially Bhushan, were also scathing in their attack on Kejriwal and AAP.
सौ चूहे खाके बिल्ली हज पे चली!After 72 new liq Shops&217 bars despite protests,violating poll promises,AK says no liq shops till Punj poll!

— Prashant Bhushan (@pbhushan1) August 18, 2016
AKs Hypocrisy&lies unlimited.Before polls:No liq Shops w/o women consent.After polls:Opens 72 shops despite protest! pic.twitter.com/0wVAJC4Qqp

— Prashant Bhushan (@pbhushan1) August 16, 2016
Why did Kejriwal, who came to power on the promise of Nasha-Mukt Delhi, show such alacrity in opening liquor shops? https://t.co/LHTYZxvxm6

— Anupam (@AnupamConnects) August 17, 2016
Yadav also sought to know from Kejriwal whether the forthcoming assembly polls in Punjab had necessitated this "sudden change in mind".
Q to DelhiCM on liquor:
Why stay only for 1 year? Punjab polls?
How many new shops opened last year? why?
Why this sudden change in mind?

— Yogendra Yadav (@_YogendraYadav) August 17, 2016
The Punjab polls could be an important factor behind this decision as the main electoral plank in the poll-bound state is the promise of delivering a nasha-mukt Punjab (a Punjab free of all intoxicants).
However, over the last couple of years, Delhi has consistently had a constituency of activists protesting against liquor vends in residential areas.
The latest protests that had broken out with the help of SA were threatening to assimilate this constituency and create a large agitation against AAP. This is why Kejriwal decided to act swiftly and announce the new measures.
After Bihar, prohibition in Delhi?
This partial tightening of the liquor trade in Delhi has made some ponder if Kejriwal could slowly be inching towards prohibition, possibly motivated by his friend and counterpart in Bihar, Nitish Kumar.
After imposing a blanket booze-ban in Bihar, Kumar has been touring many other states in a bid to drum-up the prohibition campaign throughout the country.
He has studiously avoided Delhi and Punjab so far because it is Kejriwal's turf and he doesn't want to upset the latter, as of now.
But could he have silently nudged or inspired the AAP chief to tighten his liquor policy in Delhi? Indications are that the case, in fact, is far from it.
A careful look at the new excise policy will reveal that not all kinds of liquor outlets will witness a slowdown.
Delhi government's liquor licences are divided into three categories -
- L6 (government shops),
- L7 (private shops)
- L10 (shops in malls).
The no-new-shop announcement covers only L6 and L7 categories, while licences will continue to be given under L10 category.
This means, what is being curbed is only a liberal liquor policy, not liquor sale, per say. And what these new policies are actually doing is - smartly balancing of concerns of the protestors against liquor addiction and arguments against prohibition.
It is Kumar who, in fact, can take a cue from his friend in Delhi.
The 13 deaths in Bihar's Gopalganj, a hooch-tragedy by most indications, have come as a stark reminder to the Bihar CM of the perils of prohibition.
While the rich are free to either bribe to secure alcohol or simply travel elsewhere, the poor have only one resort to satisfy their urge - hooch.
The middle-way out?
Both policies, in this case, mean a defeat for the ban but it is the poor who pay dearly. What Delhi appears to be telling Bihar right now is that the best way-out is probably not to stop liquor trade entirely, but to ensure that liquor shops do not spring up on every corner like a mom-and-pop store.
Kejriwal also said in his press conference that in the past, he himself has been part of protests against liquor shops in residential areas, indicating another area of focus.
Liquor shops in or near residential colonies could also possibly be avoided, instead of banning them altogether.
Of course, it is a bit early to say whether this is actually AAP's stand. These are mere indications.
The Delhi government is yet to make the entire policy public and therefore one can not be sure if there are further surprises in store.
Reports had claimed recently that the government was all set to make the availability of liquor easier in the capital.
The government denied the claim but the real truth will be known only when the policy is made public.
Edited by Jhinuk Sen
Also read: Here's why Haryana CM ML Khattar blames Kejriwal for Gurugram jam
Also read: How Kejriwal turned an RTI query against him to seek details on PM Modi's degrees
Also read: Kamaal R Khan is angry with Delhi CM Arvind Kejriwal and you won't believe why
Also read: Isn't it odd? Even Kejriwal kept quiet on Art of Living damage