'Don't teach us patriotism': Sikhs angry at BJP's hounding of Gurmehar Kaur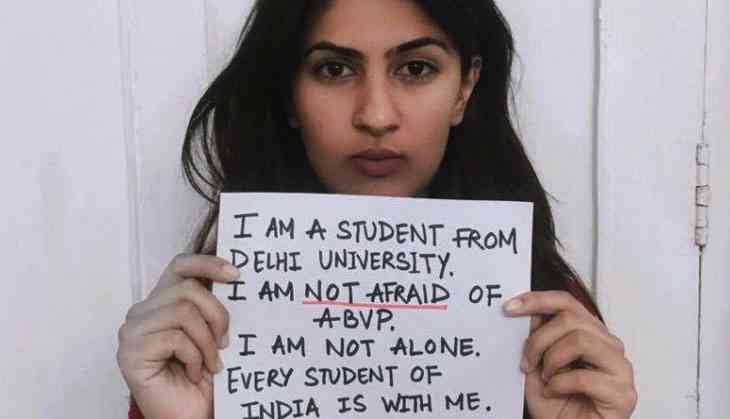 The hounding of Gurmehar Kaur by the Bharatiya Janata Party and its supporters may prove costly for the party. It has sparked outrage among several organisations and individuals representing the Sikh community. From signature campaigns to public statements by Sikh leaders, support for Kaur has poured in from diverse quarters.
It isn't just the rape threats directed at Gurmehar that have angered them. It is also the fact that her patriotism is being questioned despite the fact that her father Captain Mandeep Singh had laid down his life fighting terrorists in 1999.
According to former Jathedar of the Akal Takht, Bhai Ranjit Singh, "This isn't just about an individual or a family. It's about the entire community. It's about our Guru's message. What this girl (Gurmehar) said was based on our Guru's philosophy (of peace and tolerance)".
Watch:
Former Akal Takht Jathedar Bhai Ranjit Singh message for @mehartweets and warn to RSS/BJP. pic.twitter.com/kbrccI2GZD

— ਮਿਸਟਰ ਸਿੰਘ™ (@VikkyBhamra) February 28, 2017
Attacking the Sangh Parivar in particular, Bhai Ranjit Singh said, "I know this communal Parivar very well. Our entire community knows them. Had they been brave, they would have gone into Pakistan for the sake of our country. But they couldn't do it. Only Sikhs dared to go, be it Kashmir Singh, Dalbir Singh or Sarbjeet Singh. They gave away their lives or had to spend several years in prison. What the Sangh Parivar represents is fake patriotism. We (Sikhs) don't need lessons in patriotism from them".
"If Gurmehar Kaur is harmed in any way, we will hold the BJP and RSS responsible," he added.
Meanwhile, the Jatt Sikh council has started a signature campaign in Gurmehar's support in her city Jalandhar. The signatures were taken on a white cloth, symbolising Gurmehar's message of peace.
Sukhwinder Singh Lally, governing secretary of the council, told The Tribune that workers belonging to the BJP were indulging in cheap politics and should be put behind bars.
"We salute the young girl. However, power-hungry politicians start commenting against that which was condemnable. The BJP should punish all those who were threatening and commenting against a girl, who lost her father for the nation," he told The Tribune.
Several other organisations such as Dal Khalsa, Sikh Youth Federation, Delhi Sikh Gurudwara Management Committee, Istri Jagriti Manch Punjab and Sikh Sewak Society International have come out in her support.
Those threatening our own sister and daughter can't be nationalists," said DSGMC president Manjit Singh GK.
Dal Khalsa has said that power has gone to ABVP's head every since BJP took over at the Centre.
The widespread support for Gurmehar has forced even pro-Akali leaders like Akal Takht Jathedar Giani Gurbachan Singh as well as SGPC President Dr Kirpal Singh Badnugar to come out in her support.
A major reason why the Sikh community, especially organisations based out of Punjab and Chandigarh, are incensed is the perception that the "Haryana lobby" is at the forefront of the campaign against Gurmehar. Many Sikhs say that it is no coincidence that many of those attacking the girl - from Haryana minister Anil Vij to sportspersons Virender Sehwag, the Phogats and Yogeshwar Dutt, as well as actor Randeep Hooda - hail from Haryana.
Outlandish accusations
Several common Sikhs are upset by the insinuations by right wingers that Gurmehar is a Khalistan sympathiser.
अजीब बात है, कोई मुस्लमान बीजेपी/RSS/ABVP के खिलाफ बोले तो वो पाकिस्तानी, कोई सिख बोले तो वो खालिस्तानी, सारे राष्ट्रभक्त बीजेपी में है?

— ਮਿਸਟਰ ਸਿੰਘ™ (@VikkyBhamra) February 28, 2017
"It is strange that Muslims who question BJP/RSS are called Pakistani and Sikhs who do so are called Khalistani," the tweet says.
Dr Gaurav Pradhan, a right wing troll followed by Prime Minister Narendra Modi on Twitter, has come up with an outlandish theory that Gurmehar was working on the instructions of Pakistan's Inter Services Intelligence (ISI) in a conspiracy which also involved Delhi Chief Minister Arvind Kejriwal.
There were several other disturbing allegations. This allegation coming from a troll followed by Right wing website Swarajya as well pro-BJP journalist Kanchan Gupta, even went to the extent of comparing the army officers supporting Gurmehar to Shabeg Singh, the Indian Army Major General who joined Jarnail Singh Bhindranwale.
Shabeg Singhs lead Jat agitation, also a coming Khalistan agitation? At least three birds in one stone? https://t.co/nLJNBv7VKx

— Tea Lover (@unknowncorner) March 2, 2017
This must be seen in context of the widespread support Gurmehar got from serving and former soldiers.
This is what Ajmer Singh, a former army officer and presently a journalist with Economic Times, tweeted:
We all, Capt Mandeep's course mates, are proud of Gurmehar @mehartweets and fully support her. Trolls, Netas, Cricketers, #Abvp BACK OFF https://t.co/bYR6lswWYo

— Ajmer Singh (@iamajmer) March 1, 2017
The Punjab State Ex-Servicemen Welfare Association (Sewa) also came out in support of Gurmehar and its president Col (retd) Kuldip Singh Grewal vowed to fight a legal battle on her behalf "till the matter reaches its logical conclusion".
"No one should remain unaffected when a daughter is threatened with rape. The people of the country should raise their voice to protect the daughter of a martyr," Col (retd) Tejinder Singh Bajwa, a member of the association, told PTI.
Support from hardline outfits
A number of hardline Sikh outfits have also jumped on the bandwagon of support for Gurmehar.
Shiromani Akali Dal (Amritsar) leader Simranjit Singh Mann expressed his solidarity with the student and attacked the Hindutva brigade in a series of tweets.
As a Sikh I support Gurmehar Kaur. Hindu's have always opposed Sikh's and committed their genocide.

— Simranjit Singh Mann (@SimranjitSADA) March 1, 2017
Our party is against #ABVP & other extremist scalawags. @mehartweets has challenged such goons, we r with her. She is proud of our community

— Simranjit Singh Mann (@SimranjitSADA) March 1, 2017
As a Sikh I will defend Gurmehar Kaur's right to say war killed her father not Pakistan.

— Simranjit Singh Mann (@SimranjitSADA) March 2, 2017
Jagtar Singh Hawara, claimant to the position of Jathedar of Akal Takht (according to the 2015 Sarbat Khalsa), slammed the BJP and its supporters for attacking Gurmehar.
According to a report in Sikh24.com, Hawara said, "BJP always uses cheap communal tactics to polarise votes during elections and it is has become a threat for communal harmony in India. Minorities – Sikhs, Muslims and Christians have always remained prime targets of the BJP".
Be it Sikh students, soldiers as well as political outfits, the Sikh community has strongly come out in support of Gurmehar Kaur and against the BJP.
As it is there was discontent within the Panthic Sikh community towards the BJP due to a number of factors – the party's patronage to the Dera Sacha Sauda, the unpopularity of its ally the Shiromani Akali Dal and the number of incidents of desecration of the Guru Granth Sahib under their watch.
The vicious attacks on a 20-year-old Sikh girl, that too a martyr's daughter, could be the last straw for the fiercely proud community.