#DigitalIndia in the time of #InternetBan?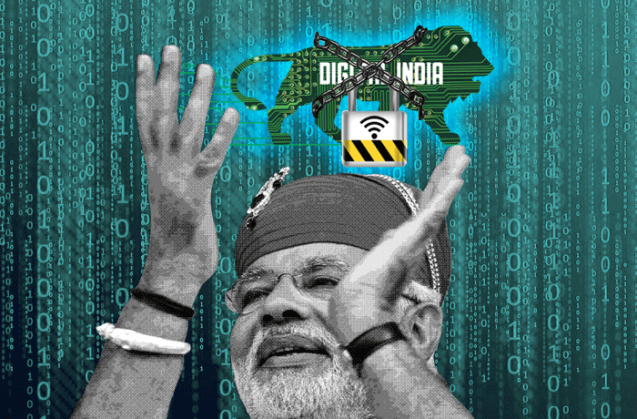 The promise
PM Narendra Modi showcased his Digital India mission during his visit to the Silicon Valley
The mission promises to provide internet connectivity to every Indian
But the reality in India is in complete contrast to this vision
The reality
Internet services in Godhra were banned even as Modi spoke in the Silicon Valley
In Jammu and Kashmir, internet was banned for 77 hours from Friday morning
Digital India is meaningless if the government doesn\'t trust its citizens
Prime Minister Narendra Modi's Digitial India plan might have impressed the CEOs of the tech majors he met in the Silicon Valley, many citizens in India have a different story to tell.
Connectivity begins at home, Mr Modi
Take Modi's home state Gujarat for instance. Even as Modi showcased his ambitious mission of providing internet connectivity to millions of Indians, internet services were banned for 24 hours in Godhra. The reason given was that this was to prevent tensions on the occasion of Ganpati visarjan.
Also read - Modi in Silicon Valley: The politician overshadows the PM
Internet bans have become a habit with the Gujarat government. Mobile internet services in the state were suspended almost every time Patidar leader Hardik Patel was arrested. As the services were often restored with Patel's release, this sparked jokes like this one.
Hardik Patel Arrested: Internet off Hardik Patel Relesed: Internet on Govt makes Hardik Patel as WiFi Router pic.twitter.com/HOrc5nCUfz

— Swachh Politics (@SwachhPolitics) September 22, 2015
The internet bans in Gujarat had a disastrous impact on various industries, particularly e-commerce and e-ticketing. Many e-commerce companies based in the state had to send some of their employees to Bengaluru and Mumbai to remain in business.

"If this kind of digital emergency continues, it will take a toll on the start-up ecosystem in the state. It may led to tech start-up and e-commerce vendors' exodus to other startup hubs," Jatin Chaudhary, founder of eChai, a start-up community in Gujarat, told the Economic Times.

This "digital emergency" is in complete contrast to the promotion of start-ups and innovations that Modi promised in his Silicon Valley address. Qualcomm announced a $150 million fund to foster start-ups but how viable would these ventures be if the government bans internet services at the drop of the hat.




Kashmir: an integral part of India but 'azaad' from Digital India
No state has been subjected to as many internet bans as Jammu and Kashmir. Internet services in the state were banned for 77 hours on Friday. People in the Muslim-majority state were unable to wish their relatives on Eid through WhatsApp or Facebook because of the ban.
The rationale given was bizarre: the administration feared that there would be tensions if people posted videos of cows being slaughtered on Eid. This, in effect, meant that not only does the administration want to impost an arbitrary ban on cow slaughter, it will also periodically suspend internet services to enforce this ban.
The digital emergency in parts of India is in sharp contrast to the Digital India Modi is promising
As it is Kashmir is often subjected to discrimination in matters of communications. Prepaid phones from the rest of India do not work in Kashmir and vice-versa. The periodic internet bans reinforce the sense of marginalisation even further.
It almost amounts to saying that Kashmir might be an integral part of India, but not Digital India.
Trust Indian citizens, please
Internet bans stem from the government's inherent distrust of citizens.
It is precisely this distrust that made the government prepare a policy on encryption. The policy would have made it punishable to not save all your encrypted data in plain text form and provide it when demanded by a cop. Fortunately, the government had to withdraw the proposal following a widespread uproar.
Of course, the BJP's distrust of the internet is understandable, given the party's own history of misusing it. After all, it's MLA Sangeet Som was booked for uploading a fake video that sparked riots in Muzaffarnagar in 2013.
But one must commend the state governments in Gujarat and Jammu and Kashmir for their ingenuity. Internet bans are a terrific way of 'fixing' social media after the Supreme Court struck down Section 66A of the IT Act.
Wonder what tech giants of the Silicon Valley will think of this act of internet innovation.