Did Sidhu overplay his hand? Time running out to join Cong and make a mark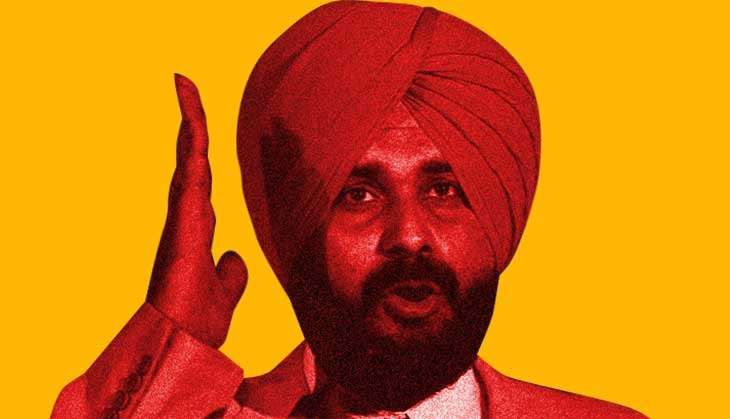 By this time, ideally, Navjot Singh Sidhu should have been out in the field justifying his role as a hard-hitter. But, ironically, he is not even in the dressing room yet.
When will Sidhu formally join the Congress? Party workers have no idea what's going on, and are finding it difficult to respond to the barbs coming from the rival camps of the Shiromani Akali Dal (SAD)-Bharatiya Janata Party (BJP) combine, and the Aam Aadmi Party (AAP).
State Congress chief Captain Amarinder Singh has reiterated that Sidhu will join the party soon. But this reassurance has failed to address the workers' concerns, and given the opponents more opportunities to fire salvos.
Amarinder insisted Sidhu will join the Congress unconditionally, and asserted that any decision on having a Deputy Chief Minister in the state would be taken by the All India Congress Committee (AICC) president and vice-president at an appropriate time.
He said Sidhu would be the party's candidate for Amritsar (East), as announced by the latter's wife, Navjot Kaur.
He claimed that Sidhu's joining was delayed because of his professional commitments, which he wanted to conclude before getting into election mode.
Amarinder's response comes in the middle of rampant speculation on when Sidhu will join the grand old party. There have been reports to the extent that Sidhu would make his entry at an auspicious moment on 13 or 14 January.
"These reports are weird. If it is true that Sidhu wants to join when the stars are auspicious, one may ask him if he thought such things before he went out to bat and hammer the bowlers from the opposing team," said a mediaperson in Chandigarh.
But there are others who are convinced that like many celebrities, he is a firm believer in astrology.
What Sidhu and Cong could've done by now
There is a very strong view on the ground that if he has to make any impact on the 4 February polls, Sidhu must join the party and hit the ground running. Some observers even say he has overplayed his hand - that he can just be a crowd-puller for the Congress at public rallies.
But even that would be a boost for the Congress, which is locked in a tough triangular contest in the state. After all, both people in and outside Punjab consider Sidhu a star, and someone with the gift of the gab who can communicate well with the masses.
Had Sidhu joined the party earlier, he could've done great damage to the Congress's opponents by now. While he would have countered the AAP campaign in a big way by pulling crowds to his rallies, he would have been particularly lethal for the SAD-BJP combine, since he has come out of their fold and is well-versed with their political tactics and game plans.
Observers also feel that the Congress could've made a major spectacle at the national level if Sidhu, who had dumped the BJP last year, had joined it by now. This could have been an embarrassment to the Narendra Modi-Amit Shah led party at the Centre, and the SAD leadership in the state.
But Congress vice-president Rahul Gandhi apparently failed to exploit the opportunity, because reports suggest Sidhu wants to join the party in his presence.
A case study for political science students
Observers say Sidhu's case could become a case study for political science students. A man who was once seen as CM candidate has now been reduced to an onlooker, a contestant, or at best, a crowd-puller.
People are perplexed about how he could have resigned from the Rajya Sabha and the BJP without sorting out things with the AAP leadership, since that party was perceived to be his first choice.
"He should have straightened out issues with AAP, dictated terms, and then resigned to join them immediately. But he was far too overconfident, and got trapped in his own game," said a senior political observer.
His delay in joining the Congress has also done a lot of damage to him as well as to the party. His constant flip-flops and the fact that he floated the political forum Awaaz-e-Punjab only to dump it later would definitely make an interesting study.
AAP and Akalis' remarks
The AAP leadership has been trying to ruffle the Congress's feathers by saying Sidhu would be the CM face of the party, since he declined AAP's offer to make him deputy chief minister. AAP says the Congress would've definitely offered him something more. This has forced Amarinder to clarify things at every media interaction.
The Akalis, too, have been saying that Sidhu's presence in the Congress would have no impact on the voters, since he has proved himself to be an inconsistent personality.
Sources disclosed that even Amarinder is miffed at the delay in Sidhu joining Congress ranks, as he cannot afford to spend much time in Delhi to oversee his joining, and keep answering queries about the ex-cricketer.
Edited by Shreyas Sharma
More in Catch
Who will win Punjab? What are the key issues? Here's a ready reckoner
High on Sherry: How Navjot Singh Sidhu will benefit the Congress in Punjab
Congress takes on Akalis, AAP in Punjab with ambitious 120-page manifesto, 10-page charge sheet