Anand Sharma turns demonetisation heat on Modi in Rajya Sabha. Mamata walks to President
As expected, the Opposition launched a scathing attack on the government over the demonetisation scheme on Wednesday. Initiating discussion, senior Congress leader and deputy leader of the Opposition in Rajya Sabha, Anand Sharma, criticised the government for introducing financial anarchy in the country.
He also accused the Centre of selectively leaking the information about the demonetisation scheme to a select few.
"You never kept the secrecy. This information was selectively leaked. Your BJP members have stacked crores. There needs to be an investigation into how many people bought gold worth over Rs 1 crore. There is global financial integrity unit. They have come out with a report on the amount of money which left India between April and September" Sharma said.
Attacking Prime Minister Narendra Modi over calling poor people standing in queues as criminals, Sharma sought an apology from him. "If you are trying to give this impression to the country that India started fighting money laundering now, then the prime minister is living on a different planet," the Congressman said.
Meanwhile, West Bengal Chief Minister Mamata Banerjee led a delegation of leaders of Trinamool Congress, Shiv Sena and National Conference to meet President Pranab Mukherjee to register protest against the demonetisation scheme. Interestingly, Shiv Sena has not backed Mamata's demand of a roll back of the scrapping of Rs 500 and Rs 1000 currency notes and claimed it was against the hasty implementation of the scheme.
The Opposition parties stood united on Tuesday in cornering the government over the demonetisation scheme announced by Modi. However, they isolated Banerjee over her decision to meet the President Mukherjee. Banerjee, who is in Delhi, had sought support of all political parties to accompany her to meet the President to demand that the demonetisation scheme be taken back.
The Congress clarified that it stood with the government on weeding out black money but not for a roll back of the scheme. Instead, the grand old party wants to focus on cornering the government over the inconvenience caused to the common man by this hasty and ill-prepared decision.
Isolating Banerjee, Leader of the Opposition in the Rajya Sabha Ghulam Nabi Azad said that the Bengal chief minister is well within her right to meet the President to lodge a protest. "The general view amongst all Opposition parties was we should not meet the President on the very first day. We should first discuss it in both the houses of the Parliament and if we are not permitted then we should approach the President," said Azad after the all party meeting chaired by the prime minister.
Congress game-plan
However, there is more to what meets the eye. Congress' strategists are of the opinion that Banerjee should not be allowed to take a lead in what they believe is their best opportunity to target the government and seek political gains. A beleaguered Congress feels it is their right to take a lead in what they have believe is "India's biggest scam".
On Tuesday, the Opposition parties, prior to the all party meeting, held a two hour long discussion and reached a consensus over cornering the government on the selective leakage of information about the demonetisation scheme before the prime minister's announcement.
Leading the Opposition's charge, the Congress questioned how many in BJP knew about prime minister's decision beforehand and that it will seek an inquiry into how it happened. "There are multiple reports that many had Rs 2000 notes even before 8 November. How did that happen? Who did that leakage? Who were involved? Was it done intentionally?" said Azad who also accused the government of conducting an economic surgical strike on political parties just before the crucial Assembly elections.
Most Opposition parties don't want to demand a rollback of the scheme as they don't want to create a perception that they are being weak on black money.
"A rollback would only lead to add to the economic chaos being witnessed across the country and we want to confine ourselves to the implementation part which has been far from satisfactory," said a Congress functionary.
All party meeting
Meanwhile, Prime Minister Narendra Modi, who chaired the all party meeting in the Parliament House, urged all parties to extend their support in this greatest crusade against black money, corruption and fake currency which are abetting cross border terrorism.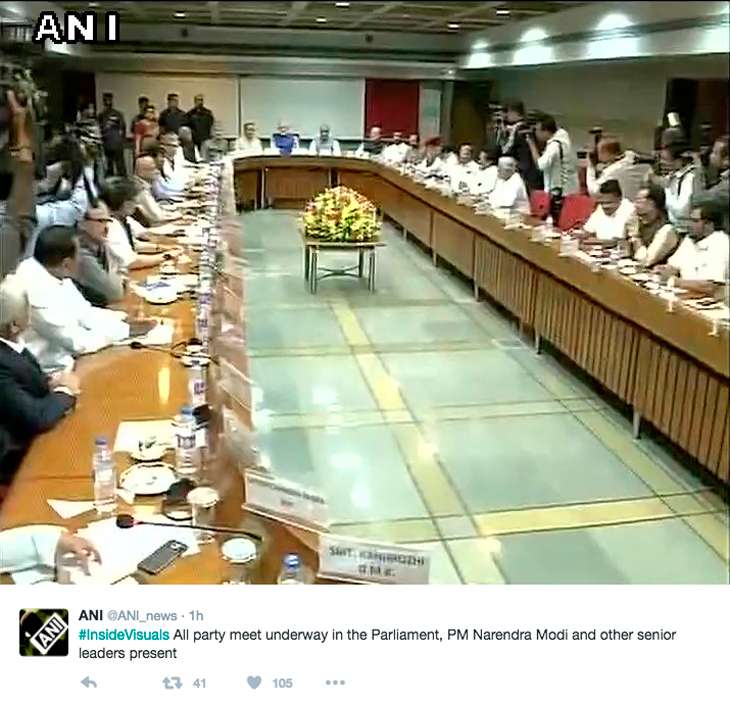 Prime Minister Narendra Modi Tuesday met representatives of various political parties. (ANI /Twitter)
Speaking to the media about the prime minister's statements during the meet, Union Minister Ananth Kumar said, "PM said let a signal go from Parliament's Winter Session that all parties can come on one page on issues of national interest." He went on to add that the government is willing to discuss all issues and answer all questions raised by the Opposition.
Kumar also added how the prime minister requested all parties to brainstorm on transparency of funding during polls and also simultaneous polls across the country. "The Election Commission is spearheading this issue of electoral reforms and the prime minister said it is the responsibility of all political parties that we should brainstorm and discuss this issue and come out with a solution so that there is transparency in funding during polls," Kumar said.
He went on to add that the prime minister also raised the issue of simultaneous Lok Sabha and Assembly polls. "In the last decades there have been a spate of elections. Let there be one election," Kumar said adding that the PM has sought a consensus from all political parties on the issue.
Rahul Gandhi's attack
Meanwhile, Congress vice president Rahul Gandhi, who is in Mumbai, to appear in the RSS defamation case, mentioned that the decision of demonetisation was not thought through and was based on one person's thinking. "The big black money players have been allowed to go scot-free by the PM. Vijay Mallya and Lalit Modi are sitting abroad. Couple of days back, PM was laughing in his speech, then next day he was crying. He should decide what he wants to do. Do you see any black money players in bank lines? It's only farmers, government servants and the common man."
He went on to add this decision resulted in massive inconvenience to the people and needs to be sorted out as soon as possible. "I am seeing on social media that BJP leaders are holding cash stacks in their hand, where did they get this money from?" questioned the Gandhi scion. Adding to this, he said, "Most economists I met are saying there is no economic rationale behind this decision. This will turn out out to be a huge scam. We cannot let farmers, laborers stand in line for 3 months."
Moreover, the Winter Session of the Parliament which begins Wednesday will witness Opposition pinning the government down particularly on demonetisation. It would also raise other issues like Kashmir unrest, One Rank One Pension, atrocities on Dalits, ongoing tussle between the judiciary and the executive over judicial appointments, among others.
Meanwhile, the West Bengal chief minister will go and meet the President on Wednesday and is likely to be accompanied by Delhi Chief Minister Arvind Kejriwal and leaders of National Conference and BJP ally Shiv Sena.