Demonetisation: how Modi scored a self goal by vanishing from Parliament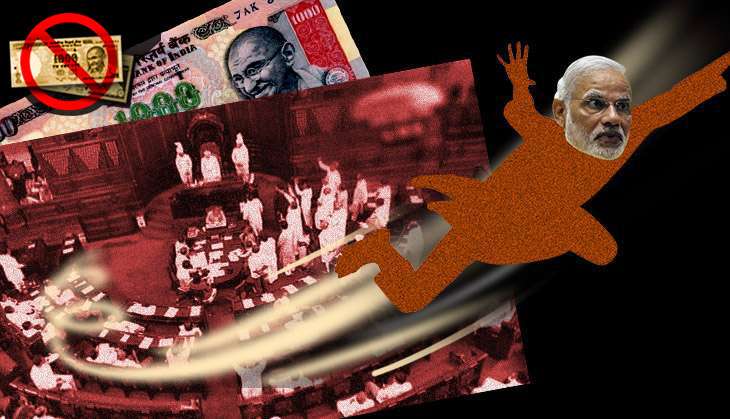 On 24 November, as Parliament was stalled for the sixth consecutive day, Prime Minister Narendra Modi left everybody baffled. This was the day when he had apparently finally heeded the opposition's demand to be present for a debate on demonetisation. He duly came to the Rajya Sabha, sat for a while and left during the lunch break. Never to return.
While Modi was in the House, protests by the opposition subsided, only to resume with his vanishing act. Deputy Chairman PJ Kurien tried to assuage the opposition MPs and conduct the proceedings, but in vain.
Also Read: Opposition ups the ante in Rajya Sabha, directly targets PM Modi
Still, if only for a while, the opposition succeeded in embarrassing Modi as former prime minister Manmohan Singh, speaking in the House after a long time, slammed the government over demonetisation. Egged on by a loud thumping of desks, Singh denounced the entire exercise as a "monumental failure", a "loot" and "legalised plunder". Singh had been quiet throughout the last fortnight and his first words on the move have lent much weight to the opposition's criticism.
The inexplicable Mr Modi
To say that the prime minister's strategy for the day was baffling will be an understatement. If his arrival in the Rajya Sabha was an olive branch to the opposition in the interest of resumption of proceedings, why did he suddenly disappear? Equally, if he did not want to attend the debate, why did he come in the first place? No surprise that Kurien's argument to the opposition MPs that the prime minister need not be present throughout rang hollow.
Equally stupefying was Leader of the Rajya Sabha Arun Jaitley's assertion that with the prime minister's "participation" in the debate, the opposition's "basic condition was knocked down" and it was left without an excuse to stall Parliament. Jaitley, of course, didn't explain how Modi's silent and short presence in the House could qualify as "participation"? And this when Leader of the Opposition Ghulam Nabi Azad had said at the outset that if the prime minister intended to stay only for the Question Hour, which is usually conducted for an hour from noon, then the Opposition would not allow the House function.
Also Read: Modi's note ban is a monumental failure: Manmohan Singh
Although the Question Hour was suspended and the debate resumed, Modi stayed only for an hour from 12 pm to 1 pm. It appeared that the opposition did have an inkling about Modi's game plan; BSP chief Mayawati intervened just before the lunch break to urge Modi not to go away during the break.
PM vs former PM
The opposition's campaign against demonetisation received a shot in the arm with a crisp, forceful and articulate speech by Singh. The former PM took the bull by its horns, making five essential arguments:
People are not being allowed to withdraw their own money and this alone is enough to condemn the move.

People's confidence in the banking system and the currency system has been shaken.

There will be disastrous effects on the poor, agricultural growth, small industries and the informal sector.

GDP can decline by a minimum 2% points