Dear Smriti Irani, why is nobody from online media on your panel to regulate it?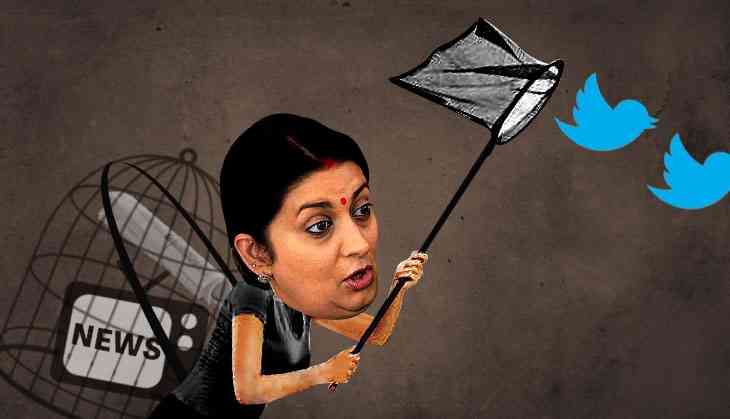 It appears the super-busy Information and Broadcasting Ministry is working on multiple fronts simultaneously to take the Narendra Modi government's media strategy to the next level.
After the controversy over the government's misguided attempt to regulate fake news, it has now been reported that the I&B Ministry has initiated efforts to regulate online media.
A committee has reportedly been set up under the new media cell of the ministry to deliberate and come up with a "regulatory framework for online media/news portals including digital broadcasting and entertainment/infotainment sites & news/media aggregators".
An order issued by the ministry, dated 4 April, says the terms of reference of the committee include - to delineate the sphere of online information which needs to be brought under regulation to recommend appropriate policy formulation, keeping in mind FDI norms, programme & advertising code for TV channels, norms circulated by the Press Council of India, code of ethics framed by the National Broadcasters Association and norms prescribed by the Indian Broadcasting Foundation to adopt best practices from similar mechanisms globally.
The problem
Several ills do plague the online media sector and therefore efforts to address them are welcome, but the way the Modi government has initiated the process is problematic. This government's record of a propagandist and an autocratic approach to media has further complicated the situation.
The most glaring gap in the constitution of this new committee is that it does not include any representative from the very sector it seeks to study. There are at least a dozen respectable players in the online news segment alone, but neither the editors nor proprietors nor any representative from these organisations are a part of this committee. How does the government propose to come up with regulations for the sector without involving the people who know it first hand?
Efforts to seek the ministry's response on this question were unsuccessful. Catch reached out to Amit Katoch, Director of the ministry's New Media Cell, via email but he did not reply.
Siddharth Varadarajan, one of the founding editors of website The Wire, has come out with scathing comments against the move. "The fact that @smritiirani and @narendramodi have excluded digital media representatives from the committee tasked with formulating rules and regulations for news websites speaks volumes for their real intentions, Varadarajan said in a series of tweets.
He also stressed that the argument that news websites are 'unregulated' is incorrect because the IT Act "is a major form of regulation", apart from "all provisions of IPC, tax laws".
The stated rationale for @smritiirani's latest move to control the media is that news websites are 'unregulated'. This is completely untrue. The IT Act is a major form of regulation. In addition, all provisions of IPC, tax laws apply to digital media. 1/nhttps://t.co/ePvJwq3y9i

— Siddharth (@svaradarajan) April 6, 2018
The beauty of the Internet is that every individual is a potential creator of "media". So who is the government going to regulate? Also, remember Indian citizens are free to access "media" from all parts of the world, i.e. from areas beyond @narendramodi's regulatory reach. 2/n

— Siddharth (@svaradarajan) April 6, 2018
This means the only meaningful way in which @narendramodi can "regulate" digital media will be to block foreign websites that don't comply with his regulations. Or add monitoring methods, like asking YouTube, FB, Twitter and WhatsApp to force users to provide Aadhaar numbers. 3/n

— Siddharth (@svaradarajan) April 6, 2018
The fact that @smritiirani and @narendramodi have excluded digital media representatives from the committee tasked with formulating rules and regulations for news websites speaks volumes for their real intentions. 4/4

— Siddharth (@svaradarajan) April 6, 2018
Senior journalist Vikram Chandra also agreed with the contention that such an effort was meaningless without representatives from the online sector.
Yes, there should be a system to regulate online news, and fix ownership criteria. But government officials and TV/print executives can't decide this on their own. Online media must be the key stakeholder in these discussions.

— Vikram Chandra (@vikramchandra) April 6, 2018
Interestingly, in 2016, the union government had initiated a process to frame guidelines for PIB accreditation for online journalists. Editors of several web-based organisations had also been invited to give their inputs. This process was much more open that the latest one announced by the I&B Ministry. However, no one knows what was the result of that first round of consultations for accreditation.
Accreditation for online journalists is yet to take off and the editors never heard from the PIB again.
The bigger problem
The record of this government, its ministers and large number of names associated with the ruling party does not inspire any confidence in their ability to effectively regulate the online ecosystem in a way that will not hamper its functioning.
Recently, as many as 13 ministers of the Modi-government were found pushing dubious content published by an equally dubious website.
Indian govt wants to ban journalists who spread "fake news". 13 ministers tweeted links to a website that purports to expose such "fake news". The site in fact attacks genuine reporting as "fake" and has clear links to firms that advise Modi. https://t.co/rxCD6cC7ET

— Stanley Pignal (@spignal) April 3, 2018
BJP leaders, including ministers, have been found guilty of pushing similar content, essentially propaganda, on many occasions earlier. Several such websites keep publishing pro-BJP and anti-Opposition content and BJP leaders push them on social media.
This has led many to argue that if the BJP indeed wants to ensure that content on the web is factual and devoid of propaganda, it will have to first set its own house in order.
India can't seriously hope to crack down on fake news as long as the ruling BJP remains among its most ardent peddlers. [My take] https://t.co/hAsNNZuNfg

— Sadanand Dhume (@dhume) April 6, 2018
Until the BJP shows willingness to stop these propaganda wars on the internet, its efforts to regulate media will always be looked at with suspicion.