Dear Mr Parrikar, take all the credit you want but spare us your inanities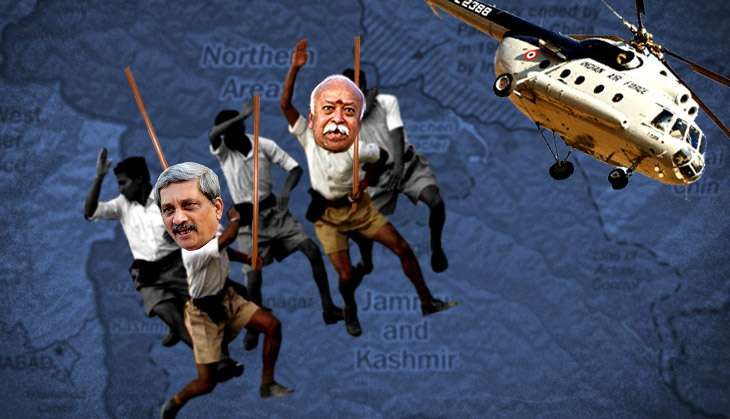 What will it take to stop our indefatigable defence minister? There has been no dearth of occasions when Manohar Parrikar had been caught with his foot in his mouth, but the purported 'surgical strikes' have sent him into a tizzy.
The minister had said at a private event in Ahmedabad on 17 October that given his Goan-background and Prime Minister Narendra Modi's roots in 'the land of Mahatma Gandhi', it was strange that they successfully accomplished the surgical strikes. The only explanation could be, he tried to convey, was that teachings of the RSS would have made them achieve this.
Not only was his attempt to give RSS the credit for the strikes delusional, his entire statement was so nonsensical that it threatens to embarrass the country as a responsible nation.
Also read - Did Indira or Maneckshaw go to a Shakha? - Congress asks Manohar Parrikar
The statement is clumsy on so many fronts simultaneously.
Manohar Parrikar: Mahatma ke goan se aane wale PM,Goa se Defence Min aur surgical strike,equation was diff,maybe RSS teaching was basic core pic.twitter.com/viDMizWdRu

— ANI (@ANI_news) October 17, 2016
The first is an attempt to further deepen the 'surgical strikes' narrative that the government and sections of the media have been trying to propagate without answering several questions on the claim that have been raised from various quarters.
Second, even if the strikes were conducted, does it behoove senior members of the country's political leadership to go to the town beating their chest about a strategic military operation?
Third, Parrikar took this bragging to the next level. It is wrong enough for a defence minister to brazenly claim credit for an act of the defence forces. Passing on the credit to a private organisation is just not just bizarre, but an inconceivable oddity.
Talking of bizarre, what on earth has either 'the land of Mahatma' or the land of feni got to do with it? Does Parrikar imagine that only people from Uttar Pradesh, Bihar or Maharashtra are capable of ordering tactical military operations, since that where the political leaders who led the country to victory in the 1965 and 1971 wars were from? The inane statement of the gaffe-prone defence minister was deservedly roasted on social media.
Some people put their foot in their mouth once in a while. Parrikar takes it out once in a while.

— Shirish Kunder (@ShirishKunder) October 17, 2016
Parrikar giving Army's credit to RSS is like applauding chaddi for protecting yourself from rain & not the raincoat. #IndiaAshamedOfParrikar

— IMRAN KHAN (@imranmkkhan) October 17, 2016
Who was behind #SurgicalStrike ?? Army, Modi Ji or RSS? Plz confirm. #SupportArmyNotRSS #IndiaAshamedOfParrikar pic.twitter.com/aRUuU5eWBS

— Aakash Taywade (@AakashTaywade) October 17, 2016
Let's send all the Army jawans on leave and send in RSS chaddiwallas for the next Sugical Strike#SupportArmyNotRSS

— WithRG (@withRG) October 17, 2016
You destroyed Dignity for post of Defence
Yes Only RSS can produce such irresponsible DM#IndiaAshamedOfParrikar pic.twitter.com/UzozeHHFm0

— Bhavesh99T (@Bhavesh99T) October 17, 2016
Whch training of RSS ? A training which Killed Mahatma, has no pwr 2protect d nation !#IndiaAshamedOfParrikar https://t.co/OHxrB4bZOc

— seema (@seemaadhikari) October 17, 2016
Manohar Parrikar has rightly credited RSS teachings for surgical strikes. Here's an exclusive picture of RSS training for surgical strikes. pic.twitter.com/ekrymsaBdR

— Truth Of Gujarat (@TruthOfGujarat) October 17, 2016
Now @manoharparrikar shares the credit of the surgical strike with RSS or maybe someone replaced his speech with the FIR copy of Dadri case.

— Rofl Gandhi (@RoflGandhi_) October 17, 2016
Parrikar had indicated quite early on that he was going to lead this brazen campaign of claiming credit for the 'surgical strikes'. He had happily presided over a function in Uttar Pradesh where local BJP functionaries had felicitated him for the operation. That was when the BJP's official line was still that no party leader should speak on the operation.
That line has changed now and everybody, from the party chief to the prime minister, is mentioning it in speeches.
It is also clear that they are not going to try to quell the doubts by releasing any evidence of the said strikes. In the same speech in Ahmedabad, Parrikar cited the example of his grandmother who never believed that the US had successfully sent a man to the moon, till her last breath, even after she was shown photographs of the event.
Since the objective of all this bragging is to win votes in poll-bound states, we will leave it to the grandmothers of Uttar Pradesh to believe or not the story that the BJP is trying to sell. But our sincere request to the defence minister till then is take all the credit you want, just spare us your inanities so that the country is not embarrassed in the international community.
Edited by Aleesha Matharu
More in Catch - Surgical strikes: Ignore Pak claims, but Indians deserve to know the truth
The reckoning: the Modi regime is floundering, and even the RSS chief seems to agree