How VK Singh's 'dog' remark will bite the NDA in Bihar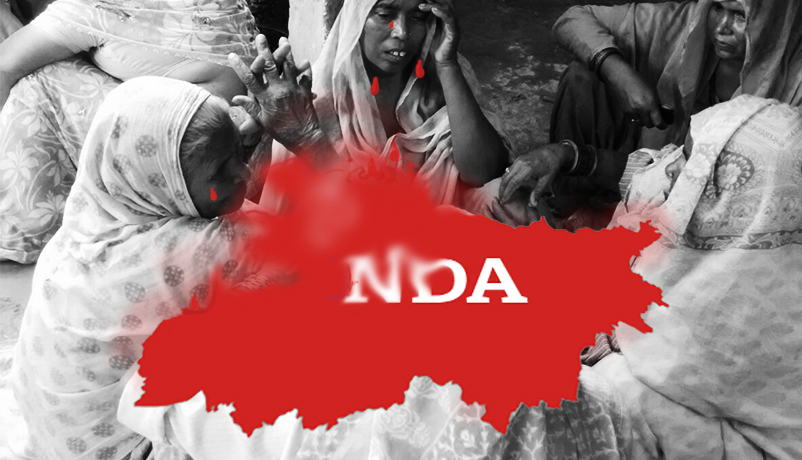 Two states
The burning of two Dalit children in Haryana is making things difficult for the BJP in Bihar
Haryana is under BJP rule whereas the party is trying hard to add Bihar to its kitty
Mum\'s the word
The otherwise vocal BJP leadership has been mostly silent on the Faridabad incident
VK Singh\'s \"dog\" remark has angered many
Lalu and Nitish, however, have made the atrocity an issue in Bihar
More in the story
Will an incident in distant Faridabad make any impact in Bihar polls?
What have the various leaders said?
The heat of the Dalit killings in Faridabad is being felt in Bihar. The incident in Bharatiya Janata Party-ruled Haryana has become an embarrassment for Bihar BJP leaders, who now find it hard to take a public stand.
Adding to the BJP's embarrassment is General VK Singh's statement on the killings that the government can't be blamed if someone throws a stone at a dog.
The National Democratic Alliance's (NDA) equation for the Bihar Assembly election was based on a coming together of upper castes and Dalits. Any hit to that equation is bound to hurt NDA.
The BJP and its allies in Bihar understand this aspect well. That's why there has been a deliberate silence on the issue of two Dalit children being burnt to death.
Already, there is a reading that the NDA did not do wonderfully in the first two phases of voting. This has brought unease and confusion among NDA voters. Incidents like Faridabad are already making them even more unsure.
Prime Minister Narendra Modi has not expressed a single word of condolence to the victim's family. He limited himself to greetings and best wishes of Durga Ashtami on his Twitter page.
And it is not that the PM never comments on killings. On 10 October he tweeted: "Saddened by the loss of lives due to the bomb explosion in Ankara. Condolences to families of deceased & prayers with injured."
First #DalitsBurntAlive and then VK Singh's faux pas can drive Bihar's Dalits away from BJP
Even RSS chief Mohan Bhagwat said nothing on the incident in his annual Vijay Dashmi speech. On the contrary, he said that "small episodes can't harm Hindu culture".
Party President Amit Shah, who enjoyed credit for BJP's victory in Haryana, has also been mum despite focussing a lot on state matters.
Indeed, for NDA leaders, commenting on the incident is not easy. Any comment would be seen as a recognition to the incident in which members from an upper caste brutally killed Dalits.
Read: #DalitsBurntAlive: for Haryana's lower castes, it's a fact of life
It is true that Home Minister Rajnath Singh has sought a report of Tuesday's incident from the state government. Haryana Chief Minister Manohar Lal Khattar called it an unfortunate incident, and announced financial assistance of Rs 10 lakh for the victims and ordered a probe by a special team.
But the Opposition is sure to try and keep the issue alive. Bihar Chief Minister Nitish Kumar tweeted: "Shocked at this gruesome incident. Where are those now who claimed 'Humari sarkaar bana do sab kuchh thheek ho jayega" (Everything will be fine if you let us govern).
Lalu Prasad went a step ahead, tweeting four times and sharing them on his Facebook page as well, which were later shared by hundreds of his followers.
"Arakshan khhatm karte karte ab BJP wa RSS ke raaj me arakshan ke haqdaar daliton ko zinda jalaya jaane laga. Batao, kitni aur zinda qaumon ko jalne doge"
(While trying to end reservations, now the Dalits entitled to reservation are being burnt alive in the regime of the BJP and the RSS. Tell us how many more communities will let you burn)
"Maine Modi wa Guru Golwalkar ki dalit wirodhi kitaab jalaane ki maang ki thhi par inke raaj me to daliton ko hi zinda jalaya jaane laga. Dalit-pichhde ek ho"
(I had demanded that anti-Dalit books by Modi and Guru Golwalkar be burnt but in their reign the Dalits themselves are being burn. Dalit-backwards unite.)
"Bihar me bhaashanbaazi karne se pahle Modi batayen ki kendra wa haryana me inke raaj me gareeb, dabe kuchle wa dalit kab tak zinda jalaye jaate rahenge?"
(Before lecturing in Bihar Modi should tell us that under their rule at the Centre and in Haryana, how long would poor and ostracised Dalits be burnt alive?)
@NitishKumar, @laluprasadrjd have highlighted #DalitsBurntAlive to put BJP into a spot
Lalu and Nitish have been proactive in throwing up RSS chief Mohan Bhagwat's comments on the reservation policy and blamed BJP for being anti-backward. Lalu has also raised slogans of Mandal-2, to give a forward vs backward twist to the elections.
The Congress, the third partner in the Grand Alliance, is also playing up Faridabad in Bihar. Party Vice president Rahul Gandhi visited the affected family, sending out a message to the voters.
Even BSP leaders have visited the victims. The party has said the incident brings out the real face of the Hindu Rashtra that the BJP and the RSS have been pushing for.
In Bihar, former deputy CM Sushil Modi did respond to Lalu and Nitish on Twitter:
"Faridabad ki ghatna nindneeya hai, lekin Lalu Prasad bhool gaye ki unke 15 saal ke raaj me ek-do nahi, sainkdo dalito ka samuhik narsanghaar hua"
(The Faridabad incident is condemnable, but Lalu Prasad doesn't remember that in his 15 years, not one or two but hundreds of Dalits have been murdered)
But his response to Lalu and Nitish actually propagates caste conflict and ultimately goes against the NDA's equations in the state.
Lalu and Nitish were also quick to pounce on VK Singh comment.
Nitish tweeted, "Aghast at the senseless comment made by some BJP leaders including Union minister on tragic Dalit killings in Haryana.
Lalu was even more combative as he tweeted, "Jo VK Singh bola, vahi BJP ka mool vichaar hai. Jo Dalit-pichhdo ko jitna gaali dega, shoshan karega, usko RSS va BJP utna hi bada neta maanta hai."
(What VK Singh said, reflects the BJP's core ideology. Whoever abuses and oppresses Dalits and backward castes, becomes a bigger leader for the BJP and RSS)
The fact that VK Singh is a Rajput might further help the wily socialist duo present the BJP as anti-Dalit and anti-backward.