Cow being used as a passive political tool in Modi's backyard Gujarat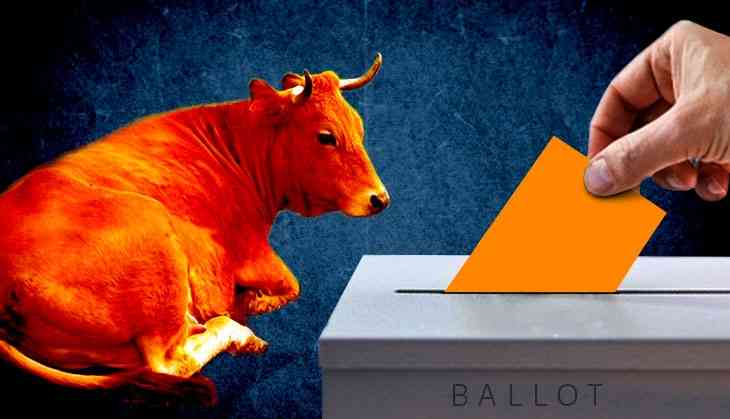 Recently, the pastoral Rabari community in Vadodara, Gujarat, organised a local cricket tournament, where cows were given away as prizes. This shouldn't come as a surprise.
Neither should the fact that the 'stringent' new Gujarat Animal Preservation (Amendment) Act, 2017 has kept out of its purview bovine deaths due to eating plastics or toxic grass, often donated by businessmen to gaushalas.
In this poll-bound state, often referred to as the laboratory of Hindutva, the cow continues to be used as a passive political tool by the Hindutva forces. There is a strong feeling that the cow will take centrestage in the Sangh Parivar's poll campaign for the Assembly elections, scheduled to be held later this year, with the top BJP leadership having fixed a target of 150-plus seats out of the total 182.
There are numerous examples of how efforts are being made to ensure that the cow continues to dominate the political sub-consciousness of the electorate. This is being done both in the public sphere as well as at the administrative level.
Bovine incidents
First, to the cows-as-gifts cricket tournament. Each player of the winning team was awarded a Gir calf, the second year in succession that this has been done – ostensibly to raise awareness about the need to protect the bovine.
Then came the realisation that the freshly passed animal preservation Act, which makes cow slaughter punishable with life imprisonment, ignores the problem of toxic grass and plastics. Dozens of cases of cows dying due to toxic grass growing next to industries have come to light, but Sangh Parivar activists have never protested, nor has the government taken industrialists responsible for these deaths to task. At most, these cases are put under 'probe' and forgotten about.
This is the state of affairs on the home turf of Prime Minister Narendra Modi and BJP president Amit Shah, where a cow's death has assumed all the potential to lead to a communal riot. Observers point out that the horrific communal riots of 1969, which were far greater in intensity than the ones in 2002, were triggered by a bovine issue.
It was with a motive to highlight the deaths of cows due to plastics and toxic grass that theDalits had recently demanded Aadhaar cards for cows, at a protest event in Wadhwan and Surendranagar on 10 May. The organisers had installed a model of a cow six feet long and eight feet tall, with its stomach filled with plastic, to make the visitors aware of how cows in Gujarat are perishing because of consuming plastics.
Add to this the wedding of a cow and a bull that was organised in March this year at Kotiya village in Bhavnagar district, in the presence of more than 500 guests. The marriage of Poonam (cow) and Arjun (bull) was solemnised by Brahmin priests as per Hindu rituals, with Poonam wearing gold jewellery along with a resplendent red saree and a netted shawl, while Arjun wore a white cloth and some jewellery. The wedding procession of the bovine couple had started from Sola Bhagwat Vidhyapith in Ahmedabad.
Gaumutra for beauty
Observers say all this seems part of a sinister design to keep the cow alive as a symbol of several things that suit the political narrative of the Sangh Parivar.
The Gujarat Gauseva and Gauchar Vikas Board has come up with pearls of wisdom like citing the example of Cleopatra's legendary beauty to advise women to use cow milk, ghee, urine and dung as ingredients for a facial treatment that can leave the skin glowing.
It is in the the 'Aarogya Geeta', pasted on the board's website, that home remedies were enumerated for various diseases which use cow urine, dung and milk. It cited studies by researchers from Italy, Russia and the US to prove how the byproducts of bovines were useful in treating various diseases.
In a chapter titled 'Gaumutra, essential treatment for women's eternal beauty', what was prescribed was that women massage their face with cow milk for 15 minutes, followed by a 15 minute massage with cow ghee and turmeric. The third step is to massage it with cow urine for 15 minutes. The last step is application of a face pack of cow dung, to be washed off with neem water after 15 minutes.
Significance of cow
Another manifestation of cow politics in Gujarat was the Una incident, which was marked by the public flogging of Dalits skinning a dead bovine. What had followed was the refusal of the Dalits to lift carcasses in villages, and at times, dumping such carcasses outside civic body offices.
The state had also witnessed the Una march agitation. All this is also expected to find a pitch as the polls come nearer.
"Cow politics mainly has its roots in Saurashtra-Kutch and North Gujarat, where there is a considerable presence of pastoral communities and influence of Vaishnav and Jain traditions. These are also the areas that send maximum representatives to the state Assembly," pointed out a senior media professional based in Ahmedabad.
Veteran political observer and social scientist Achyut Yagnik told Catch: "Their (Sangh Parivar's) politics has shifted from Ram Janmabhoomi to Gau Mata. The cow has assumed centrestage because the Ram Janambhoomi issue has got stuck in courts. The Ram Janambhoomi issue had helped bring together the Shaivites and Vaishnavites. Now they have found the cow to further their agenda of Hindutva."
He pointed that the forces of Hindutva, in their zeal, have gone far beyond Mahatma Gandhi's vision of 'cow protection'.
Subodh Parmar of the Rashtriya Dalit Adhikar Manch, who played a pivotal role in organising the Una march last year, predicted that the cow would assume centrestage in the Gujarat polls this time. "With the agenda of direct communal polarisation unlikely to yield desired results, the cow will be used for proxy polarisation of Hindus and Muslims. This is because the cow is attached to Hindu beliefs, and also serves to raise the issue of cruelty. It is nothing but a tool to spread cultural fascism," he said.