Counterview: is #BiharResult a blessing in disguise for BJP?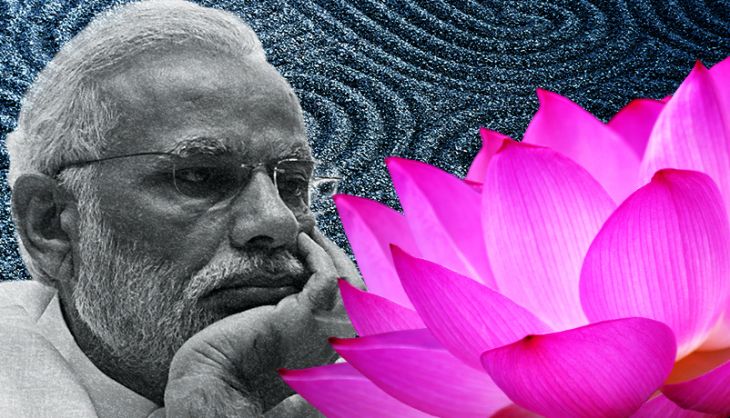 More than the BJP, it was Narendra Modi and his party chief Amit Shah who were fighting against the Grand Alliance in Bihar.
The party's Bihar unit had little say in campaign planning or election management. The entire operation was run mostly out of Shah's war room; the BJP rank and file merely carried out the orders. Indeed, even the other constituents of the NDA were compelled to keep to the strategy devised by Shah.
Also Read http://www.catchnews.com/politics-news/manager-vs-manager-how-the-men-behind-modi-s-success-have-locked-horns-in-bihar-1446438661.html
But why did Modi and Shah make it a personal battle with Nitish Kumar?
For one, the Bihar chief minister was the first NDA leader to publicly oppose Modi as the alliance's prime minister. So, it is understood, Modi was out to settle a personal score with Nitish and teach him a lesson.
Another reason was the BJP's crushing defeat in Delhi early this year. The capital's loss had raised doubts on Modi and Shah's ability to deliver electoral gains for the party. But victory in Bihar would have sent a message that the duo were still in control and that Delhi was just a temporary setback.
Victory in Bihar would have sent a message that Modi, Shah were still in control despite Delhi loss
Supreme leader
Since he was chosen as the BJP's prime ministerial candidate in September 2013, Modi has meticulously gone about making himself as the undisputed leader of the party.
The landslide victory of the 2014 election seemed to vindicate his "vision", and steeled his grip on the party. He cut all opponents to size - including veterans like LK Advani, Murli Manohar Joshi, Yashwant Sinha - and installed Shah, his Man Friday, as the president.
Also Read http://www.catchnews.com/politics-news/how-modi-s-rivals-in-the-bjp-have-been-cut-to-size-1436458280.html
This working style was carried to the government as well. Decision-making was concentrated in the PMO, which now did everything from formulating policy to choosing staff for ministers.
Total control
It was only a matter of time before Modi and Shah started dictating to chief ministers of BJP-ruled states such as Madhya Pradesh, Haryana, Jharkhand, Maharashtra and Rajasthan. The duo shrewdly used Vyapam, Lalitgate, land scams and other controversies to cut the CMs - some of them potential rivals of Modi like Shivraj Singh Chouhan - to size.
Also Read http://www.catchnews.com/politics-news/why-bjp-cadres-are-still-waiting-for-their-achhe-din-1436094178.html
The overhauling of the organisation followed the same script. Not seniority, performance or commitment to ideology, but closeness to Shah became the most important eligibility criterion to hold positions in the party.
Also Read http://www.catchnews.com/politics-news/bjp-s-mission-up-veterans-sulk-as-outsiders-lead-amit-shah-s-army-1437104638.html
This culture only deepened over the BJP's months in power. Disrespecting and undermining seniors leaders, preferring yes men to dedicated cadres for party positions and constantly shifting goalposts on ideological and policy matters has now become the reality of the "party with a difference". And worst of all, there is not one senior leader who could raise voice against this.
Also Read http://www.catchnews.com/politics-news/the-modi-govt-is-anti-poor-and-anti-farmer-rss-ideologue-kn-govindacharya-1435605921.html
This restrictive atmosphere has kept senior leaders from actively participating and owning tasks in the party. The same is true of the cabinet as well.
This is exactly what Modi wants. He wants to be at the centre of everything, from conducting foreign affairs to campaigning in elections. Bihar has delivered a reality check.
Reality check
The result will erode the absolute control of Modi and Shah on the BJP. Modi, of course, will stay as the prime minister and Shah, too, will likely remain party chief. But for how long?
The BJP is set to reelect its core committee in the next three months. That could bring about some changes. Even if the key faces remain the same, the party could make its functioning more decentralised, especially if the RSS decides to create more power centres within the party.
Will the RSS use #BiharResult to force Modi and Amit Shah to decentralise power in the BJP?
The RSS might even compel Modi and Shah to broaden decision-making and campaign management. Many leaders and MPs have been complaining that they are not being heard, and they now have an opportunity to voice their concerns louder.
Modi and Shah entered 2014 on a high, having notched up a string of poll victories. But they go into 2015 much weaker. This presents an opportunity to the BJP to restore internal democracy and plurality of opinion. Will the party take it?