Corruption cloud, discontented cadre: Is Punjab AAP in crisis?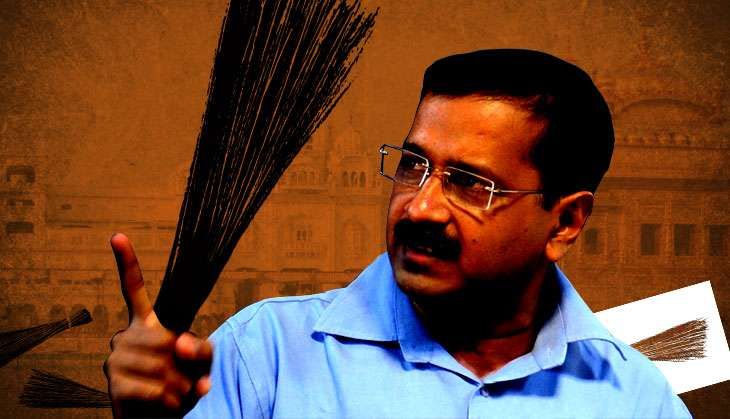 The Aam Aadmi Party is in trouble in Punjab. With the assembly election close, the party must contend with disgruntled cadres and rebels.
Rebellious voices are being raised from within the party almost daily. The top leadership is trying to put out the fires, not least because the election is only a few months away. The rebellions can become a stumbling block for AAP, which is seen as having a shot at power even though its campaign has lost sheen over the last four months.
On Tuesday, it was a group of volunteers that descended on Chandigarh to voice their resentment. Led by Harinder Singh and Kabul Singh from Zira, Ferozepur, and Gupteshwar Bawa of Jandiala in Jalandhar, the volunteers accused AAP of going back on its promise of removing corruption and ushering in "swaraj". They also took issue with leaders from Delhi and elsewhere calling the shots to the exclusion of Punjabis.
Also Read: Punjab polls: once the odds-on favourite, AAP is now beset with problems
"Out of the 92 candidates declared so far, 59 are either tainted or of doubtful character. By making such choices, the top leadership has ensured the party's defeat in 59 constituencies as the workers have refused to cooperate with these nominees," said one of the volunteers, speaking for himself and the others.
The agitated volunteers demanded that all 59 candidates be replaced with "competent candidates".
They also asked that leaders who have been shown the door "for no valid reason be taken back into the party unconditionally. They include MPs Dr Dharamvira Gandhi and Harinder Singh Khalsa as well as Dr Daljeet Singh, Prof Manjit Singh, Jassi Jasraj. "The video purportedly implicating Succha Singh Chhotepur must either be made public or he must be taken back into the party with due apology," the volunteer said.
The volunteers want the party leadership to call back the "Delhi team" led by Sanjay Singh, Durgesh Pathak and Jarnail Singh and let Punjabis take care of their political interests.
Rather interestingly, the volunteers also demanded that AAP publicise the details of money it has collected from Punjab and abroad as well as how it was spent. All funds collected for Punjab, they said, should be spent within the state.
They gave a 48-hour ultimatum to the leadership to address their demands.
Battling allegations
This outburst from the volunteers came a day after Varinder Singh Parihar, coordinator of AAP's NRI and Fund Raising wing, dropped a "letter bomb". In an open letter to Arvind Kejriwal, he alleged that the AAP observers sent to Punjab were "opium addicts and alcoholics", and corrupt.
"Since I was fund raising coordinator of this zone, I know about Rs 2 crore was collected from each constituency, some legally with cheques but mostly in illegal cash. All this money, approximately Rs 200 crore, belongs to the people of Punjab; you must return it. I also know who transported this money to New Delhi and which vehicles were used," Parihar wrote.
"Millions of dollars were collected from USA, Canada and other countries; you and your team committed international crimes by bringing that money to India by illegal means."
He told Kejriwal: "You have always surrounded yourself with sycophants who have misguided you. Most of the honest people left the party; irreparable damage has occurred by the dictatorship attitude of you and your observers."
Asked about the letter, Parihar told Catch, "Whatever I wrote in the letter is nothing but the plain truth. I have been flooded with calls from Los Angeles, Canada and other places."
Changing candidates
Before the "letter bomb", AAP was thrown in turmoil after the leadership changed two of the party's candidates for the assembly election - in Bhoa, Pathankot, and Dharamkot, Moga.
Vinod Kumar, who was dropped from Bhoa, alleged he was asked to pay Rs 1 crore as "party fund" or "sit at home". He claimed he was summoned to the party office in Chandigarh by Sanjay Singh and Durgesh Pathak and given this instruction.
"I told them to connect me to party convener Arvind Kejriwal. Sanjay Singh connected the phone. When I told him that these people were demanding one crore rupees, he said do whatever you are told by Sanjay Singh. He said it's a hi-tech poll that costs money," Vinod Kumar alleged.
Also Read: What's making AAP click in Punjab? It's not just anger against Badals
His allegations were denied by Sanjay, who claimed the party replaced Vinod because he was not "campaigning properly" and had misled the leadership on campaign details like the use of projectors for showing AAP's promotional films, and door-to-door campaigning. "Some other candidates are in the line to be replaced," Sanjay said, adding that he was ready to quit politics if any of the charges levelled by Singh proved true.
Soon after, AAP replaced Ranjodh Singh Sran from Dharamkot with Daljit Singh Sadarpura. Sran was told that his campaign was "listless". He hit back alleging that AAP wanted to replace him with a rich candidate and reportedly demanded that the party return Rs 10 lakh he claimed to have spent on his campaign.
Ammunition for rivals
Taking a dig at Kejriwal for replacing candidates, the Congress said the excuses being given by his team for reallocation of tickets smacked of "extreme desperation", with the party leadership not even bothered about finding a justifiable reason for the sudden changes.
"While ticket allocation is an internal matter of a party, the fact that the Dharamkot candidate's replacement came within hours of Vinod Kumar making serious allegations of graft against the AAP leadership is suggestive and raises suspicions of something being drastically wrong with the party," Congress leaders Ranjit K Bhatti, Satpal S Mulewal and Ajit Inder Mofar said in a statement.
"Can't he make up his mind?" Kejriwal's contradictory and conflicting statements are typical of his unstable character, his feeble-mindedness."
Punjab Congress chief Amarinder Singh demanded a "high-level probe" by a central investigative agency into the charges of "drug abuse, corruption and international crimes" against Kejriwal and other leaders of his party. He also urged the Election Commission of India to take note of the charges against AAP and its leaders, and bar them from contesting the upcoming election.
Amarinder referred to complaints levelled by APP leaders and workers in other states, particularly the allegations of Ashma Sayyed, who quit as the party's Goa state women coordinator three days ago after describing it as a "massive fraud".
Meanwhile, AAP's former convener Succha Singh Chhotepur, who was unceremoniously suspended four months ago and went on to form Apna Punjab Party, came out with the second list of candidates for the election. Win or not, Chhotepur's candidates are likely to dent the fortunes of AAP's candidates.
"All these candidates bear a good moral character and have a clean public image in addition to an urge to serve Punjabi people with honesty, integrity and transparency," Chhotepur said about his nominees.
It remains to be seen how AAP deals with the simmering discontent in its ranks. The party can, however, take heart from the fact that despite all this, a significant number of people appear to have faith in the party.
"AAP was nowhere when Punjab was facing militancy. The party has no record of participation in major political movements of the past. Yet, the people of Punjab have put them on pedestal and are willing to give them a chance, provided they play their cards well," said a senior political analyst who did not want to be named.
Also Read: Captain Amarinder Singh catches up: Has AAP lost steam in Punjab?