Congress wins Chitrakoot by-poll: Can the party sustain this show of unity till 2018?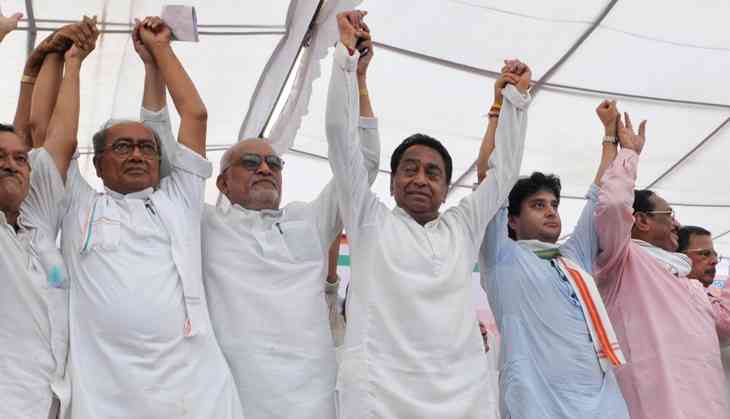 (Praveen Bajpai/Hindustan Times/Getty Images)
In what was being perceived as a battle of prestige, Congress' victory in the Chitrakoot assembly by-poll has given the grand old party a much needed boost to take on the Shivraj Singh Chouhan-led BJP government in Madhya Pradesh in the 2018 assembly elections.
The election results, announced on 12 November, declared Congress candidate Nilanshu Chaturvedi as the winner with a margin of more than 14,000 votes than his counterpart from BJP.
A show of strength
While Chitrakoot is known as a Congress bastion, considering the party has lost elections here only thrice since Independence, what made this election interesting was that the party was contesting it in absence of local heavyweight Prem Singh, who died in March this year. His demise forced a by-poll just a year ahead of the assembly elections.
Sensing an opportunity to wrest control of Chitrakoot from Congress, BJP fielded 12 state ministers, including the Chief Minister, who camped here for three days and held 60 rallies in the run up to the elections. However, none of that worked and Congress, which for the last many years has been divided with multiple factions, put up a united front which is likely to set the tone for the upcoming assembly elections.
Though Congress took its time to announce Chaturvedi's name, the state unit of the party took the decision after taking everyone on board. Moreover, whenever differences began the appear amongst local leadership, the senior leaders immediately intervened to diffuse the crisis. Many in the state unit believe that this show of unity and quick thinking from senior leadership led to Congress' victory.
"What is peculiar about this election is how there were no dissenting voices which has been a hallmark of the state unit for the last many years. This time around it was not about which camp does the candidate belong to. Instead, it was all about winnability and if we could repeat the same in the upcoming assembly polls, there is no stopping Congress," said a senior party leader based in the state.
Congress has been accused of being divided in various factions led by Digvijay Singh, Kamal Nath, Jyotiraditya Scindia and Ajay Singh. Party leaders, including a former general secretary, have repeatedly claimed factionalism to be the reason behind the party's poor performance in state elections. However, with Congress vice president Rahul Gandhi taking interest in state politics, all leaders have agreed to shun their differences for the party's sake.
It is for this reason that senior leaders claim that all the factions have agreed to let Scindia lead the party in 2018 and be the party's chief ministerial candidate. Apart from this, what worked for the party was Chaturvedi's popularity in the region, particularly amongst the youth.
A series on backfires
A former Municipal Corporation president of Chitrakoot, it was Chaturvedi's popularity amongst the youth that forced BJP to field the state president of its Youth Wing, Shankar Dayal Tripathi, which backfired completely.
According to locals, not many people were aware of BJP's candidate which led to a sort of revolt in the party. Former BJP legislator Surendra Singh Gaharwar, who had defeated Prem Singh in 2008, was denied the ticket and he was upset with these developments. Apart from this, despite negative reports about the party's prospects, BJP went ahead banking on Chouhan's popularity which failed to woo voters.
Meanwhile, Prem Singh's death also led to a sympathy wave in favour of Congress. Chaturvedi, who is being hailed as his successor, cashed in on it. Overall, Chaturvedi's popularity, along with the support of party's traditional vote bank and a division of Brahmin votes, contributed to the victory.
Chouhan's popularity is at an all time low over issues like crop insurance, minimum support price to farmers, diversion of agricultural land for industries, among others. More so, when farmers took to streets to protest against the state government's policies, they were fired upon. Eight people were killed in the process. Sensing a growing disenchantment amongst voters, Congress is asserting itself in the state to reap political dividends
Moreover, the twin evils of demonetisation and GST have further led to loss of jobs despite government trying to paint a rosy picture which is likely to benefit Congress.
"People in the state want development, a fair price for their crops, loan waivers and instead of all that, the government's focus is on issues like cow slaughter and conversions. These misplaced priorities have further alienated the government from its people," said the former general secretary.
A new hope
Having secured a victory earlier this year in the Ater by-polls in the state, Chitrakoot has given hope to Congress to secure control over the state with senior leaders comparing this victory to the one secured during the Rajya Sabha polls in Gujarat.
"Though Rajya Sabha poll was a far more closely contested battle but this election too could see a rejuvenated Congress putting a united front and taking on the BJP like it is doing in Gujarat," said a senior Congress leader.