Congress plans to bet on Mukul Sangma to pull up socks in North East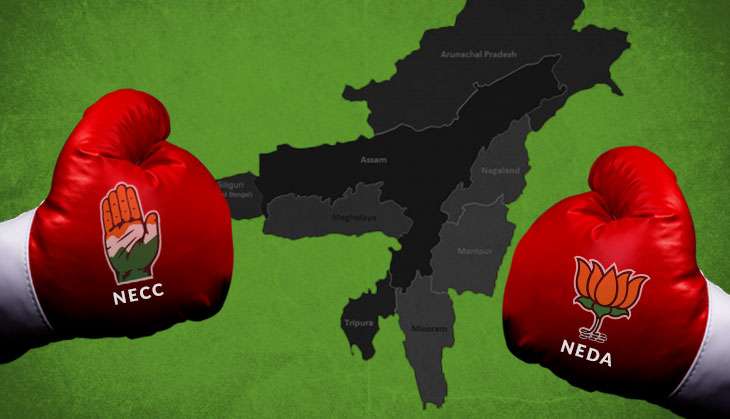 Congress plans to bet on Mukul Sangma
Rocked by multiple rebellions within its ranks in the North East, the Congress is reorienting its political strategy to counter an aggressive BJP that has made significant inroads in what was once considered a Congress bastion.
Having lost Assam and Arunachal Pradesh to the BJP, the grand old party is reviving the defunct North East Congress Committee (NECC) with Meghalaya Chief Minister Mukul Sangma as its face. Of the eight states in the region, Congress is in power in Meghalaya, Manipur, and Mizoram.
With the BJP gaining ground through North East Democratic Alliance (NEDA), the Congress is planning to counter it with the NECC, which will also play a similar role in not just Congress-ruled states, but in other states as well.
The purpose of NEDA
After its massive victory in the Assam assembly elections, BJP, in a show of strength, held the first political conclave of NEDA, which constitutes 10 regional parties from the North East. NEDA's formation was announced on the same day when Sarbananda Sonowal took oath as Assam's chief minister.
While formally launching NEDA, BJP President Amit Shah claimed it was time to make North East free of Congress and sought the support of other regional parties in making this a reality.
In his speech, Shah stressed on increasing coordination among the North Eastern states as the primary objective of the newly launched forum.
"The launch of NEDA proves that a Congress-mukt North East is feasible. Our immediate agenda is to form our governments in Manipur and Meghalaya," said Sarma, who played a crucial role inrealising Prime Minister Narendra Modi's dream of forming a government in Assam.
With BJP eying these two states, Congress has decided to spruce up its strategy to strengthen its position in these states and the rest of the North East.
A senior party functionary, on grounds of anonymity, said the NECC would work towards improving the party's image in these states and take up developmental issues.
"There are a lot of tribes in the region and their issues are not highlighted to the extent that they should be. Therefore, we have decided to revive the NECC and make it a platform that would raise such issues," he added.
Previously, the NECC aimed at galvanising the party from the grassroots-level and prepare it to face various elections in the North Eastern states. But, it became ineffective over the last couple of years, especially when Congress leader and Puducherry Chief Minister V Narayanswamy was in-charge of the North East.
Big plans ahead
The announcement is likely to be made on 5 November by the All-India Congress Committee and Sangma would be named the convener of NECC.