Congress kicks into high gear over note ban & corruption charges against Modi
Catch Team
| Updated on: 11 February 2017, 5:47 IST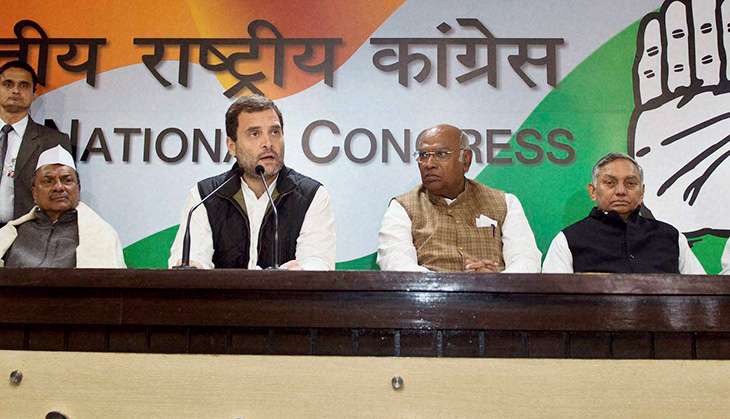 After having attacked Prime Minister Narendra Modi on charges of "personal corruption" over the last couple of weeks, the Congress is now planning to organise nationwide protests beginning 6 January 2017 to expose the corruption charges against the prime minister.
The grand old party will also raise the demonetisation issue, which it believes has caused severe distress to the common man and claimed the lives of at least 115 people.
On kickbacks and more
Ever since Congress vice-president Rahul Gandhi accused Modi for taking Rs 65 crore as kickbacks from Sahara and Birla, the main opposition party has upped the ante in taking on the prime minister over these kickbacks.
Also read - Will you resign? Opposition asks for PM's scalp as 50-day deadline nears
The party leaders, including Rahul, have been asking the prime minister to break his silence and clarify whether he received any of these kickbacks. The party has also been demanding an independent inquiry into these alleged kickbacks.
A slew of protest rallies
The nationwide protests will be held in three phases with the first phase beginning on 6 January. Senior party leaders and local level leaders have been asked to coordinate to ensure maximum participation by people.
"Starting from 6 January, we will continuously hold protests across the country against demonetisation. We demand compensation for aggrieved family members, income and sales tax rebate to traders and common man," Congress' chief spokesperson RS Surjewala told reporters in Jaipur.
During the course of these protest rallies, the Congress will also raise claims made by former BJP Gujarat chief minister Suresh Mehta, who said that Mahesh Shah frequently met Modi during his tenure as the state chief minister.
Shah was recently arrested and is being questioned for declaring Rs 13,860 crore under the central government's Income Declaration Scheme.
Surjewala also sought a high-level inquiry into how some BJP leaders have been allegedly caught with lots of new currency notes. Pointing specifically at the Rs 51.50 lakh that was seized from a car that is being linked to Maharashtra state minister and BJP leader Subhas Deshmukh's car, Surjewala said, "Will Modi government probe these allegations?"
Wanted: an apology
The grand old party also demanded that the prime minister should apologise to the people of this country for demonetisation when he addresses the nation on New Year's Eve. Accusing Modi of being far removed from reality, Congress' chief spokesperson Surjewala said, "Normalcy has not been restored even 50 days after the announcement of the demonetisation scheme."
The prime minister had earlier, in a rally in Goa, sought 50 days to help him deliver the "India of your dreams". Then on 14 November, he said, "I have only asked for 50 days and give me time till 30 December. If any fault is found in my actions or intentions, I am ready to suffer any punishment from my countrymen."
With only one day left for the deadline, opposition parties, particularly Congress, is likely to corner the prime minister over his assurances.
Of deaths and 'deshbandi'
At a press conference in Jaipur, Surjewala said, "PM Modi's demonetisation move has turned out to be 'Deshbandi'. Development has come to a standstill. It is a scam and an uncalled move. It has resulted into economic instability in the country. Several people have died due to cash crunch across the country. It is a surgical strike on the country's poor and has caused them immense suffering."
The Congress spokesperson went on to claim how currency ban has led to 115 deaths over the last 50 days. All the while, RBI changed its rules 126 times.
"It will take eight months to print the equivalent currency notes," Surjewala said.
Earlier on 28 December, while presiding over Congress' 132nd Foundation Day function, Rahul demanded a white paper on demonetisation and claimed that the prime minister's policies were creating fear among Indians. He also posed five questions to the prime minister - how much black money has been recovered by the government since 8 November, how much economic loss the country has witnesses; and how many jobs, livelihoods and lives have been lost since the day the prime minister made the announcement.
Edited by Aleesha Matharu
More in Catch - Did Amit Shah's bank in Gujarat receive Rs 500 crore soon after note ban?
Has Rahul Gandhi's political ineptness killed a joint Opposition campaign?