Cong steps up efforts to woo BSP. But will Mayawati take the bait?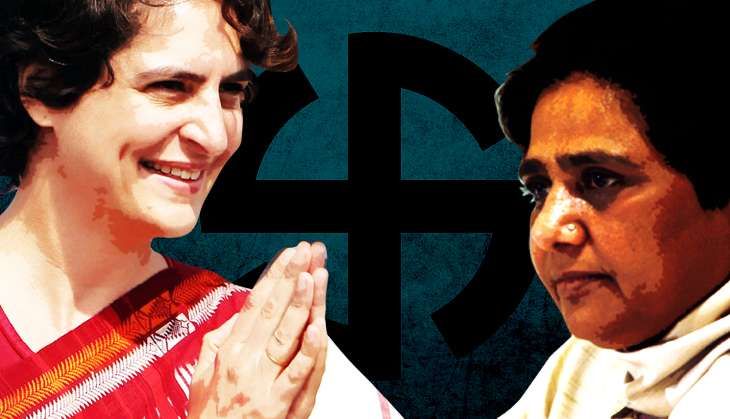 The ecstasy
UP Congress workers are ecstatic about the possibility of Priyanka Gandhi being the face of the party in 2017
Their other wish is for a pre-poll arrangement with the BSP, which could ensure victory
The insistence
Congress leaders insist that both parties will benefit from the alliance
However, political analysts say there\'s not much for Mayawati to gain from such an alliance
More in the story
Vote transfers between allies: will Congress bring anything to the table?
What is state in-charge Ghulam Nabi Azad\'s role in securing an alliance?
Congress workers are ecstatic about the possibility of Priyanka Gandhi being the face of party's 2017 Assembly polls campaign in the country's most politically significant state, Uttar Pradesh.
The UP Congress unit believes Priyanka's decision to campaign outside the Gandhi family bastions of Amethi and Rae Bareli would certainly instil confidence in the state unit. Their other wish is for a pre-poll arrangement with Bahujan Samaj Party supremo Mayawati, which, they're sure, would mean victory for the alliance.
There has been no official announcement on Priyanka's role yet, and it's only likely to happen once Congress vice-president Rahul Gandhi comes back from his foreign visit. In the past, the Congress has repeatedly said that it would project a CM candidate before the elections, and whether it is Priyanka or someone else is the party's call to take.
At present, the party is desperately trying to strike a deal with Mayawati. "Only if this alliance doesn't happen is the Congress likely to project a chief ministerial candidate. Otherwise we will back Mayawati as the CM candidate," said a Congress leader, on the condition of anonymity.
Who benefits?
Sources said that senior Congress leader Ghulam Nabi Azad is expected to meet the BSP chief after Eid, and convince her to come to some sort of pre-poll arrangement. The senior leadership believes Mayawati's decision could be a game-changer in the state, and possibly thwart BJP's plans of repeating the NDA's 2014 Lok Sabha election performance, where the alliance won 73 of the state's 80 seats.
Voices within the Congress claim that such an alliance would benefit both parties, especially the Congress, which is looking for a revival in the state. They believe that the decision to send Azad as state in-charge of UP was made in order to reach a pre-poll understanding. According to a Congress functionary, Azad was sent to UP to strike a deal with Mayawati, while Kamal Nath was meant to source funds for the Punjab unit, which is facing a serious fund crunch.
However, political analysts in the state see no reason for Mayawati to align with the Congress until and unless it makes an offer that she just can't refuse. But, considering the Congress's financial status, it is unlikely that the party could afford such an "expensive deal". Moreover, the Congress doesn't have any vote bank that it can call its own, which could dissuade the BSP from entering into any sort of agreement.
"In 1996, the BSP and Congress had a pre-poll arrangement, after which, Mayawati had said that the alliance didn't benefit her at all since the Congress was not able to transfer any votes to her kitty. Back then, she had said she would only be open to post-poll arrangements, and not pre-poll. I don't think her position has changed even now," said Ramesh Dixit, a Lucknow-based political commentator.
Even today, Dixit claims that the situation has not changed; in fact, it has only worsened with the Congress losing considerable ground. "Mayawati still has some of her core vote intact and can transfer it to any ally she wants. So, the Congress is certainly excited about the prospect. But what is in it for Mayawati?" he questioned.
Dixit believes that such an alliance could make the fight for UP a triangular contest, giving an outside chance to the BSP-Congress. According to him, the ruling Samajwadi Party is firmly placed at number one, while the BJP is a distant second, followed by the BSP and the Congress.
"A BSP-Congress alliance could upset SP and BJP's game plans. The alliance could make the elections competitive, but SP still remains a favourite to win. There is a perception that Muslims are no longer with the SP, which is wrong. Except for two or three districts in western UP, Muslims are firmly backing the SP, which could surprise pundits after the results are announced," he added.
Eroding support base
Dixit's views are seconded by Prof. AK Verma of Christ College, Kanpur, who says that reports from grassroots suggest an exodus of Dalits and OBCs from the BSP's support base, which has spread nervousness among the party ranks.
Verma added: "Swami Prasad Maurya and RK Chaudhary's exits have further weakened the party. Even a former BSP MP and his wife from Kanpur quit the party, which does suggest some sort of internal crisis."
However, he too believes that Congress' desperation for an alliance emanates from the fact that Mayawati can still transfer her votes in favour of Congress candidates but not vice versa.
"Congress has been trying to make inroads in the Dalit vote bank, but has been largely unsuccessful. An alliance like that would also be the undoing of the Congress's efforts to make it on its own. It has roped in the likes of Prashant Kishor, and with Priyanka leading their campaign, it can't piggyback on Mayawati," said Verma, who believes that the grand old party still has a silent support base which it can reach out to.
Verma cites the example of the 2009 Lok Sabha elections, wherein six sitting Congress MPs lost, but the party gained 18 new seats. He believes this proves the existence of a silent support base.
But, the problem, according to him, is the Congress's own ineptitude in wooing this section. "There is no heart in their campaigns, and even their leaders accept the widening rift between them and party workers. Plus, they have not been able to raise issues with mass appeal. In such a scenario, I see no point in Mayawati joining hands with Congress," he added.
Natural ally
Congress leaders have repeatedly argued how Mayawati is their "natural ally", considering how she rushed to the party's rescue during the Uttarakhand crisis and the Rajya Sabha elections. But, experts see it more of a strategy, where Mayawati wants to project herself as anti-BJP and not someone desperate to have an alliance.
"She is no longer in the position to easily transfer her votes to another party, and in such a scenario, she would not like to gamble on winnable seats. It makes no sense whatsoever for the BSP to fall into Congress's trap. She might have 1,000 votes in a constituency while the Congress doesn't even have five. So why would she agree to such an arrangement?" Dixit asked.
Meanwhile, the Congress camp is still hopeful of convincing Mayawati and surprising its critics. It believes that a Congress-BSP alliance would consolidate Muslims, Dalits, Brahmins and OBC votes, which could tilt the balance in their favour.
It seems Azad too would try and convince Mayawati on similar lines, hoping she takes the bait.
Edited by Shreyas Sharma
More in Catch
Swami Prasad Maurya fallout: will BSP's loss be BJP's gain in UP?
Uttar Pradesh polls: Desperate for a tie-up, Congress woos both BSP & SP
Is a BSP-Congress-RLD Grand Alliance emerging in UP?