CM Chandrababu Naidu: Make sure 'anti-Andhra' parties BJP, YSRCP, and TRS face worst defeat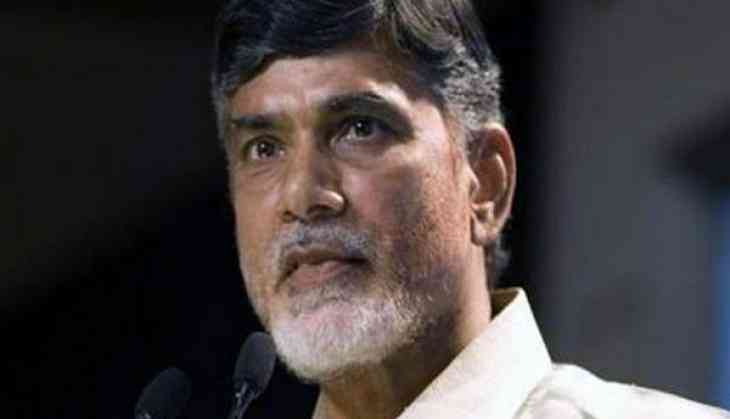 Andhra Pradesh Chief Minister N Chandrababu Naidu on Friday alleged that the Bharatiya Janata Party, YSR Congress Party and Telangana Rashtra Samiti are "anti-Andhra parties", adding that they should face "worst defeat ever" in the ensuing Lok Sabha and Assembly elections.
Naidu, who held a teleconference with Telugu Desam Party leaders here, said: "The BJP, TRS, YSRCP are anti-Andhra parties. They all should face worst defeat ever in the ensuing Lok Sabha and Assembly elections."
"We will not get trapped in the YSR Congress' luring; will not be afraid of the BJP and TRS' threatening. We will save the self-respect of Andhrites and boost their self-confidence. Our aim is achieving a happy state," he added.
Continuing his tirade against the BJP, Naidu alleged that the raids which were conducted by the Income Tax department at Karnataka ministers' premises are the "epitome of harassment by the BJP". "The BJP is committing mistakes with the fear of defeat," he said.
Stating that all should condemn the "anarchic attitude" of Jagan Mohan Reddy's YSRCP, Naidu said: "The YSRCP frustration has reached new peaks. Its attack on a pregnant woman at Gajuwaka public meeting is highly condemnable. Everyone should condemn the anarchic attitude of the YSRCP. It is a party of criminals. Voting for Jagan means you vote for criminals. The YSRCP should be defeated."
Wishing people on the occasion of TDP's 38th formation day, Naidu told his party cadres: "We have to take forward the message of former Andhra Pradesh Chief Minister and TDP founder NT Rama Rao to the people of the state."
"Our party has been in power for 23 years. It is an honour that no party could achieve. People first is our motto. 'Society is the temple and people are the gods' is a path that NTR has shown us," he added.
Naidu further said that TDP's aim is to achieve a happy society without poverty. "We've brought welfare revolution in these 5 years. We dedicate this welfare revolution to NTR. He is the first person in the country to begin welfare schemes. With his blessings, Andhra Pradesh has become an ideal for the country when it comes to welfare policies."
The Andhra Pradesh Chief Minister further said that 98 per cent of the population getting government aid is a history. "TDP is now at a matured age of 38 years and it can create miracles. Next 13 days are a crucial time for us, we have to fight courageously under pressure," he said.
Naidu added the entire country is looking towards Andhra Pradesh and "public mandate" here is a directive for the nation.
Stating that leaders of 22 opposition parties are supporting special status for Andhra Pradesh, Naidu said: "National Conference president Farooq Abdullah, Delhi Chief Minister Arvind Kejriwal are campaigning for us. Soon West Bengal Chief Minister Mamata Banerjee, Samajwadi Party chief Akhilesh Yadav and others will come here to campaign in our support."
Elections to the 175-member Andhra Pradesh Assembly is scheduled to be held on April 11 simultaneously with the Lok Sabha polls. The counting of votes will take place on May 23.
-ANI