Chhotepur on his way out: AAP set to show the door to its Sikh face in Punjab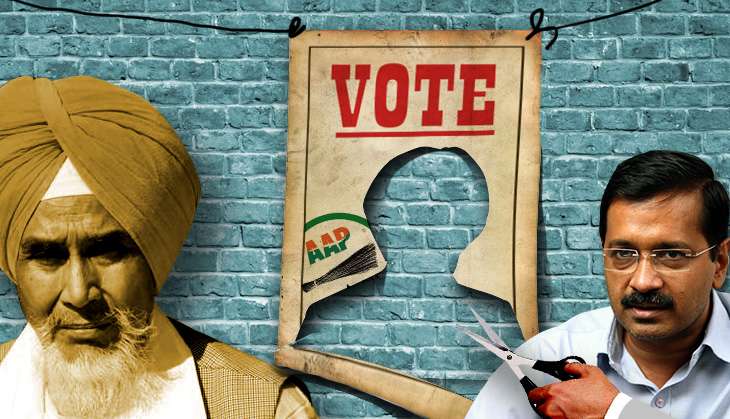 The churning in the Aam Aadmi Party's (AAP) Punjab unit continues unabated. The party is now looking to replace its state convener Succha Singh Chhotepur after a reported sting showed him accepting cash from a party volunteer.
The decision to get rid of Chhotepur may also be based on the fact that he hasn't shied away from criticising the party over its two lists of candidates. He is now likely to be expelled from the party.
Also read - Dealing with discontent: AAP cauldron remains on the boil in Punjab
Reports suggest that he will be replaced over the next two days, and the most likely candidate is Himmat Singh Shergil, who heads the legal cell of the party in Punjab and is the candidate from Mohali for the forthcoming assembly polls. Shergil is also close to the state in-charge Sanjay Singh and organisation building head Durgesh Pathak.
The fall
The fall out of Chhotepur's removal remains to be seen as he has been the Sikh face of the party in Punjab and is well versed with Panthic issues that at times form the core of Punjab politics.
His expulsion has reportedly been suggested by AAP's national convener and Delhi Chief Minister Arvind Kejriwal after he saw the video on his return from a 12-day Vipassana session at Dharamshala showing Chhotepur accepting Rs 2 lakh from a volunteer in lieu of promising a government office to him.
Chhotepur has accepted that he was adding to the 'party fund' and has dared the party leadership to make the video public, adding that it was made to embarrass him. Reports also state that he was denied an audience recently when he went to meet Kejriwal and had to come back after meeting Delhi's deputy chief minister Manish Sisodia.
The old back and forth
The opposition had a few thoughts about the video too. Shiromani Akali Dal (SAD) president and Punjab's deputy chief minister Sukhbir Badal said that this has amply proven that AAP is a party of looters. He also said the people of Punjab should be cautious of the false promises of this party. Branding AAP as a bunch of Naxalites, Sukhbir said these people are out to vitiate the prosperous atmosphere of the state.
But the state Congress chief Captain Amarinder Singh, who has shared a close relationship with Chhotepur over their more than three decade long political journey, had a different take. He said that Kejriwal is trying to get rid the only credible and respectable Punjabi face in AAP to pave the way for his own entry into Punjab.
Referring to the video on Chhotepur, Amarinder said there is no doubt about it being conceived, planned and executed personally by Kejriwal. "Nothing strange or surprising about it as it is a characteristic Kejriwal act of using people and then starting to defame them to eventually get rid of them", he said while pointing out that Chhotepur has an unblemished record of over 40 years in public life.
A long political career
Chhotepur describes himself as a common man's politician. He started dabbling in politics right from the time when he was a student in Government College Gurdaspur in 1968 when he started speaking out against social and economic injustices against the average citizens.
Chhotepur was a close confidant of former Akali president Harchand Singh Longowal and towering Akali leader and Shiromani Gurudwara Prabandhak Committee (SGPC) chief Gurcharan Singh Tohra. He married the daughter of former Akali president Mohan Singh Tur and his entry into politics started from a victory in the SGPC polls as a member from the Akali Dal. He was an SGPC member from 1980 to 1997.
While being a part of the Akali Dal, he was among the few people who had taken on militant leader Jarnail Singh Bhindranwale. Old timers recall him describing Bhindranwale as 'Chambal ka Daaku' who had turned the Golden Temple complex into the ravines of Chambal valley.
He went on to become minister of state for health and tourism in the Akali government led by Surjit Singh Barnala only to resign along with Amarinder and Sukhjinder Singh in protest against Operation Black Thunder in which the Punjab government sanctioned the police entry into the Harmandir Sahib. Even a promise of a cabinet berth could not make him reconsider his decision.
Chhotepur contested the Lok Sabha polls unsuccessfully twice as an independent candidate from Gurdaspur.
He again entered the state assembly in 2002 as an independent candidate from Dhariwal seat. He lost in the 2007 polls. Throughout his political journey he has been close to Amarinder.
Two views
There are two views on his ouster from AAP. Observers believe that the decision will not have much impact in terms of the votes that the party is eying since Chhotepur was never a mass leader and has had no influence on the voters outside his own constituency.
"It had come as a surprise when he was appointed as the state convener of Punjab," says veteran political observer Jagtar Singh.
At the same time there is also a view that Chhotepur is the only person in the party who understands the intricacies of Panthic politics given his tenure with SGPC and his close relations with Longowal and Tohra. The AAP leadership had landed into a mess recently when it released its youth manifesto with a picture of its symbol 'a broom' with the Golden Temple in the backdrop on its cover page. The leaders had later rued that the goof up had resulted from Chhotepur not being shown the cover of the booklet.
AAP faced embarrassment as its opponents gunned for it for hurting Sikh religious sentiments. Kejriwal came personally to perform Sewa at the Golden Temple to atone for the wrong done and party leader Ashish Khetan has simply vanished after the fiasco.
"Despite not having a mass base, Chhotepur had managed to resurrect a group within AAP. It remains to be seen what kind of fall out is there within the party once he is replaced," says Jagtar.
Some observers say that by showing Chhotepur the door, the party would be sending a strong message to those voicing dissent over its functioning. "The message would convey that indiscipline will not be tolerated and would also point out who is in control of things," said an observer.
Chhotepur was not available for comments but is expected to present his side of the story in a day or so.
Edited by Aleesha Matharu
More in Catch - AAP in a pickle in Punjab: suspended Patiala MP floats political front
Chandigarh: How Badal ensured a Pandora's box remained shut