Carol-singers attacked but Sankaracharya celebrated in MP: Are Christians next target of Hindutva fury?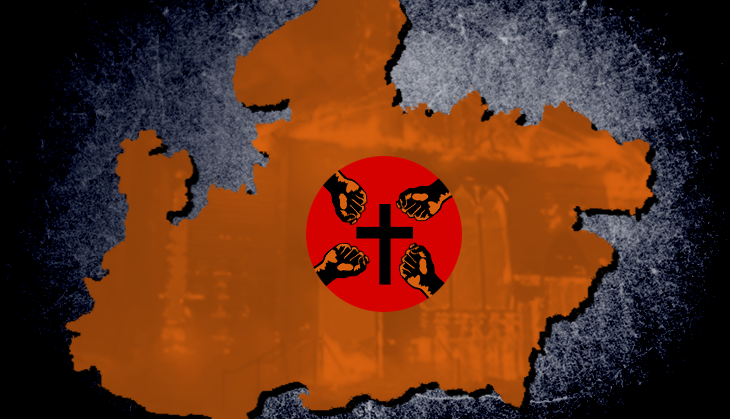 Paul Varghese could have met a fate not too different from what happened to Graham Staines twenty years ago. Staines was burnt to death inside his car, along with his two sons, by Bajrang Dal fundamentalists in Odisha's Keonjhar in January 1999. Varghese was attacked by Bajrang Dal members in Madhya Pradesh's Satna on 14 December, who also burnt the car in which he and his associates were traveling.
Varghese's attackers alleged that he and his group were trying to forcibly convert people to Christianity by singing Christmas carols. Conversions were also the pretext on which Staines faced attacks in Odisha for a long time and was eventually burnt alive.
In the Satna case, shockingly, Varghese and nearly 30 other associates of his were reportedly roughed-up by their assailants in front of local police, who went on to also detain them under the state's anti-conversion law. In an immediate repeat of the incident, others who tried to visit the police station later to enquire about Varghese and others were also attacked.
Martin Davis has reportedly alleged about 20 people heckled and hit him repeatedly. He was about to collapse when a policeman rescued him, Davis told reporters. He had to hide in a room for a long time, fearing for his life.
The atrocious nature of this incident is exacerbated by the sinister role played by police. Varghese has told the media that a policeman asked him and his fellow seminarians and priests, "You are from Kerala. Everyone is a Hindu here. Why do you come to preach and convert only Hindus? Why don't you go to Kashmir to convert Muslims to Christianity?''
From these accounts, it is clear that Madhya Pradesh police was party to the torture inflicted on the carol-singing party. The incident is a telling reminder of the perilous situation facing religious minorities, especially Muslims and Christians, across the country.
The Satna incident happened just a few days after Mathura police in neighbouring Uttar Pradesh arrested seven Christian preachers for allegedly carrying out a "forcible conversion campaign" in a village. At the time of arrest, the preachers were conducting prayers at the house of a villager who had already converted to Christianity.
Maharashtra has also been in the headlines recently after Chief Minister Devendra Fadnavis' wife was heavily trolled online for promoting a Christmas event. The Narendra Modi-led NDA government has aleady been facing a lot of suspicion for declaring Christmas day as 'Good Governance Day'.
The Satna incident is a clear-cut case of attack on constitutionally-guaranteed religious freedom of the affected individuals and their community. This denial of religious freedom has been made starker by a religious programme launched by the Madhya Pradesh government recently.
The state government has announced a month-long campaign for the collection of metal pieces that will be used to install a 108-feet tall statue of Hindu seer Adi Shankaracharya in Khandwa district. CM Shivraj Singh Chouhan proudly launched the campaign on 19 December.
आदि गुरु शंकराचार्य की अष्टधातु की प्रतिमा के निर्माण के लिए #EkatmYatra के माध्यम से विभिन्न जिलों के गाँवों से मिट्टी और धातु संग्रहित की जायेगी और इसका प्रतिमा के फाउंडेशन में उपयोग किया जायेगा : सीएम pic.twitter.com/IsADnaNdvl

— CMO Madhya Pradesh (@CMMadhyaPradesh) December 19, 2017
Speaking at the launch, Chouhan paid rich tributes to the seer for his role in protecting and promoting "Sanatan Dharma", an alternate name for Hinduism.
It is ironic that the CM is openly professing his love for one religion even as his police arrest some commoners for professing their love for their religion. What business does the state have in erecting the statue of a religious leader? Doesn't it clearly amount to the state offering protection to one religion at the cost of others?
Denial of religious freedom to individuals and the state's promotion of one religion is blatant violation of the secular credentials of the Constitution of India. It is the latest among the several markers of the country's descent into an abyss from which it will be hard to climb out for a long, long time.