'Can you ever respect the national flag & anthem the way we do?' Muslims ask RSS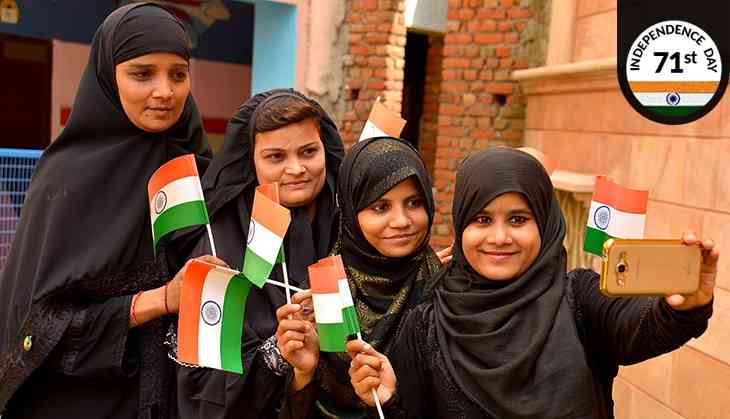 ( Shaukat Ahmed/Pacific Press/LightRocket via Getty Images)
The Yogi Adityanath government in Uttar Pradesh has instructed Madrasas to video-graph Independence Day celebrations, which seemed to have been its way of saying that Muslims need to prove their love for India.
Imran, a secondary school student who lives near Darya Ganj in Delhi's Walled City, finds the idea laughable. "Every year we gather around our courtyard and sing the national anthem on Independence Day and Republic Day. Sometimes even sweets are distributed," he said.
Of course the main highlight of Independence Day for Imran and his friends is flying kites designed in the national colours – saffron, white and green. It's a day long exercise and involves formation of teams and elaborate war-like strategies.
"People are welcome to come and video-graph us throughout the day," Imran says, amused at the UP government's idea.
Others aren't as amused at the Yogi government's order.
"Thousands of madrasas across India celebrate Independence Day. Students and teachers sing the national anthem. In bigger madrasas, flag-hoisting takes place. It is unfortunate that the patriotism of Muslims is being questioned in this manner," Anwar Hussain, spokesperson of Jamiat Ulema-e-Hind media in-charge told Catch.
Hussain recalled the leading role Muslims played in the freedom struggle. "Jamiat resisted the Muslim League. It was steadfast in its opposition to partition. Critics must remember this."
All India Majlis-e-Ittehadul Muslimeen chief Asaduddin Owaisi had earlier said that "Indian Muslims are proud of being Indian and we will sing the national anthem with pride".
The point that Owaisi and many other Muslims make is that merely the reluctance towards Vande Mataram shouldn't be used as a marker to belittle the patriotism of Muslims.
According to author Rana Safvi, "Hubbul Watani (loving ones country) is a part of Iman (faith) for a Muslim". The use of the term Hubbul Watani is important. The term is often used to counter accusations from the Hindutva lobby that Muslims don't love India because they don't consider it as "Bharat Mata". Most Muslims assert that just because they are against terming the country as "mother" or consider it an object of worship doesn't mean they love India any less than other communities.
Meanwhile in Vadodara in Gujarat, a Muslim cleric released a video of the national anthem being sung by clerics and madrassa students from the city
Vadodara: Muslim community releases a video of National Anthem sung by clerics, members of community to mark Independence Day @IndianExpress pic.twitter.com/NjI65u4QrN

— Aditi Raja (@aditijf) August 14, 2017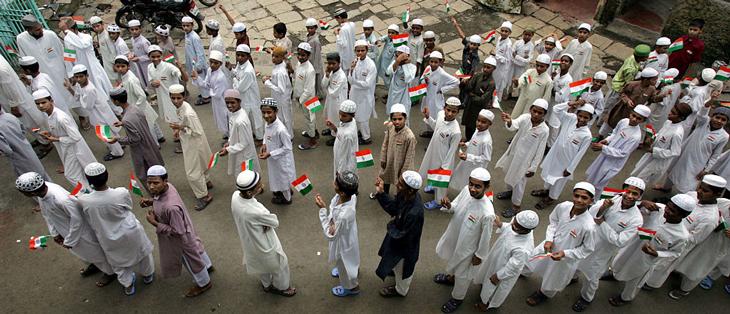 Hindustan Times via Getty Images
A Facebook group by the name of Indian Muslim Pro put up a video that showcased Muslims celebrating symbols of Indian nationalism like the tricolor. It shows clips of the tricolor being hoisted in mosques and madrasas and people standing for the national anthem.
"You say you will video-graph our Independence Day celebrations on 15 August. We decided to give you a glimpse two days in advance," the group said.
The group further challenges Hindutva outfits saying, "Do Sangh's Shishu Mandirs honour the national flag the way we do?"
Another post put by the group tells Hindutva supporters, "Come bhakts, we will teach you patriotism. We will teach you how to honour the national flag".
The national flag, of course, is a raw nerve for the RSS as it has often been accused of refusing to hoist the national tricolour.
The response of Indian Muslims to the BJP and RSS is clear – we don't need any certificates in patriotism from you.